'Legally Blonde 3' Is Totally Happening With Reese Witherspoon Set To Return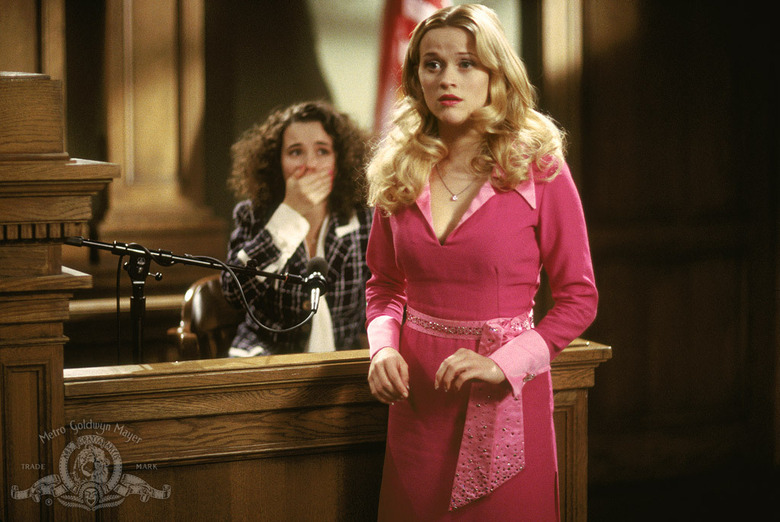 Oh, (bend and) snap! Legally Blonde 3 is moving forward at MGM, which is in talks with Reese Witherspoon to reprise her role as the fabulous, pink-clad law student and feminist icon Elle Woods.
Legally Blonde 3 will come more than 17 years after the original film's release, and 15 years after its politically-themed sequel, Legally Blonde 2: Red, White & Blonde. That is, if you don't count the direct-to-video sequel Legally Blondes, of course.
MGM is nearing a deal with Witherspoon to reprise her role as Elle Woods in Legally Blonde 3, according to Deadline. Kirsten "Kiwi" Smith and Karen McCullah, who adapted the Amanda Brown novel for the 2001 first film, are in final talks to write the script for the second (third?) Legally Blonde sequel.
Where the first film centered around the willful and pink-obsessed sorority girl who follows her ex-boyfriend to Harvard Law and discovers her true calling as a brilliant law student and the sequel saw Elle take on Washington, D.C., there's no predicting where Legally Blonde 3 will take us. But hopefully, with original producer Marc Platt producing alongside Witherspoon through her Hello Sunshine banner, Legally Blonde 3 will be a return to form for the franchise. MGM will next look for a director to helm the sequel.
The 2001 original, helmed by Robert Luketic, was a somewhat inconspicuous commercial hit, but amassed a cult following thanks to the ardor around Witherspoon's Elle Woods, who presented an unlikely female heroine in a landscape saturated by Sydney Bristows and Beatrix Kiddos. Elle would probably break a nail if she got into a fight, but she proved that being feminine wasn't her weakness, but in fact, her strength. She bucked expectations while strutting in designer heels and frilly skirts — proving that a female role model could be both feminine and strong.
Elle Woods' instant icon status launched an inferior sequel two years later Legally Blonde 2: Red, White & Blonde, which sadly failed to capture the ebullient charm of the original. And let's not even talk about Legally Blondes, the direct-to-video spin-off about Elle's private school-aged "nieces" whose adventures have nothing at all to do with law. (Technically we should probably call that one Legally Blonde 3 but it's better for all of us to just collectively forget its existence.)
Legally Blonde entered the public consciousness again with a hugely successful, Tony-nominated Broadway stage musical in 2007. Now it's time for Elle Woods to return to the big screen again in Legally Blonde 3, and hopefully inspire a new generation of young women, aspiring lawyers or not. It's a lot of pressure for a sequel but what, like it's hard?