Ricky Baker Vs. Godzilla Vs. King Kong: Julian Dennison Joins 'Godzilla Vs. Kong' Cast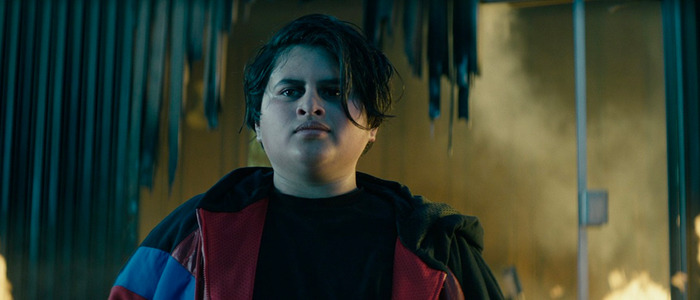 Julian Dennison, who was recently seen in Deadpool 2 but who will always be Ricky Baker to me, has joined the Godzilla vs. Kong cast. Adam Wingard is directing the entry in the so-called MonsterVerse.
Universal's Dark Universe may be dead, but Legendary and Warner Bros.' MonsterVerse marches on. They've already released Godzilla and Kong: Skull Island. Next up will be Godzilla: King of the Monsters. After that, get ready for Godzilla vs. Kong. The Guest director Adam Wingard is helming the big monster mash movie and The Hollywood Reporter confirms that Julian Dennison has joined the cast. Dennison had his break-out role as juvenile delinquent Ricky Baker in Taika Waititi's comedy Hunt for the Wilderpeople. He also delivered a memorable performance in this year's Deadpool 2.
Dennison joins a cast that includes Ziyi Zhang, Millie Bobby Brown and Kyle Chandler, all of whom will also appear in the Godzilla sequel Godzilla: King of the Monsters. So far, the MonsterVerse movies don't have much overlap, cast wise – Godzilla was set in the present, while Kong: Skull Island took place in the 1970s. It looks like as the MonsterVerse continues, actors will be taking part in multiple films.
Plot details are a bit slim at the moment, but it's safe to assume that at some point, Godzilla will be versing King Kong. Just a wild guess. There already was a King Kong vs. Godzilla movie made by Toho in 1962, but producer Alex Garcia previously said, "The idea is not to remake that movie."
Regarding his plans for the film, director Adam Wingard said:
"I really want you to take those characters seriously. I want you to be emotionally invested, not just in the human characters, but actually in the monsters. It's a massive monster brawl movie. There's lots of monsters going crazy on each other, but at the end of the day I want there to be an emotional drive to it. I want you to be emotionally invested in them. I think that's what's going to make it really cool."
Wingard also added:
"I do want there to be a winner. The original film was very fun, but you feel a little let down that the movie doesn't take a definitive stance. People are still debating now who won in that original movie, you know. So, I do want people to walk away from this film feeling like, Okay, there is a winner."
Godzilla vs. Kong will arrive on May 22, 2020.