'5th Passenger' Trailer Assembles Fan-Favorite 'Star Trek' Actors Doug Jones, Marina Sirtis, And More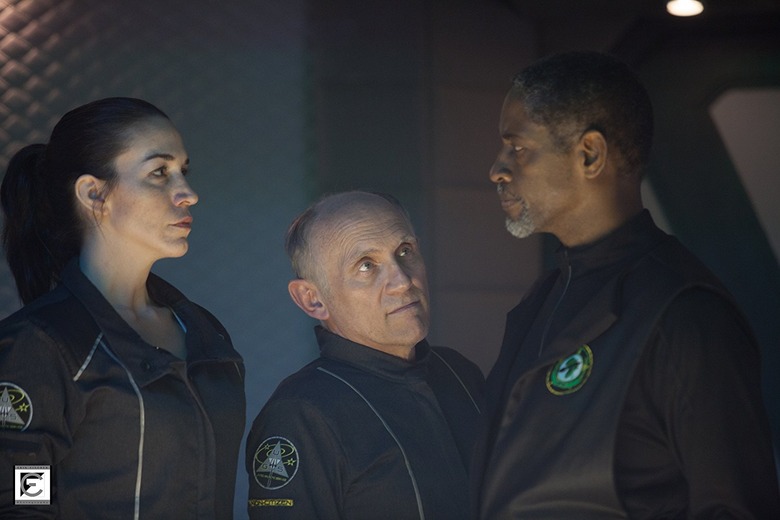 Star Trek fans, this one is for you. 5th Passenger is a crowd-funded film from Epic Pictures that assembles a who's who of Star Trek fan-favorites, from Star Trek Discovery's Doug Jones, to Deep Space Nine's Armin Shimerman, to The Next Generation's Marina Sirtis. They boldly go deep into this space thriller about a crew that must survive a vicious life form.
5th Passenger Trailer
5th Passenger came into being through Kickstarter, with fans raising $80,000 to create the film centered around a strong female lead. 5th Passenger debuted at the Artemis Women in Action Film Festival where they "celebrate powerful women taking action on the silver screen."
"I directed 5th Passenger because it's a film I wanted to see," director Scott Blake said. "It is inspired by my love of the science fiction genre, The Twilight Zone, and Alfred Hitchcock Presents. All twisted storylines with principled characters thrown into extreme situations where society breaks down and their morals and values are tested."
The film unites several fan-favorite Star Trek cast members including Doug Jones (The Shape of Water, Star Trek: Discovery) Tim Russ (Star Trek: Voyager, Star Trek: The Next Generation, Star Trek: Deep Space Nine), Marina Sirtis (Star Trek: The Next Generation, Star Trek: First Contact, Star Trek: Generations), and Armin Shimerman (Star Trek: Deep Space Nine, The Hitcher and Ratchet & Clank Future: A Crack in Time). They're joined by Morgan Lariah, Mindy Robinson, David Lim, and Manu Intiraymi.
The trailer certainly spotlights its Star Trek cast members, perhaps as a way to balance out its cable-movie effects and generic sci-fi plot. But Star Trek fans may be excited to see it – beloved cast members unite across TV shows and generations in this film and that's pretty cool.
Here is the official synopsis for 5th Passenger:
5th Passenger is set in the aftermath of an oppressive class war, Miller, a pregnant officer aboard an escape pod must struggle to survive with her remaining crew when a mysterious and vicious life form attacks, determined to become the dominant species.
5th Passenger will be released in theaters and on demand everywhere (Dish, DirecTV, Charter, Spectrum, Comcast/Xfinity, Verizon Fios, Cox, SlingTV, iTunes, Amazon, Vudu, FandangoNOW, Google Play, Microsoft/Xbox) on July 10, 2018.