'Ralph Breaks The Internet: Wreck-It Ralph 2' Trailer: The Internet Is Quite The Wild Place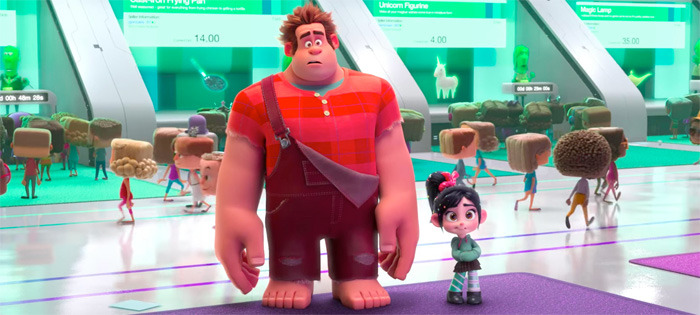 Disney is bringing their not-so-bad video game bad guy back to the big screen this fall.
Ralph Breaks the Internet: Wreck-It Ralph 2 brings back John C. Reilly as Wreck-It Ralph, the arcade game villain with a heart of gold, and he's about to find out that there's a whole world out there that he knows nothing about: the internet. When the arcade that Wreck-It Ralph calls home gets the internet, he and his little buddy Vanellope von Schweetz (Sarah Silverman) end up sucked into the world wide web. You can see how that goes in the new Wreck-It Ralph 2 trailer below.
Watch the Ralph Breaks the Internet: Wreck-It Ralph 2 Trailer
The set-up for this movie still feels a little too similar to The Emoji Movie, but thankfully the writing feels far move clever. Plus, Disney has the benefit of being able to pull from their large library of characters to create quite the expansive crossover of characters from various movies from the long history of the House of Mouse.
As you can see, Vanellope runs into Disney's long line of princesses from their animated movies, both classic 2D animation and more recent computer animation. Hopefully they won't overdo it and there will be some creativity beyond showing off all the different franchises and brands they have on one spot.
Rich Moore (Zootopia, Wreck-It Ralph) and Phil Johnston (Wreck-It Ralph) are co-directing the sequel, which also features the voices of Taraji P. Henson, Jack McBrayer, Jane Lynch and Alan Tudyk.
Ralph Breaks the Internet: Wreck-It Ralph 2 leaves Litwak's video arcade behind, venturing into the uncharted, expansive and thrilling world of the internet—which may or may not survive Ralph's wrecking. Video game bad guy Ralph (voice of John C. Reilly) and fellow misfit Vanellope von Schweetz (voice of Sarah Silverman) must risk it all by traveling to the world wide web in search of a replacement part to save Vanellope's video game, Sugar Rush. In way over their heads, Ralph and Vanellope rely on the citizens of the internet—the netizens—to help navigate their way, including a webite entrepreneur named Yesss (voice of Taraji P. Henson), who is the head algorithm and the heart and soul of trend-making site "BuzzzTube."
Ralph Breaks the Internet: Wreck-It Ralph 2 arrives this fall on November 21, 2018.