Brett Ratner Still Wants To Direct 'Rush Hour 4' (Studio: "No")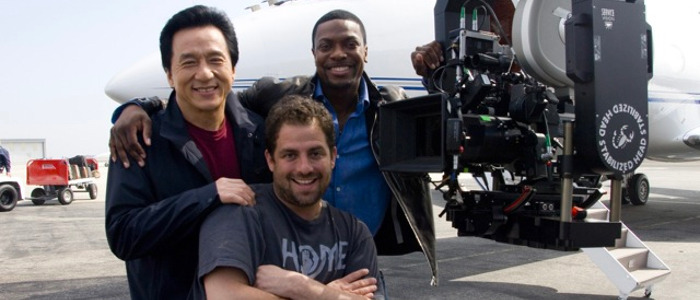 Brett Ratner, who really does not know how to read a room, has been telling people he's going to direct Rush Hour 4. Warner Bros., however, says no way, no how.
Brett Ratner, the mediocre filmmaker and once-powerful movie producer, is a shunned-man in the wake of multiple sexual harassment allegations. Following the accusations, Warner Bros. announced they were cutting ties with Ratner's Rat-Pac productions. And in a sane world, this would be the last we heard from Ratner for a long time.
But this isn't a sane world. It's a world steeped in madness and full of men who really can't read a room. Men like Brett Ratner. According to The Hollywood Reporter, Ratner has been telling associates that he's going to rise from the ashes like an over-confident phoenix and return to helm Rush Hour 4. But the people at Warner Bros. say this is complete bullshit, and Ratner won't be anywhere near the fourth entry in the Rush Hour series.
"Brett has been walking around town telling people he's going to direct a Rush Hour movie because it's his only way back in," one "high-level exec" is quoted as saying. "He's trying to make believe he's employable." The exec also added that "putting together a movie with him would be a suicide mission." On top of all this, I can't help but wonder: who the hell even wants a Rush Hour 4?
Producer Arthur Sarkissian, that's who. Per THR, Sarkissian "has long been pressing to make a fourth film in the $850 million-grossing franchise and believes that with the right script, stars Jackie Chan and Chris Tucker will be on board." Warner Bros. originally had tentative plans to get Rush Hour 4 off the ground, with Ratner – who directed the first three Rush Hour films – returning. Black-ish creator Kenya Barris was approached to write a script. Then the sexual misconduct allegations against Ratner effectively "put a pin" in the film, with Barris saying he'd have no part of the project if Ratner were to be involved, and ended up passing on the film entirely.
Now, Sarkissian says the film is in turnaround, which gives him the opportunity to "commission a script with outside financing." If Sarkissian is able to make this work, Warners will have the chance to opt back into the film. In other words, there's nothing really happening on the Rush Hour 4 front. And yet, THR's sources say "Ratner has been checking in with Warners every month or two to ask about the progress of the project." At the same time, part of the problem seems to be the people at Warners, who apparently don't want to come right out and tell Ratner he's not directing the film A source told THR: "no one is willing to tell Brett he's not the director of the picture."