'Upgrade' Director And Cast On Making A Sci-Fi Action Movie On A Blumhouse Budget [Interview]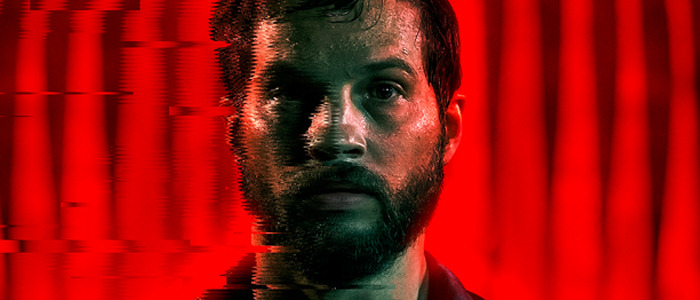 Each year during Austin's SXSW Film Festival, press attendees (like myself) must pick-and-choose amidst a Texas-sized whirlwind of conflicting screening times and maximum exhaustion. In 2018, that meant (excitedly) interviewing Upgrade writer/director Leigh Whannell alongside stars Logan Marshall-Green and Betty Gabriel instead of catching a buzzy midday showing...like it was even a hard choice? Upgrade won the Midnighters Audience Award and ended up being one of my festival highlights with good reason. Check out my glowing review.
When sitting down with three talented parties such as Whannell, Gabriel and Green, there's never enough time to ask even half the questions you prepare, but that doesn't stop an interviewer from trying. Whannell opened up about time-hop filmmaking on a budget, Gabriel exposed the mindset of her character, and Green permitted the same. There was plenty to be said about where society is headed and how Upgrade takes that into consideration along with sci-fi discussions about existing examples of cultural deconstruction. Ideas have to come from somewhere – social influences or past Hollywood classics.
In the best way possible, Upgrade blends numerous subgenres until they take an unrecognizable new form – the cautionary sci-fi tale, the revenge thriller, the societal crystal ball – but how would you pitch your film first and foremost?Leigh Whannell: Oh, man. For me, I would say that Upgrade is a sci-fi thriller first. I always want to fulfill genre expectations and think that should be the bedrock of any film – then you can layer in thematics. If viewers want to take the cautionary aspect out of it? Great. But I guess my main concern is that audiences have fun at the movies. I'm still a big believer in movie theaters, and going to see movies in public. I wanted this film to be a fun communal experience where people yell at the screen, have fun, clap and laugh. I hope it's that first.Mission accomplished, for sure.Betty Gabriel: I think It's a very accessible, very entertaining glimpse into the future. Slightly terrifying but very real.The best kind of movies are very real and very terrifying. Logan Marshall-Green: I think the element I love most, and not that it defines Upgrade, but it's a buddy tale. Let's be honest – we have a relationship with technology, but why? The best part about [Leigh Whannell's] script is that he's determined to position technology as Thelma and we're Louise. That's the idea.Leigh Whannell: It's oddly like a buddy cop film, just that one of the cops is a voice that's in your head.Logan Marshall-Green: It's also trying to kill you at the same time.Some might say it's like a murderous take on Spike Jonze's Her?Leigh Whannell: [Laughs] Yeah! It's like a murderous, sci-fi-action version of Her.Logan Marshall-Green: No, it's true! If we're doing our job right, [the program in Grey Trace's head] is right there. He's in the system. You're never imagining just me, you're imagining two entities. Not just "Logan," but "Logan" and someone else.I'm curious about Upgrade's budget because the world-building is so massive, but I'm sure production was a little more "indie" than people might otherwise assume. What challenges were you forced to navigate when working with limited sums versus the actual size of this futuristic transformation?Leigh Whannell: Upgrade was a hard one to make. It's Jason Blum [Blumhouse] – he's a great producer – and he's done so much great stuff like Get Out, Happy Death Day and more. He's got this model and he doesn't deviate – he wants to make films for $5 million or less. So when I brought him this script he was like, "Buddy" [mimicking Blum's voice].
That's my Jason Blum, by the way. "Buddy" [once again nails impression].
"I love you buddy, but how are we going to do this? I don't know how. I don't make these movies." I was like, "I think we can do it." We somehow Tetris'd it together.
Where did you end up shooting? Leigh Whannell: I'm Australian, so we were able to shoot in Australia and take advantage of some government film funding – but we did have to cobble together the necessary money, which was hard. Nothing was assured. There was always a give and take. All through pre-production there was at least one meeting a day where producers would sit me down and go, "Okay, you know how in this bar scene [Logan Marshall-Green] kills eight people? What if he killed three." I'd have to be like, "Great, three." The next day they would be like, "What if just one person was killed, would that have more impact?"[Chuckles] "Impact," a good excuse.Leigh Whannell: They tried to sell it as a creative thing. "I think you're wrong here. The less people he kills the better," and then I'd answer with, "Three people." Next they'd try something like, "Kills one, wounds the other." I'm like, "Kills two, wounds the third." It was this game of pushing the chips back and forth of what we could afford and what we couldn't.
Then there was timing and scheduling, so scenes like the car chase – we had two nights to shoot that and we could only be on the freeway. Melbourne's not as set up for movies as Los Angeles is where they routinely shut areas down and shoot. So we had to shut down a section of Australian freeway and do this chase, and it felt like a race against time. Literally, you're watching the sun start to rise and you're like, "Shit, go away sun! I have to get this shot." The sun's like, "No, that doesn't happen. That's not how it works."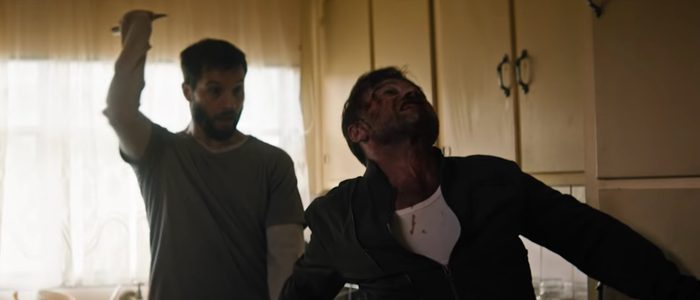 Amongst all the budgetary restraints, you couldn't also make modern miracles happen? For shame.Leigh Whannell: It was tough, but I actually liked the process and would do it again. Even though it's dicey to negotiate all these different things and fight against the clock, what I love about the process is that you don't have ten people standing behind you telling you how to change things. If you have $100 million you can do whatever you want and take a month to shoot the car chase, but you also have suits – anyway, sorry. I'm going on. Creating Upgrade was really something I enjoyed even though it was stressful. I would do it all again.For my actors, were there any tricks you used to remain anchored in Leigh's dystopian-ish headspace?Betty Gabriel: With my character [turns to Logan-Marshall Green] – I think it applies to your character as well – we're very much analog and we resist technology's grasp. I linked into that, and it wasn't like there were *actual* hovering drones on set. Those details were all wonderfully, artistically incorporated later. It was easy to just play the role, that person.Leigh Whannell: I did tell Harrison Gilbertson – who plays Eron the computer genius – to totally be alone for two weeks, and only communicate with people via email. He was up for it. "Yeah, I can do that." He went to a house down the coast. I wanted him to shut out human contact, just use tech. I like forcing actors to do these things.
With [Betty Gabriel and Logan Marshall-Green], I was the opposite. "Don't use your phones, use them less." I remember one conversation with Logan where he's like, "Hey, I called the wife (or whatever), but I'm not on my devices." He was trying to really stay away.
Logan Marshall-Green: For me, it was also first and foremost trusting that Leigh will design a beautiful interface for my character to interact with. It's not the same when actually playing [my character]. He needs a little more effort. We had to have an understanding of our realized future, but we're not married to it. [To Betty Gabriel] I liked how you swiped computer screens the same way I did. I noticed. It's just that little extra detail.Leigh Whannell: That was the scene where it was like, "Computer says, 'No.'" And [Gabriel responds], "I'm going to go anyway."Betty Gabriel: Right. That skill's built into Det. Cortez.Leigh Whannell: Yeah, your character just didn't trust the computer's conclusion. You want to look it in the eye.For my closing question, I'd like to hear what you think is the scariest sci-fi flick that might double as a cautionary tale about our tech-driven future?Leigh Whannell: Scariest sci-fi, oh man.Logan Marshall-Green: Shit, Skynet – Terminator 2: Judgement Day – I guess would be the one that instantly comes to mind.Leigh Whannell: Yeah, that was terrifying in high school.Logan Marshall-Green: It's kind of an endgame.Leigh Whannell: I remember seeing the film version of 1984 when I was a kid, the one with John Hurt. I hadn't read the book, I was pretty young but it was one of those watches that stuck with me. It terrified me as an idea, but what's especially terrifying now as an adult is there are people on this planet that live that exacct reality. People in North Korea. There are citizens under oppressive governmental regimes that live a very Orwellian existence just by virtue of the fact of where they were born. Like, we're lucky to be born where we're born. That's definitely something – the idea that in the future governments will become more totalitarian terrifies the hell out me.