'Jurassic World: Fallen Kingdom' Box Office Tracking Suggests $140 Million Opening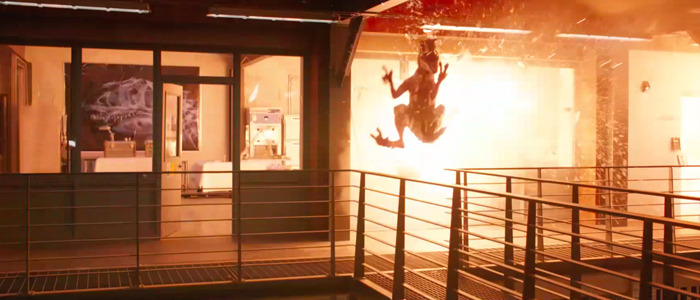 The first Jurassic World: Fallen Kingdom box office tracking numbers have arrived, and it looks like director J.A. Bayona's dino-centric sequel could make anywhere between $130-$150 million domestically on its opening weekend. That would put it well below Jurassic World's huge $208 million opening weekend, but that movie is currently sitting at number four on the all-time biggest opening weekend list, and no one is expecting this sequel to outperform that 2015 monster hit.
Deadline's sources say Jurassic World: Fallen Kingdom is expected to pull in around $140 million when it debuts in late June. If it earned exactly $140 million, that would put it at number 23 on the all-time biggest opening weekend list, sandwiched between Twilight: Breaking Dawn – Part 2 and Twilight: Breaking Dawn – Part 1.
Again, Colin Trevorrow's Jurassic World shocked Hollywood when it opened to $208 million, which, at the time, was the highest opening weekend ever. (I enjoy that movie and I'm still having trouble wrapping my head around that one.) At that point, it had been a decade and a half since a Jurassic Park movie, so there was a lot of curiosity about what it'd be like to return to that world. I'm still expecting this sequel to perform well, but it should surprise absolutely no one that it's not on track to replicate the mega-success of its predecessor.
As always, keep in mind that these early projections tend to fluctuate as we get closer to the film's actual release. Lucasfilm is still feeling the sting of not living up to expectations with Solo: A Star Wars Story, which was projected to hit $170 million during its opening weekend but actually pulled in just over $84 million domestically. That might be bad enough to push Star Wars out of summer releases in the future, so Universal is clearly hoping to avoid that level of disappointment here.
Jurassic World: Fallen Kingdom is set to open overseas way before it hits theaters in North America. Forbes says the film debuts in 49 territories around the world during the week of June 6 due to the World Cup, and it'll arrive in China and Egypt on June 15 before eventually coming to North America on June 22, 2018.
Bayona directs a script from Jurassic World writers Colin Trevorrow and Derek Connolly. Chris Pratt, Bryce Dallas Howard, Jeff Goldblum, Justice Smith, James Cromwell, Toby Jones, and B.D. Wong star.
It's been four years since theme park and luxury resort Jurassic World was destroyed by dinosaurs out of containment. Isla Nublar now sits abandoned by humans while the surviving dinosaurs fend for themselves in the jungles. When the island's dormant volcano begins roaring to life, Owen (Chris Pratt) and Claire (Bryce Dallas Howard) mount a campaign to rescue the remaining dinosaurs from this extinction-level event. Owen is driven to find Blue, his lead raptor who's still missing in the wild, and Claire has grown a respect for these creatures she now makes her mission. Arriving on the unstable island as lava begins raining down, their expedition uncovers a conspiracy that could return our entire planet to a perilous order not seen since prehistoric times. With all of the wonder, adventure and thrills synonymous with one of the most popular and successful series in cinema history, this all-new motion-picture event sees the return of favorite characters and dinosaurs—along with new breeds more awe-inspiring and terrifying than ever before. Welcome to Jurassic World: Fallen Kingdom.