'Sesame Street' Loses Lawsuit Against 'The Happytime Murders'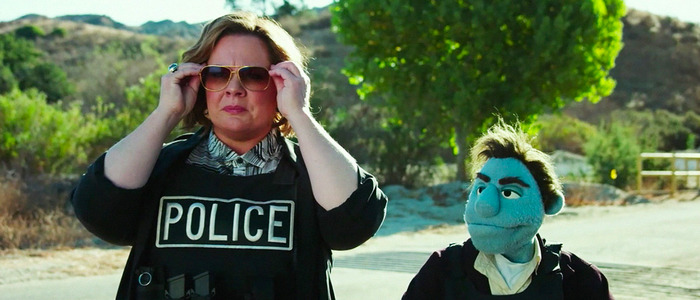 The folks at Sesame Street filed a lawsuit against ejaculating puppet movie The Happytime Murders, claiming the film tarnished the Sesame brand. And now it's over –a  judge has ruled in favor of The Happytime Murders.
A few days ago, Sesame Workshop, the people who own and operate Sesame Street, filed a lawsuit against The Happytime Murders, the film that asks: "Wouldn't it be hilarious if puppets said 'f***'?" According to Sesame Workshop, Happytime Murders was tarnishing the Sesame Street brand with its very Muppet-like puppets and its "No Sesame. All Street." tagline. If you were hoping for a long, drawn-out, trial-of-the-century situation, I have some bad news: the lawsuit has already been tossed out.
The Hollywood Reporter confirms that a U.S. District ruled that Happytime distributor STX Productions can continue to use their tagline. The judge also ruled that "Sesame Workshop hadn't demonstrated that moviegoers were confused or that sponsors or parents were complaining." This ruling is a victory for jerk-off puppets everywhere.
There was a touch of irony to the lawsuit, because The Happytime Murders was written and directed by Brian Henson, son of Jim Henson, whose famous Muppets are still featured on the show to this day. Of course, the younger Henson doesn't really have anything to do with Sesame Street, even though his father's creations still reside on the show.
In the spirit of being magnanimous about this ruling, STX took to Twitter to release a statement that praises Sesame Street and more or less says, "No hard feelings!" The statement was issued by STX's puppet lawyer, Fred, Esq. – a cheeky character they recently revealed to address the lawsuit.
2/3 while drawing a clear distinction between any Muppets or Sesame Street characters and the new world Brian Henson and team created. We believe we accomplished that with the very straightforward NO SESAME, ALL STREET tagline...

— STXfilms (@STXfilms) May 30, 2018
3/3 We look forward to continued happytimes as we prepare to release Happytime Murders this summer." – Fred, Esq. on behalf of STX Entertainment pic.twitter.com/TNNQSxFael

— STXfilms (@STXfilms) May 30, 2018
Fred, Esq. had previously issued the following statement before the lawsuit was settled:
"STX loved the idea of working closely with Brian Henson and the Jim Henson Company to tell the untold story of the active lives of Henson puppets when they're not performing in front of children. 'Happytime Murders' is the happy result of that collaboration and we're incredibly pleased with the early reaction to the film and how well the trailer has been received by its intended audience.  While we're disappointed that Sesame Street does not share in the fun, we are confident in our legal position.  We look forward to introducing adult moviegoers to our adorably unapologetic characters this summer."  – Fred, Esq., lawyer for STX Entertainment
In The Happytime Murders, "two clashing detectives – one human and the other a puppet – must work together to solve the brutal murders of former cast members of a beloved puppet TV show."
The Happytime Murders opens on August 17, 2018.