'Incredibles 2' Clip Has The Family Racing To Stop Destruction In Municiberg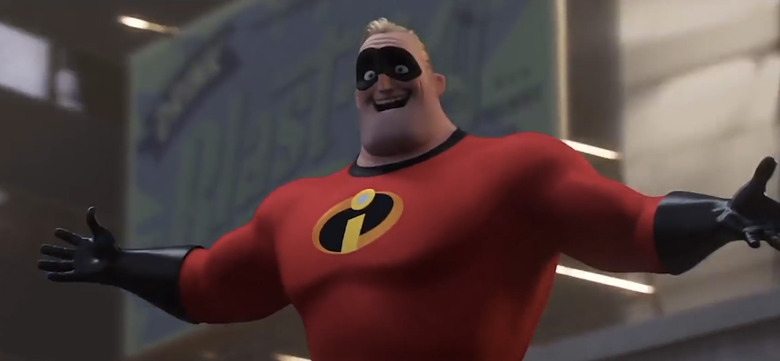 We're two weeks away from seeing Pixar's superhero family The Incredibles returning to action in a sequel that fans have been wanting to see for 14 years. That means we're heading into the home stretch of Disney's marketing campaign, and a new clip has arrived online showcasing some  action.
The Incredibles 2 clip from Disney and Pixar comes from the opening sequence of the movie that picks up where the original movie left off. The villain who calls himself The Underminer has shown up to create trouble in Municiberg, and our family of superheroes is ready to take him down. 
Watch the Incredibles 2 Clip
Mr. Incredible and Elastigirl take the lead in trying to stop The Underminer's drilling vehicle from destroying more of the city. As Mr. Incredible explains, the ground-dwelling villain has already escaped, and now they're left trying to clean up this mess he's left them.
Meanwhile, even though Dash and Violet proved that they can handle themselves in the first movie, the two of them have been tasked with taking care of baby Jack-Jack. Much of the comedy from this scene comes from how Jack-Jack keeps getting handed off as our characters use their heroics to save the city and its citizens.
And then there's Frozone, coming in to save the day just in time to catch a wrecked monorail with his signature ice trails. The animation of his ice crystals alone shows how far Pixar has come with the quality of their animation, and I can't wait to see what other stunning sequences they have in store for us when the movie arrives next month.
For more on Incredibles 2, check out our recap and reaction to 35 minutes of footage shown to us at Pixar Animation.
Helen (voice of Holly Hunter) is called on to lead a campaign to bring Supers back, while Bob (voice of Craig T. Nelson) navigates the day-to-day heroics of "normal" life at home with Violet (voice of Sarah Vowell), Dash (voice of Huck Milner) and baby Jack-Jack—whose superpowers are about to be discovered. Their mission is derailed, however, when a new villain emerges with a brilliant and dangerous plot that threatens everything. But the Parrs don't shy away from a challenge, especially with Frozone (voice of Samuel L. Jackson) by their side. That's what makes this family so Incredible.
Incredibles 2 arrives on June 15, 2018.