'Wreck-It Ralph 2' Images Give Us A First Look At Disney Princesses And Taraji P. Henson's Character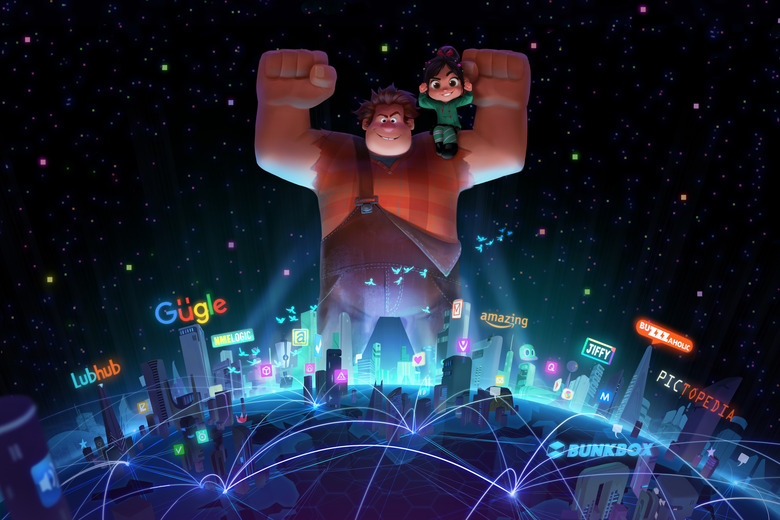 Wreck-It Ralph is about to enter a whole new world. Ralph Break the Internet: Wreck-It Ralph 2 brings the classic arcade video game villain-turned-hero (John C. Reilly) into the world wide web. But while the internet can be a scary place, Wreck-It Ralph 2 makes it look a whole lot friendlier.
That may be because of some of the new characters and exciting Disney cameos scattered throughout Wreck-It-Ralph 2. New images give us a taste of that highly anticipated Disney princess appearance and a brand new character played by Taraji P. Henson.
When the first Wreck-It Ralph 2 footage debuted at D23 last year, the Disney princesses scene was the talk of the town. Not just because it tapped into the nostalgia that helped make the first movie so successful, but because Disney had recruited all of the original voice actors to reprise their roles in this buzzy scene where Vanellope (Sarah Silverman) stumbles upon a room full of all of Disney's iconic princesses.
That includes Ming Na Wen as Mulan, Jodi Bensonas Ariel, Paige O'Hara as Belle, Linda Larkin as Jasmine, Idina Menzel as Elsa, Irene Bedard as Pocahontas, Anika Noni Rose as Tiana, Mandy Moore as Rapunzel, Kelly Macdonald as Merida, Kristen Bell as Anna, and Auli'i Cravalho as Moana.
You can read our description of the scene here (to paint a picture for you, a panicked Cinderella breaks her glass slipper and wields it as a weapon), but we finally got our first official look at the moment below.
Von Schweetz, meet the Princesses 👑🍬 Check out this sneak peek from the new trailer for #WreckItRalph2 #RalphBreaksTheInternet, coming soon! pic.twitter.com/AOtmERpgNX

— Disney UK (@Disney_UK) May 30, 2018
That's just one glimpse of the new journey that Ralph and Vanellope find themselves on as they visit cyberspace to seek a replacement part for Vanellope's video game Sugar Rush. USA Today has a few more images from the film, which includes our first look at Taraji P. Henson's character, Yessss.
Yesss is "a little snooty because she is smart and she does know the Internet so well. But then she kind of takes a liking to the big lug," Henson told USA Today. "There's something about a really smart person empowering someone who is not as intelligent — it's like, 'Wow, see, I'm so good even I can teach you something.' "
Also pictured is Vanellope learning how to navigate the newfangled internet. She talks to Alan Tudyk's a KnowsMore, a know-it-all search engine that will actually mark Tudyk's second character in the Wreck-It Ralph series (he played King Candy in 2012's original Ralph and has been in virtually every Disney animated movie since). The younger video game character takes to the internet alarmingly quick, USA Today notes, but Ralph remains befuddled by the world wide web. "With Ralph, it's like when your dad looks at the Internet and goes, 'What is that? Why is that? What is going on?'" director Phil Johnston said.
The genius of the first Wreck-It Ralph was that it was embedded in '80s nostalgia while still feeling fresh. That can be attributed in large part to the outcast protagonists, Ralph and Vanellope (Sarah Silverman) and their hilarious antics as they accidentally wreaked havoc by jumping between games. Now, with the duo about to "break" the internet, their buddy-comedy dynamic seems stronger — and funnier — than ever.
Ralph Breaks the Internet: Wreck-It Ralph 2 hits theaters on November 21, 2018.