Small-Screen Stream: 'Friday Night Lights,' 'Fleabag,' 'Unsolved Mysteries,' And More Of The Best TV Streaming Now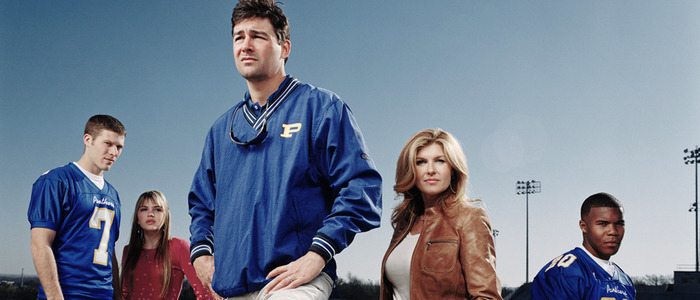 (Welcome to Small-Screen Stream, a feature where we share the best television shows streaming and where you can watch them.)
Hello all, I'm back for another week of Small-Screen Stream, where I'm bringing you suggestions about the best TV to stream this week. There were some new releases this last week, notably the second season of 13 Reasons Why on Netflix, but I'm steering clear of the more obvious stuff and going for some purely emotional choices this time around. (It's been a rough week, if you haven't guessed from the constant onslaught of horrible news, and we could all use an upper.)
But worry not, I also have Solo on the brain, and used that as an opportunity to sneak in some Star Wars and Star Wars adjacent choices. I hope you dig in and enjoy the offerings, and feel free to let me know the TV you've been checking out this week!
Friday Night Lights, Seasons 1-5
Where To Watch: HuluCreated By: Peter BergCast: Kyle Chandler, Connie Britton, Taylor Kitsch, Zach Gilford, Aimee Teegarden, Jesse Plemmons
In late April, Hulu acquired the exclusive streaming rights for Friday Night Lights (at least that's what the press releases said; you can also watch it on Amazon Prime) and thank god, because Netflix has been a dimmer place since the show faded from its catalogue. I don't say this often, but Friday Night Lights is truly a perfect television show. The characters are so magnetic and alive that I have a hard time separating those actors from who they play here. Sorry Kyle Chandler, but you are forever Coach Taylor in my heart. I haven't revisited the show in a few years, but I pulled up the pilot the other day to see if it holds up, and boyyyyyyy does it. In fact, I'd argue it's one of the greatest pilots ever put to screen, a truly beautiful and heartstring-tugging piece of art that is far better than it has any right to be. Friday Night Lights is one of those shows that I recommend to everyone, and then immediately feel jealous when they say they've never seen it. If you're one of the blessed unsullied, I cannot recommend it enough. Even my dark and cynical heart turns to mush when that theme song starts up.
Fleabag, Season 1
Where To Watch: Amazon PrimeCreated By: Phoebe Waller-BridgeCast: Phoebe Waller-Bridge, Hugh Skinner, Sian Clifford, Brett Gelman, Olivia ColemanSolo: A Star Wars Story comes out this week, which is a great excuse for the uninitiated to revisit (or visit for the first time) writer Phoebe Waller-Bridge's incredible series Fleabag, streaming now on Amazon Prime. Waller-Bridge stars as the new droid L3-37 in Solo, which is an off-kilter choice if you know her best for her TV work. Fleabag is a Girls-esque series about a 20-something woman navigating relationships, friendships, and family life in contemporary London. She's a damn mess, for reasons that slowly become clear as the first season unfolds, and that can make for a cringeworthy watch. But the titular Fleabag is unapologetically herself, which is refreshing as hell, and the series is flat-out hilarious, a total romp from beginning to end. Waller-Bridge has a strong voice, which she's since translated into other projects: she's also the creator and writer of the new BBC America series Killing Eve. I can't wait to see where her career takes her next, but I doubt I'll ever love anything as much as I love Fleabag. I can't recommend it enough.
Unsolved Mysteries, Seasons 1-12
Where To Watch: Amazon PrimeCreated By: John Cosgrove, Terry Dunn MeurerHost: Robert Stack
I've somehow been walking through life totally unaware that every Robert Stack-hosted season of Unsolved Mysteries is on Amazon Prime. And I'm ashamed. Discovering this has been the highlight of my year, as I love nothing more than being scared to death by low-budget reenactments with terrible special effects set to that iconic and bone-chilling theme music. And honestly, Unsolved Mysteries is somehow even scarier than I remembered. It's stark in its brutality, totally unafraid to pummel us with horrible details about murders and kidnappings and other rotten parts of the human condition. I feel like every '90s TV-obsessed kid has an Unsolved Mysteries segment they never forgot, and for me it's the episode about spontaneous human combustion, which is still my most irrational fear. If you're ready to re-live the terror of youth, I implore you to check it out.
New Girl, Seasons 1-6
Where To Watch: NetflixCreated By: Elizabeth MeriwetherCast: Zooey Deschanel, Jake Johnson, Max Greenfield, Lamorne Morris, Hannah Simone
We're finally out of the horrible winter months (to my fellow cold-climate-dwelling readers: we made it!) so comfort food TV isn't quite as necessary anymore, but if you're still stuck in the throes of winter blues, I highly suggest New Girl as an antidote. I'm not much of a quirky sitcom person, but there's something about Jess Day that I find irresistible. She's doe-eyed and loves crafts and is revoltingly twee, yes, but she's also a hot mess, and watching her navigate her life is a great comfort, as I too wind my way through the back-half of my 20s. I had left off somewhere around Season 3 when I first started watching, but noticed it on Netflix last month and have had a great time catching up on what I missed. The seventh and final season just wrapped up, so if you're at all invested in the lives of Jess and her trio of male roommates (and Cece!), it's really worth getting caught up in time to bid them adieu. It's been a joy watching them grow into something resembling adulthood.
The Clone Wars, Season 1-6
Where To Watch: NetflixCreated By: George Lucas, Dave FiloniCast: Tom Kane, Matt Lanter, James Arnold Taylor, Ashley Eckstein, Dee Bradley Baker
I don't think I'm alone when I say that I'm starting to get Star Wars fatigue. I'm a lifelong fan and am generally very positive about the Disney-era iterations. But there's so much of it now, and it shows no signs of stopping. It's a shame, but one that compelled me to dip back into The Clone Wars, one of my favorite Star Wars properties that is – yes – still trapped in a timeline we've seen over and over, but one that expands the storytelling in brave new directions. There's a lot that should be annoying about The Clone Wars, like inserting a padawan for Anakin who we never met in the prequels, but it somehow transcends that annoyingness and integrates itself as truly mythic, epic Star Wars storytelling. My hope is that Rian Johnson's upcoming trilogy (that is hopefully still on, despite the silly backlash against The Last Jedi) does even more of this kind of revelatory, deep-hued examination of Star Wars history. Until then, every season of The Clone Wars is available on Netflix as a holdover.
Carnivále, Seasons 1-2
Where To Watch: Amazon PrimeCreated By: Daniel KnaufCast: Nick Stahl, Clancy Brown, Michael J. Anderson, Clea DuVall
As Westworld zigs and zags its way back into our subconscious, I've been thinking a lot about two other shows that it reminds me of. The first is Lost, which I've spent a good deal of time writing about in comparison to Westworld. But another that popped back into my head is HBO's short-lived, under-loved Carnivále, one of my all-time favorite TV shows. Carnivále was either ahead of its time or out of time; it bucks conventional episodic narrative and favors mood over coherency. It's a lot like Twin Peaks that way (and even shares one of that show's stars, Michael J. Anderson), ambient and mysterious, but also big and philosophically incisive. It reminds me of Westworld with its big-skied storytelling, its deep-seeded conversations, its beautiful and operatic palette of televisual tools. The show is set during the Depression-era Dust Bowl and follows a man named Ben Hawkins (Nick Stahl), who has mysterious healing powers. Ben joins a traveling circus and is led down a strange, prophetic path towards a hysterical preacher named Brother Justin Crowe (Clancy Brown) and a mystery we the audience never quite get into, as the show was canceled after its second season. It's a bummer the big questions never got their answers, but Carnivále remains a neat little time capsule of a show, one that deserved its day in the sun but will still exist forever, ready to be discovered.
Evil Genius
Where To Watch: Netflix
I'm picky when it comes to true crime, and I haven't totally loved Netflix's other breakout crimes series, Making a Murderer and Wild, Wild Country. I like my crime docs to be thorough and creative, and to examine every possible angle. That's why I really dug Evil Genius, a new Netflix original that digs deep into a crime that is far weirder than its premise might suggest. In 2003, an Erie, Pennsylvania resident named Brian Wells robbed a PNC Bank at gunpoint. Fastened to Wells' neck was an explosive device, which he said was forcibly placed on him. The bomb goes off and kills Wells in the show's opening moments, sending the FBI on a wild goose chase for answers: who made the device, was Wells telling the truth, and who was truly responsible for this elaborate, bizarre heist? Evil Genius is only four episodes long, which makes for a brisk, propulsive viewing experience. At the center of the story is a maniacal woman named Marjorie Diehl-Armstrong, a person you won't soon forget, and a character any true crime story is all the better and more interesting for.
Celebrity Ghost Stories, Seasons 1-2Where To Watch: HuluCreated By: David McKillopCast: Joan Rivers, Scott Baio, David Carradine, John Waters, Carrie Fisher
I'm not really into stuff like The Bachelor or Real Housewives, I've never seen a Kardashian, but I can't judge people who love those shows because my reality niche of choice is way sillier: I'm obsessed with ghost hunting shows. It's pretty much all a crock, and I love every second of it. The apex of paranormal shows, in my humble opinion, is A&E's Paranormal State, but that's not streaming for free anywhere and so I will go for the second-best offering: Celebrity Ghost Stories. Celebrity Ghost Stories is one of the worst-produced things I've ever seen featuring a somewhat A-list cast. How the producers managed to court the likes of David Carradine and Joan Rivers is totally beyond me, but we are truly blessed that they did. My favorite episode features John Waters and Carrie Fisher, two of the greatest people who ever did live, occupying the same space and chatting about ghosts. What's not to love? If you, too, like paranormal junk food, I can't recommend this trash enough.