Uma Thurman To Star In Supernatural Netflix Series 'Chambers'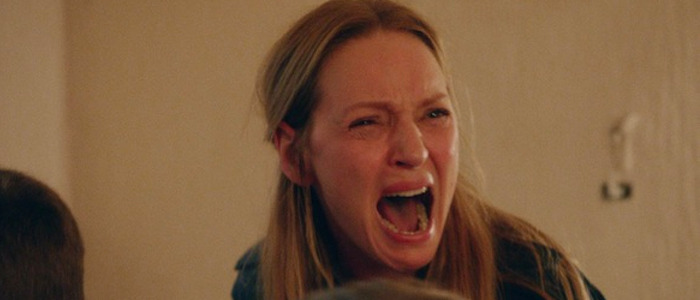 Uma Thurman has kept a bit of a low profile from acting in the last few years, but now she's back, and that's great news. Thurman will next star in the supernatural Netflix series Chambers, which is apparently about a haunted human heart. What more do you need?
The "haunted organ donor" sub-genre has produced films like Body Parts, The Eye and a pretty gnarly segment in the horror anthology film Body Bags. You know the story – someone receives an organ (or limb) transplant, only to find out all is not what it seems. The newly transplanted body part has a mind of its own, or the dead donor wants it back. Scary sounds, jump scares, and body horror soon follows.
Now Uma Thurman and Netflix want in on that action, and folks, I am here for it. Thurman will star in the Netflix series Chambers, playing "the mother of a heart donor who forges a hesitant relationship with the young recipient only to find out her daughter may not be as dead as she thought."
Here's a full synopsis:
A young heart attack survivor becomes consumed by the mystery surrounding the heart that saved her life. However, the closer she gets to uncovering the truth about her donor's sudden death, the more she starts taking on the characteristics of the deceased — some of which are troublingly sinister.
This premise sounds promising – the world needs more horror shows, and there's a lot of room for spooky shenanigans with this storyline. But the real draw here is Thurman. The actress is picking up more and more new work after laying low for a few years, and it's good to have her back. Put Uma Thurman in all the movies and TV shows, I say.
In addition to Chambers, Thurman also appears in the upcoming Lars Von Trier film The House That Jack Built. She'll also be seen in the horror thriller Down a Dark Hall directed by Rodrigo Cortés, and Tim Hill's The War with Grandpa, co-starring Robert De Niro.
Netflix ordered Chambers back in January, with writer/director/actress Leah Rachel and Akela Cooper (Marvel's Luke Cage) serving as co-showrunners, and Stephen Gaghan serving as executive producer.
There's no premiere date for Chambers yet, but if I had to guess, I'd say we probably won't see it until 2019. In the meantime, you can bookmark the Netflix placeholder page for the show, and sit around refreshing it every single day until the announcement is made. Or you can you just wait for someone else to announce it, I guess. Whatever works.