'Roseanne' Cancelled Because Of Star's Racist Tweet, Original Reruns Pulled Everywhere Too [Updated]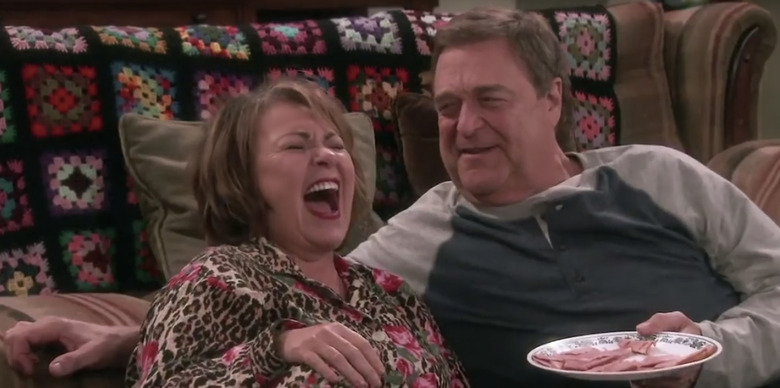 In a shocking decision, ABC has officially cancelled the mega-popular sitcom Roseanne after the show's lead actress posted a racist comment on Twitter.
UPDATE: In addition to the Roseanne revival being canceled at ABC, The Hollywood Reporter says reruns of the original series that ran from 1988 to 1997 have been pulled from Viacom's Paramount Network, TV Land and CMT starting today, and The Laff network has also followed suit. Hulu will also be taking down all episodes of Roseanne from their streaming service.
Read our original story from May 29 on the Roseanne cancellation, along with the official statement and Roseanne Barr's apology, below.
Roseanne Cancelled
Late last night, actress Roseanne Barr – an outspoken Trump supporter – tweeted a racist comment about Valerie Jarrett, a black woman who formerly served as an advisor to President Obama.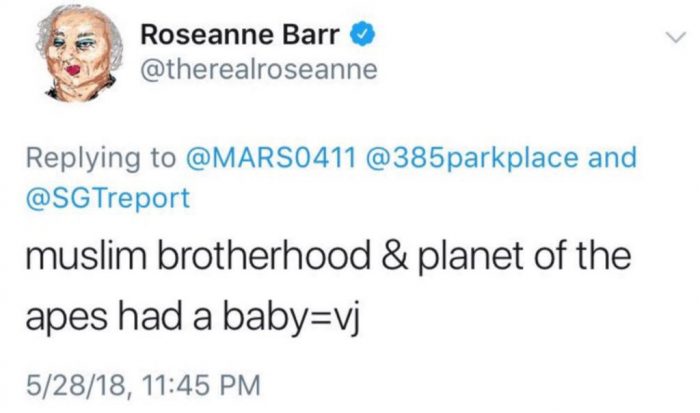 Barr later claimed the tweet was a joke, but eventually deleted it after experiencing a backlash on social media. Wanda Sykes, a consulting producer on the series, announced this morning that she would not be returning for the next season. Barr tweeted an apology:
And then she tweeted another, in which she doubled down on the idea that this was just a "bad joke":
But it looks like she finally crossed a line that ABC could no longer ignore. ABC Entertainment president Channing Dungey released a statement to the press explaining the show's cancellation:
"Roseanne's Twitter statement is abhorrent, repugnant and inconsistent with our values, and we have decided to cancel her show."
Even Bob Iger, the CEO of The Walt Disney Company (which owns ABC), had to chime in:
From Channing Dungey, President of ABC Entertainment: "Roseanne's Twitter statement is abhorrent, repugnant and inconsistent with our values, and we have decided to cancel her show."
There was only one thing to do here, and that was the right thing.

— Robert Iger (@RobertIger) May 29, 2018
ABC absolutely made the right decision here, but I have to admit I'm surprised to see them take drastic measures here. We seem to live in a world without consequences right now, and this is far from the first time Barr has tweeted something controversial and incendiary.
Reviving Roseanne for a tenth season initially seemed like a good move for ABC, because the program earned tremendous ratings for the network. But executives quickly realized that Barr's social media habits were turning into a problem that they couldn't control. She made headlines for sharing alt-right conspiracy theories about "Pizzagate," a fake sex trafficking ring that supposedly included prominent Democrats, and claimed a teenaged school shooting survivor was giving a Nazi salute. Co-showrunner Whitney Cummings recently left the series.
But it seems that while ABC was fine with Roseanne sharing conspiracy theories and attacking children online, they could no longer ignore her making openly and blatantly racist statements. Still, it's not tough to imagine a situation in which they just distanced themselves from the actress and let her continue to lead one of the biggest shows on TV in order to preserve their own ratings, so hats off to them for making what must have been a difficult business decision. (Though, to be fair, enough public outcry may have made securing advertising on Roseanne difficult moving forward, so there was definitely a business component to this decision as well.)
The first season of the revival series (the tenth overall) aired its finale episode last week, and was the highest-rated scripted show not only on ABC, but on all broadcast television, beating out shows like This Is Us and The Big Bang Theory. There's no word yet about what show will take Roseanne's place on the network's Tuesday night schedule.