'King Lear' Trailer: Anthony Hopkins Returns To Shakespeare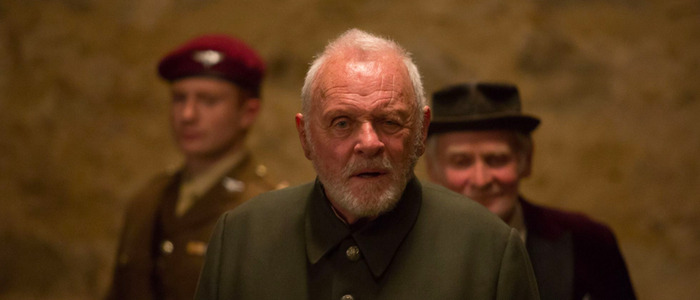 Anthony Hopkins has appeared in productions of Shakespeare's work on both stage and screen, and now he's bringing his talents to a BBC production of King Lear. You can watch the King Lear trailer below.
King Lear Trailer
Anthony Hopkins can do it all – appear in brilliant costume dramas like Howard's End, and also big, loud, dumb things like Transformers: The Last Knight. He's one of the best actors working today, and the prospect of seeing him return to Shakespeare is too good to pass up. This BBC production of King Lear has surrounded Hopkins with an impressive supporting cast. Emma Thompson, Emily Watson, Jim Broadbent, and Florence Pugh all star in the film, which is helmed by Notes on a Scandal director Richard Eyre.
King Lear focuses on the aging King of Britain, who attempts to avoid conflict by dividing kingdom between his three daughters.
"I did Lear about 30 years ago with David Hare, at the National Theatre," Hopkins said in a recent interview. "It was a wonderful production but I think I was too young. I didn't get it right." Hopkins added:
"I wanted to do him as a fast, furious old man who is incapable of love...He has never felt love. I feel that in his early life, he was deeply hurt and savaged by some awful emotional calamity and he turned his ire on the human race and his three daughters...He was a very over-stern father who made his daughters into the creatures they were. Even with Cordelia – he only felt comfortable if she was a tomboy. A masculine girl. He treated her like a boy. That was my subtext, if you want. The other two daughters... he didn't even like them. And that happens with families. You don't have to like your family. Children don't like their fathers, you don't have to love each other..."
King Lear is now available to watch on BBC.
The 80-year-old King Lear divides his kingdom among his daughters, Goneril, Regan and Cordelia, according to their affection for him. Cordelia refuses to flatter him, so he banishes her. Having acquired power, Goneril and Regan expel their father from their homes. At the same time, Lear's prime minister, Gloucester, is betrayed by his son Edmund and his other son, Edgar, is forced to go into hiding. Lear becomes mad, Gloucester is blinded: both the kingdom and the family collapse into chaos and warfare. Lear and Cordelia are reunited – for a brief moment love reigns, then tragedy descends.
In the meantime, if you want more Hopkins doing Shakespeare, I highly recommend Julie Taymor's strange, brutal adaptation of Titus Andronicus, called Titus. Here's a clip.