'Bad Times At The El Royale' First Look Photos: Chris Hemsworth Needs An Umbrella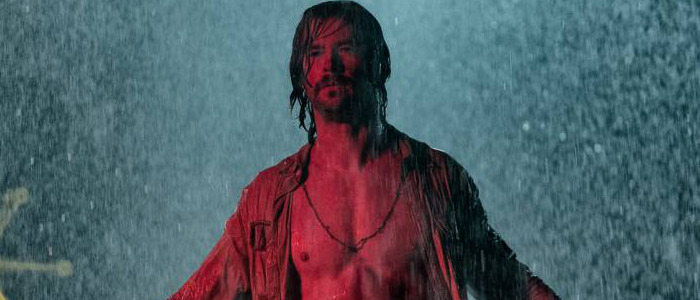 We're only a few months away from seeing a new Drew Goddard movie, and the film's first official image has arrived. A batch of Bad Times at The El Royale first look photos are here, and one features star Chris Hemsworth showing off his ripped abs as he stands in the rain.
What's that? You're not even reading these words right now because you're already looking at that photo below? Yeah, I'd probably do the same thing if I were you.
Before we get to the photos, here's a bit of context for what you're about to see. The film's official synopsis goes like this:
Seven strangers, each with a secret to bury, meet at Lake Tahoe's El Royale, a rundown hotel with a dark past. Over the course of one fateful night, everyone will have a last shot at redemption... before everything goes to hell.
We'd previously heard that the movie was set in the 1960s and featured a group of characters who violently collide at a crappy hotel in Lake Tahoe. We knew Hemsworth, Jeff Bridges, Russell Crowe, and Dakota Johnson were all lined up to star, but now we know Jon Hamm, Lewis Pullman, Cynthia Erivo, Nick Offerman, and Pacific Rim: Uprising's Cailee Spaeny are also on board.
Empire has our first official look at the upcoming movie, which makes Hemsworth look like some kind of rock and roll god.
Bad Times at The El Royale First Look Photos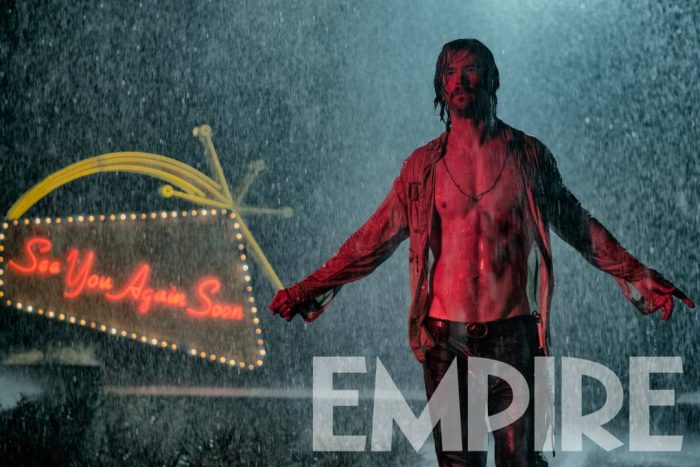 Entertainment Weekly has a few more photos and a batch of new plot details, revealing that Hemsworth plays a cult leader, Hamm plays a vacuum cleaner salesman, Bridges plays a down-on-his-luck priest, Erivo plays a singer named Darlene Sweet, Spaeny plays "an impressionable Southern girl," and Johnson plays her older sister.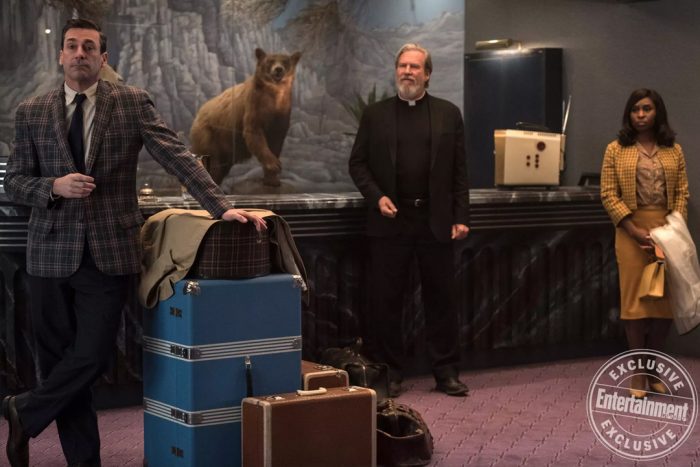 The story takes place in 1969, and Goddard teased that some historical figures who were alive at that time will appear (though he didn't offer any more details about exactly who we'll see). He explained that while The Cabin in the Woods was a film constantly in conversation with its horror genre roots, Bad Times is a much more straightforward story. But he says both movies have a "sense of danger" to them that he doesn't often see in mainstream franchise productions: "It definitely shares the boldness in choice that Cabin has. We certainly don't play it safe."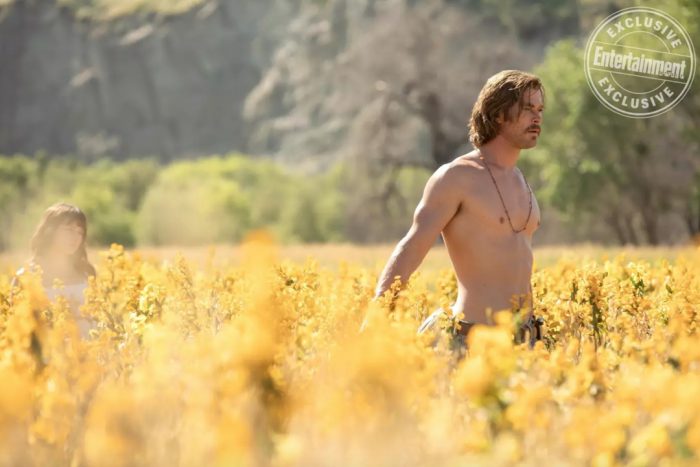 Goddard has only directed one feature film thus far (2012's terrific The Cabin in the Woods), but he's helmed a couple episodes of NBC's wonderful comedy The Good Place and has an X-Force movie lined up at 20th Century Fox (the same studio that's distributing Bad Times at The El Royale). His directing credits have all turned out well so far, and his writing is stellar, too – he's written episodes of Buffy the Vampire Slayer, Alias, and Lost, and screenplays for movies like Cloverfield and The Martian. You can see one more photo from Bad Times at the El Royale over at EW.
Bad Times at The El Royale arrives in theaters on October 5, 2018.