New 'Jurassic World: Fallen Kingdom' TV Spot And Poster Put The Park In The Past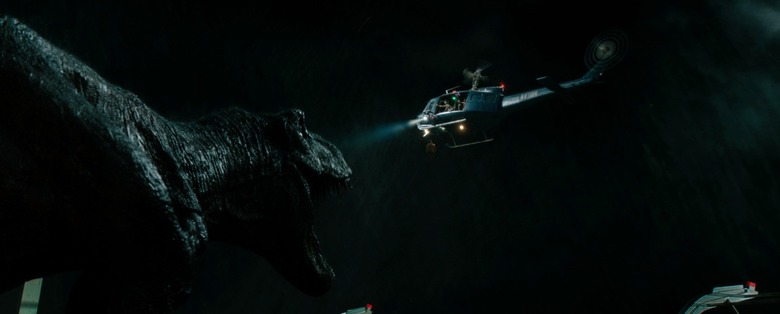 Jurassic World: Fallen Kingdom is putting the past behind it — but that may have dire consequences for the future of humankind. While 2015's Jurassic World was steeped in the nostalgia for Steven Spielberg's beloved Jurassic Park movies, Fallen Kingdom is done with the park. Instead, the latest TV spot and poster attempt to bring us into "the future" with the deadliest dinosaur the franchise has seen yet.
Jurassic World Fallen Kingdom TV Spot
The latest Jurassic World: Fallen Kingdom TV spot hones in on Rafe Spalls' villain Eli Mills, who ominously declares "the island is in the past. I want to show you the future."
Using Blue's DNA, Mills and Dr. Henry Wu (B.D. Wong) create a monstrous genetically enhanced dinosaur that will terrorize the rest of the world, not just Isla Nublar. Fooling Owen (Chris Pratt) and Claire (Bryce Dallas Howard) into thinking that they were participating in a rescue mission for the dinosaurs from the island's erupting volcanoes, Mills and Wu successfully capture Blue to create the sinister  hybrid dinosaur, the Indoraptor.
The TV spot doesn't tell us anything we don't already know — though there are some nifty new scenes of Blue fighting his unwitting spawn, the Indoraptor. But the most important thing about this spot is that it's accompanied by what may be Jurassic World: Fallen Kingdom's best poster yet.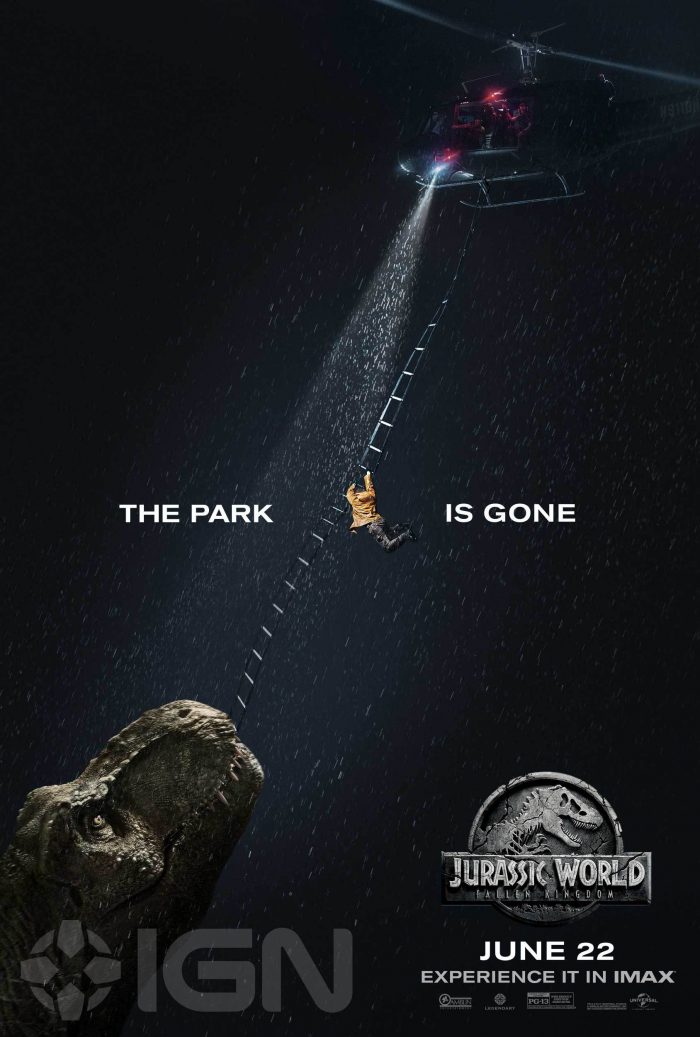 Now that is a poster. A dynamic, dark, and dramatic freeze-frame of one of the greatest moments of suspense in the trailer. Hopefully, the final scene lives up to this tease.
Jurassic World: Fallen Kingdom also stars Jeff Goldblum, along with Justice Smith, James Cromwell, and Toby Jones. J.A. Bayona directs the sequel, which is penned by Jurassic World director Colin Trevorrow and Derek Connolly.
Here is the synopsis for Jurassic World: Fallen Kingdom:
It's been four years since theme park and luxury resort Jurassic World was destroyed by dinosaurs out of containment. Isla Nublar now sits abandoned by humans while the surviving dinosaurs fend for themselves in the jungles. When the island's dormant volcano begins roaring to life, Owen (Chris Pratt) and Claire (Bryce Dallas Howard) mount a campaign to rescue the remaining dinosaurs from this extinction-level event. Owen is driven to find Blue, his lead raptor who's still missing in the wild, and Claire has grown a respect for these creatures she now makes her mission. Arriving on the unstable island as lava begins raining down, their expedition uncovers a conspiracy that could return our entire planet to a perilous order not seen since prehistoric times. With all of the wonder, adventure and thrills synonymous with one of the most popular and successful series in cinema history, this all-new motion-picture event sees the return of favorite characters and dinosaurs—along with new breeds more awe-inspiring and terrifying than ever before. Welcome to Jurassic World: Fallen Kingdom.
Jurassic World: Fallen Kingdom finds a way to theaters on June 22, 2018.