'Sequence Break' Clip: One Of 2018's Wildest Horror Movies Is Streaming Now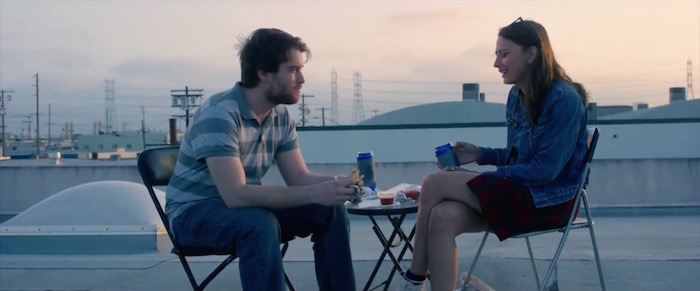 From the nightmares of Genius Bar gurus and arcade repairmen alike slithers Graham Skipper's Sequence Break – equal parts David Cronenberg body horror and Under The Skin darkness (literal, physical darkness). Streaming horror service Shudder was quick to nab the title's exclusive distribution rights after a noisy festival run, right after they wiped away a thick coating of creamy nonsense from...well...everything. This movie is gross, inquisitive and nostalgic by way of generational homage. Skipper's love of decades-old practicality and effects work is a mucky blast from the past, primed to earn a slot on my year-end "WTF Movie Moments" round-up.
You might remember Sequence Break appearing in an earlier feature I used to hype y'all with exciting genre titles set to land in 2018, but no upload date was announced at that point. That, as you might assume, has changed! Like, to this month! You can see the film right now as it was just released on Shudder as of last night. I'd say "What are you waiting for?", but first, the good people behind this lurid digital gusher have a clip they've asked us to debut.
Sequence Break Clip
Tacos, beer and survivalist invasion fantasies. Between Oz (Chase Williamson) and Tess (Fabianne Therese), this is the kind of awkward date banter you can expect. One a hopeful video game programmer obsessed with motherboards and wiring, the other – well, you see where Tess' mind immediately wanders. As one might surmise, Skipper hinges the film's conflict on Oz's paranoid attempt to keep Tess safe from something wicked he may have awoken. Pay close attention to the mini-freakout come the clip's end.
Don't let the rooftop banter fool you. While Sequence Break does feature a fair amount of dialogue, science fiction realms lead inside an arcade cabinet with possibly sinister motives. Buttons turn to mush, cables twist like vines a la Sam Raimi, yadda yadda – no spoiling surprises. Skipper's techno-charged romantic thriller is both new-wave and so serviceably retrofied, squishy enough to leave you in need of a nice rinse afterwards. The horror-skeevy equivalent to being sucked inside Tron.
Sequence Break is Graham Skipper's second feature as writer/director, coming shortly after his debut Space Clown. In addition to Chase Williamson and Fabianne Therese, the cast also includes Lyle Kanouse, Audrey Wasilewski and John Dinan. Get ready for a cyber conundrum that honors its indie roots, as brainy as it is bizarre. A bit more to it than a Pac-Man stage, that's for sure.
Be sure to check out Sequence Break exclusively on Shudder right now!