'Christopher Robin' Trailer: Winnie The Pooh And Friends Are Back To Warm Your Cold Heart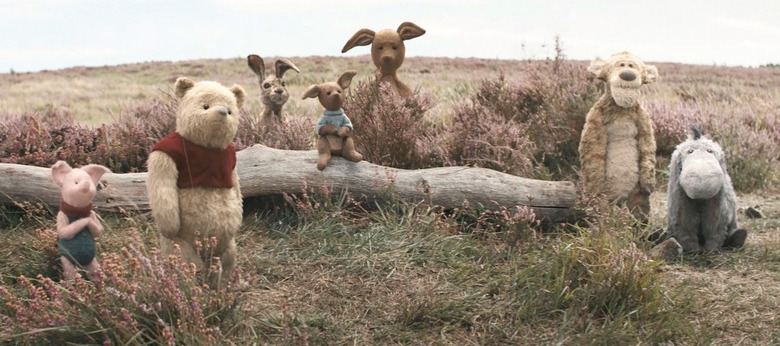 This summer will be full of blockbuster action, but once the season starts to wind down, things will get a little more quiet and charming thanks to the return of a certain silly old bear.
Christopher Robin finds Disney doing their own rendition of Hook with the titular human friend of Winnie the Pooh (and all his friends from the Hundred Acre Wood) being all grown up, played by Ewan McGregor and having nearly forgotten about all the good times he had with the honey-loving bear who doesn't wear any pants. A new Christopher Robin trailer has just arrived, and this movie looks absolutely delightful.
Watch the Christopher Robin Trailer
Clearly taking a cue from Paddington, the movie uses Disney's long-beloved Winnie the Pooh to drive a nostalgic but charming tale about appreciating life, no matter how old and stuffy we might get. The teaser trailer for the movie only barely introduced us to the concept, but this one fleshes out the story even more. We see Christopher Robin helping Pooh track down the friends he's lost rather quickly (he was always a forgetful bear), but then he has to go back to that stupid adult job he has. So Pooh takes it upon himself to have Eeyore, Tigger, Piglet and more bring the fun to Christopher Robin.
This just looks like a damn delight. Much like the Mr. Rogers documentary Won't You be My Neighbor coming to theaters next month, this feels like a movie we all need right now to feel a little bit better about the world.
On top of all that, the voice casting is outstanding. Not only does it feature Jim Cummings reprising his role as Winnie the Pooh and Tigger (which he inherited in the late 1980s), but there's Brad Garrett as Eeyore, Toby Jones as Owl, Nick Mohammed as Piglet, Peter Capaldi as Rabbit and Sophie Okonedo as Kanga. Plus, Hayley Atwell is there as Christopher Robin's wife.
Christopher Robin hits theaters on August 3, 2018. Here's the official synopsis:
In the heartwarming live action adventure Disney's "Christopher Robin," the young boy who shared countless adventures with his band of lovable stuffed animals in the Hundred Acre Wood is now grown up and living in London but he has lost his way. Now it is up to his childhood friends to venture into our world and help Christopher Robin rediscover the joys of family life, the value of friendship and to appreciate the simple pleasures in life once again.