10 Great Animated Shorts That Aren't From Pixar Or Disney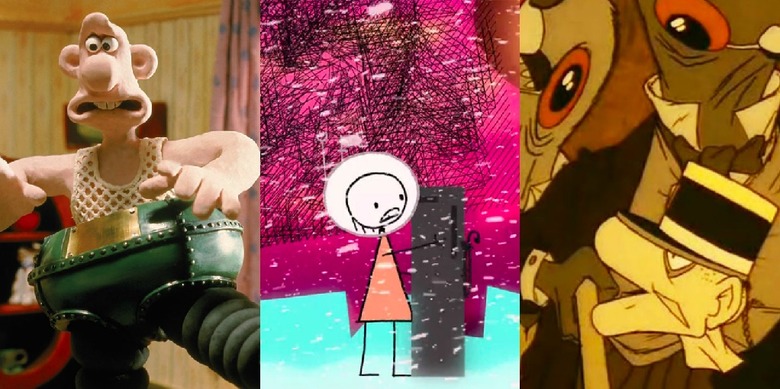 (Welcome to Let's Get Animated!, a column that spotlights the best of film animation. In this edition: here are the most essential stop-motion animated movies.)
With every new Pixar movie comes the promise of another one of the studio's beautifully constructed, deeply felt animated shorts. And the upcoming short paired with the highly anticipated Incredibles 2, the empty-nester fable Bao, looks like it will be all that and more. But it's easy to forget that Pixar and Disney aren't the be-all-end-all for affecting, cutting edge animated shorts. In fact, some of the best animated shorts may lie outside the realm of the two animation giants.
There's a wealth of animated short films that have pushed the boundaries of animation and storytelling, both in and outside the Hollywood studio system. So let's run down some of the best animated shorts that don't come from Pixar or Disney.
The Wrong Trousers (Nick Park, 1993)
I couldn't write this list without kicking it off with the classic Wallace and Gromit short. The Wrong Trousers is a zany, pitch-perfect piece of stop-motion animation from Aardman maestro Nick Park which went on to win the Oscar for animated shorts and inspire an entire charity fundraising day in Britain. But its accolades aren't the reason it's first on this list.
The Wrong Trousers is a rollicking short film which packs more jokes and cinematic homages into its 30-minute runtime than most feature films do today. Park deftly revives the silent-film comedy with his story about the eccentric inventor Wallace and his mute anthropomorphic dog Gromit facing off against an inscrutable criminal penguin. Wallace's latest invention — a pair of robotic pants meant to help Gromit on their walks — drives them into debt and forces the duo to take up a lodger. But the only one that applies is a suspicious penguin named Feathers, who turns out to be a master jewelry thief. There's slapstick, suspense, and a heart-pounding train chase scene that recalls the best of Steven Spielberg's taut direction in Indiana Jones. "Plus Tom and Jerry, Buster Keaton . . . Pink Panther movies, everything that I ever enjoyed," Park said at the time of the film's release in 1993. But the short film never feels overcrowded by its vast range of movie nods and non-stop jokes. In fact, it only lends to the absurdity, as the story escalates from a quirky British romp to a straight-up thriller. I mean, when you have a hapless inventor and his dog battling a stoic, gun-toting penguin, the story can only get wilder from there. And thank goodness it does, because it gives us the master class in short film comedy that is The Wrong Trousers.
The Man Who Planted Trees (Frederic Back, 1988)
Based on French author Jean Giono's allegorical story published in 1953, The Man Who Planted Trees is a Canadian short film told in beautiful, wispy impressionist animation that follows a young man who encounters a peculiar shepherd living alone in the foothills of the Alps in Provence, France. Surrounded by desolate land and the remnants of impoverished mining towns, the shepherd has undertaken a single-handed mission to re-forest the barren valley that he lives in. When the young man returns five years later — older, wearier, and shell-shocked from fighting in World War I — he is amazed to discover that the shepherd's efforts have paid off and a miraculous forest has sprung up around the entire valley.
The Man Who Planted Trees is an elegiac ode to life and the potential of humankind, while tapping into the plight of reconstruction and recovery facing Europe in the wake of the devastating World Wars. Its themes of resilience and the "rustic pleasures" feel like a melancholic, mature evolution of The Little Prince.
World of Tomorrow, Episode 1 and 2 (Don Hertzfeldt, 2015, 2017)
I'm cheating a bit by including both Don Hertzfeldt's Oscar-nominated short World of Tomorrow and its sequel but the two short films and their explorations of immortality, memory, grief, and human consciousness, deserve to be appraised as a single entity. At first glance, Hertzfeldt's critically acclaimed shorts seem like juvenile scribbles — stick figures thrown onto a crazy-quilt of bright colors and stock images of space. But it is so much more than that. A heady mixture of sci-fi horror tropes and philosophical concepts, World of Tomorrow introduces a young, bubbly girl named Emily who meets to her clone from the future. Her third-generation clone has been uploaded with all of Emily's memories in her present and future lives in a clumsy attempt at immortality, but can't stop from glitching. The Emily clone is but a pale shadow of the bright, babbling toddler in front of her, speaking in monotone and wondering about the nature of emotion. "I am very proud of my sadness, because it means I am more alive," the clone realizes at the end of the first 16-minute short.
Hertzfeldt followed up World of Tomorrow with a 22-minute sequel two years later, subtitled The Burden of Other People's Thoughts. But this time instead of delving into the life of Emily Prime, World of Tomorrow Episode 2 focuses on the life of the sad back-up clone Emily 6, a clone of the clone from the last film. Left without purpose and without the majority of Emily's memory, Emily 6 grapples with her identity as empty vessel. Surreal, cerebral, and a little depressing, World of Tomorrow Episodes 1 and 2 marry absurdist humor with profound, life-affirming meditations on humanity in the digital age.
The Old Lady and the Pigeons (Sylvain Chomet, 1998)
Before he was nominated for two Oscars for his 2003 feature-length animated film The Triplets of Belleville and was launched to global fame, Sylvain Chomet directed this kooky and slightly grotesque tale of a starving Paris policeman who discovers an old lady who will feed pigeons excessively. After he's plagued by nightmares of pigeons pecking at his emaciated stomach, the lonely policeman builds a giant pigeon mask and costume to visit the old lady. Immediately, she welcomes him into her home and feeds him progressively lavish meals which he rudely gorges on. But as he grows fatter and more compliant, he comes to a horrific realization about the reason for the old woman's rich, indulgent meals.
Told with virtually no dialogue, The Old Lady and the Pigeons a surreal anti-morality tale. The warm and cozy Parisian backgrounds animated by Nicolas de Crécy stand in striking contrast to the exaggerated, unnerving character designs, lending to the general unease and that really, really creepy twist.
Alma (Rodrigo Blaas, 2009)
If you ever watched Toy Story and thought, hey what if it had a terrifying premise, Alma is the animated short for you. And its Pixar leanings make sense: Alma is a Spanish computer-animated dark fantasy short film produced by ex-Pixar animator Rodrigo Blaas. The six-minute short follows a young girl named Alma (which in Spanish means "soul") as she wanders into a deserted toy store after spotting a doll that bears an eerie resemblance to her. I won't spoil what happens next, but you can probably guess from there. It's a nightmarish short film that could easily be turned into a feature film, and may well someday be — back in 2010, Dreamworks announced that it had plans to make a feature adaptation of it with Blaas at the helm and Guillermo del Toro executive producing, but nothing has been heard about the project for years.
Mount Head (Koji Yamamura, 2002)
Remember when your mom used to tell you that if you eat a watermelon seed, a watermelon will grow in your stomach? Mount Head takes that old wives' tale  and runs with it. An Oscar-nominated Japanese animated short told in the style of Japanese rakugo — a traditional form of entertainment featuring a lone, bombastic storyteller on a stage aided by only a paper fan — Mount Head follows a miserly man who is so insistent on not wasting food that he eats the pits of his cherries. One day, he discovers that a cherry blossom tree has started growing on his head, causing a crowd of people to converge around it. But the joyful picture is cut short as the crowd becomes increasingly rowdy, drinking and throwing trash on the ground — much to the annoyance of the man. Silly and slightly disturbing, Mount Head is a quirky parable about pollution and environmental waste with a dark, cynical twist.
Story Time (Terry Gilliam, 1968)
Terry Gilliam's fantastical, imaginative films always had a cartoonish flair to them, so it's no surprise that some of Gilliam's earliest works in the Monty Python comedy troupe was as an animator. Story Time compiles several of Gilliam's works from the late 1960s and early 1970s and presages some of the irreverent, stream-of-conscious comedy that the group would perfect in their acclaimed feature films Monty Python and the Holy Grail and Life of Brian.
The short is comprised of three segments: an animated version of Gilliam reading a children's story about a doomed cockroach, a segment titled "The Albert Einstein Story" which follows an English man named Albert Einstein and his dancing hands, and a bizarre segment about Christmas cards. Crudely animated with cut-outs, self-referential, and riotously funny, Story Time is a revolutionary piece of comedy.
The Killing of an Egg (Paul Driessen, 1977)
Though he is behind some of the most revolutionary animated work in movie history, Paul Driessen is hardly known outside of animation fans. Which is a shame. The Dutch animator behind The Beatles' iconic 1968 film Yellow Submarine, Driessen has created dozens of influential short films throughout his long career. One of them is the short, simple and darkly funny The Killing of an Egg. The very brief short, which reportedly inspired Spongebob Squarepants creator Stephen Hillenburg, depicts a man preparing to eat a soft-boiled egg for breakfast. But as he cracks it open, he hears an Italian-accented voice testily yelling, "Hey, who is it?" Rather than balking at the voice, he continues to tap with glee, until he gets carried away and smashes the entire egg. But the end of the short brings a rather grim twist that will make you rethink the bright, comic-strip style of the short.
Bob's Birthday (Alison Snowden and David Fine, 1993)
Another Oscar-winning short, Bob's Birthday went on to spawn a beloved British-Canadian animated series Bob & Margaret which ran for four seasons. But the lighthearted series is worlds away from the hilariously depressing, witty short about depressed dentist goes through his mid-life crisis as his doting wife rushes to throw a surprise 40th birthday party for him. The short boasts that classic dry-witted cringe humor found in British comedy, along with a healthy helping of animated nudity. Seriously, there's a long scene where Bob's genitalia is just hanging out there. But it's a funny and real depiction of a long-married couple, which makes sense as it's based off of directors Alison Snowden and David Fine's own life. Hopefully without the public indecency.
Out of Sight (Ya Ting Yu, 2010)
An utterly charming and Studio Ghibli-esque short following a blind girl who loses her guide dog, Out of Sight is a wonderful student film by Ya Ting Yu. The soft and hazy animation gives way to a bright, vivid world of imagination that is perfectly attuned to the experiences of a young blind girl. When a young blind girl is mugged, her guide dog runs after the culprit, leaving the girl without a clue as to where she is. But she soon turns her terrifying situation into beautiful gift, her touch literally giving life to everything around her. The earthy red brick walls spring up at her touch, and she imagines the neighborhood not just as it is, but as it should be — her stick transforming into a magic and the world becoming a magnificent fairy tale kingdom. It's a lovely and delightful 5-minute short film that is worth the time of any Hayao Miyazaki fan.