James Mangold Will Write And Direct A Boba Fett 'Star Wars' Movie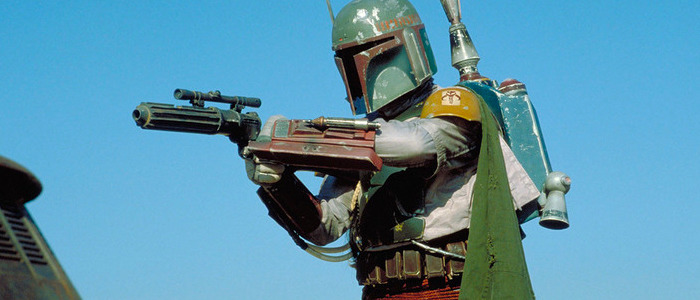 Boba Fett is getting his own Star Wars Anthology film, and Disney and Lucasfilm have tapped Logan director James Mangold to write and direct. A Obi-Wan Kenobi movie is also in development, but you knew that already. More on the Boba Fett movie below. 
The Hollywood Reporter reveals that James Mangold is writing and directing a Boba Fett movie. The bounty hunter character was first introduced in the Star Wars Holiday Special, before making his big screen debut in The Empire Strikes Back. Boba Fett's childhood was explored in the Star Wars prequels, where we also met his father, Jango Fett (technically, Boba Fett is a clone of Jango Fett, not his son, but let's not get into that right now).
Boba Fett is a fan favorite, even though the movies give him very little personality. That said, the character's bounty hunter nature opens him up to all sorts of adventures for a standalone film. The announcement also theoretically confirms that Lucasfilm and Disney are sticking with prequel stories for their Star Wars Anthology films. The first Anthology film, Rogue One: A Star Wars Story, was set directly before the events of Star Wars: A New Hope. We assume this film will take place before Fett fell into the Sarlacc pit in Return of the Jedi, but there's also the chance it features him surviving and crawling out.
This week, the latest Anthology film, Solo: A Star Wars Story, fills in the backstory of Han Solo. And now we have the Boba Fett film. In addition to this, THR confirms that an Obi-Wan Kenobi movie – another prequel story – is also in the works. We've long known about an Obi-Wan film, but Disney and Lucasfilm have yet to make an official announcement.
Last year, a rumor broke that X-Men: Apocalypse director Simon Kinberg was possibly developing a Boba Fett film, and it's not clear if Mangold's Boba Fett movie is the same project, with Mangold taking over for Kinberg, or if they're two separate ideas.
I'll confess I'm one of those people who doesn't think Boba Fett is really that interesting of a character. That said, I am a fan of Mangold's work – I think Logan is one of the best comic book movies ever made, and I quite enjoy his Western remake 3:10 to Yuma. Knowing Mangold is involved with this film, and both writing and directing it, gives me hope that it'll turn out to be something special. Now we just have to wait and see what the hell the movie is about.
Disney and Lucasfilm have already announced a Star Wars Anthology film will be released in 2020. Now the question is: will it be the Boba Fett movie, or the Obi-Wan film? My guess is we'll see Boba Fett first, since Mangold is apparently confirmed to write and direct, while THR reports Stephen Daldry is still in negotiations to helm the Obi-Wan film and no writers have started working on a script yet.