New 'Castle Rock' Photos And Story Details Take You To Stephen King's Haunted Town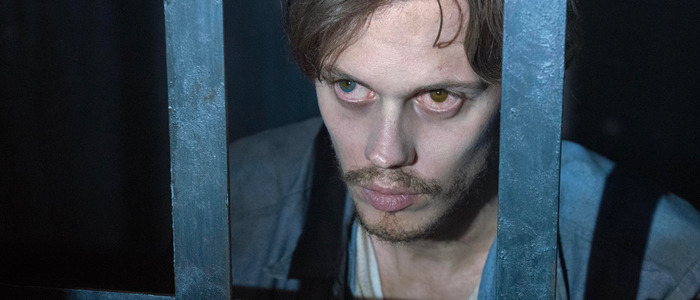 Stephen King adaptations continue to rule both the big and small screen. In addition to the several King-based movies in the works, there's also Hulu's series Castle Rock. New Castle Rock photos have been revealed, along with some details regarding the show set in one of Stephen King's most famous fictional towns.
I'm a big ol' Stephen King nerd, so I'm very excited to lay eyes on Castle Rock, the new Hulu series which is set firmly within King's world. Readers of King's work will recall Castle Rock as one of his many fictional Maine towns (along with Salem's Lot, Ludlow, Derry and more). The new series isn't exactly a specific adaptation of any of King's books, but rather a story exists in the fictional, horror-based world King has spent his entire career conjuring up. 
got to visit the Castle Rock set (lucky jerks) and came back with some details about the series.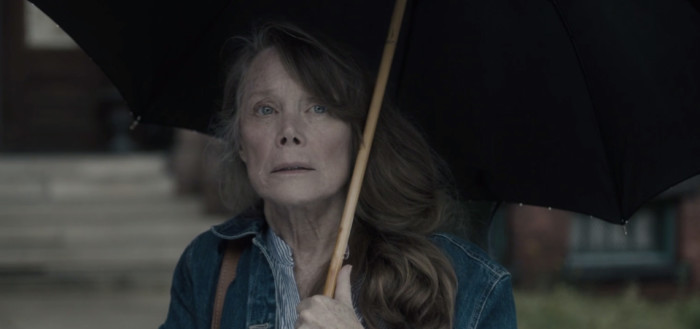 The Story and The Characters
The EW story provides some new details about the plot, and specifically, the characters. We already knew that Andre Holland's character Henry Deaver was a lawyer. EW now reveals that Henry "was involved in an accident that left his father dead and him the sole suspect, but he has no memory of it and eventually fled when townspeople turned against him."
Henry is drawn back to Castle Rock when a mysterious inmate nicknamed The Kid (played by It star Bill Skarsgard) is discovered in a cage deep beneath Shawshank Prison. Shawshank is, of course, the prison at the center of the King adaptation The Shawshank Redemption. After being discovered, The Kid specifically asked for Henry by name – even though Henry has no idea who this mysterious person is. EW points out that The Kid "has been in solitary confinement so long that he may be insane."
Of his character, Skarsgard says:
"He's a very traumatized creature..He's very feral. He's not normal. Everything is off and wounded in some way...A lot of what he's been through has shaped who he is, and...I can't say who he is without revealing what he's been through."
Other characters include Molly Strand, a real estate agent played by Melanie Lynskey. Then there's Alan Pangborn (Scott Glenn). Pangborn is a character featured in King's novels Needful Things and The Dark Half. He used to be the sheriff of Castle Rock, but now he's retired, and bitter.
Sissy Spacek plays Henry Deaver's adoptive mother Ruth, "who suffers from dementia and struggles to remember where — and when — she is." Spacek has a history with King adaptations – she starred in Carrie, the very fist King book to be adapted to the big screen.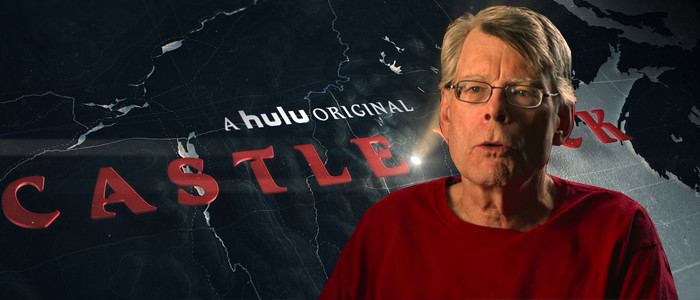 The Stephen King Universe
Castle Rock co-creators Sam Shaw and Dustin Thomason's tell EW they envision the show as a "Fargo-like series in which each season not only matches King's tone and aesthetic, but also plucks characters and settings directly from his work." They also add that rather than adapting one specific story from King's large library of work, they hoped to find the "type of King tale that would resonate today." Shaw says:
"When we returned to his library, a lot of his stories about prison and justice were really compelling to us...They're the closest things to true-life monster stories that we tell ourselves as a culture. How do we assign blame? How do we reckon with the idea of evil and whether we believe in it?"
Thompson adds:
"Our intention was always to tell an original story in the tune of Stephen King...The germ of the idea was to think about the kinds of people who have the grit to stick it out in a place that's been terrorized over and over again. Who stays in a place like that?"
As a King fan, I have to say this all sounds fantastic, and I'd like to see this show immediately. But what does Stephen King think of the series? Per EW, King watched the pilot and was impressed.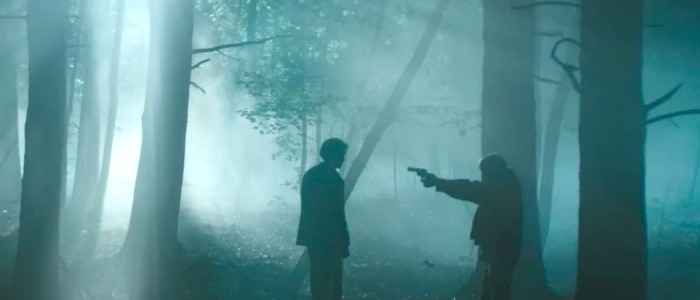 Castle Rock Photos
In addition to the new details, EW has some new Castle Rock photos as well. You can see them below. One shows Skarsgard's mysterious The Kid, looking very malnourished. The next features Andre Holland and Sissy Spacek as Henry and Ruth Deaver. And the final photo has Scott Glenn's Alan Pangborn wearily looking into an open grave.
The first three episodes of Castle Rock will premiere on Hulu on Wednesday, July 25, 2018.
A psychological-horror series set in the Stephen King multiverse, Castle Rock combines the mythological scale and intimate character storytelling of King's best-loved works, weaving an epic saga of darkness and light, played out on a few square miles of Maine woodland. The fictional Maine town of Castle Rock has figured prominently in King's literary career: Cujo, The Dark Half, IT and Needful Things, as well as novella The Body and numerous short stories such as Rita Hayworth and The Shawshank Redemption are either set there or contain references to Castle Rock. Castle Rock is an original suspense/thriller — a first-of-its-kind reimagining that explores the themes and worlds uniting the entire King canon, while brushing up against some of his most iconic and beloved stories.