Final 'Sicario: Day Of The Soldado' Trailer Increases The Action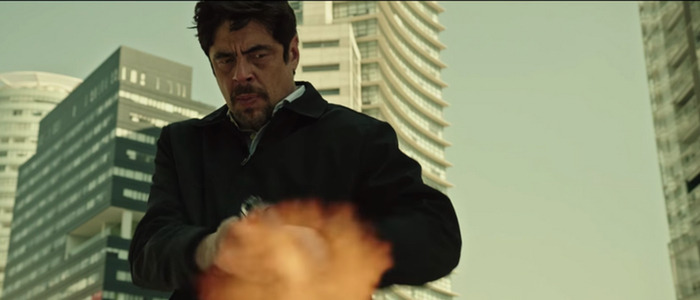 The final Sicario: Day of the Soldado trailer is here, and it leans heavily on action. There's shootouts galore, with the gunfights timed to the beat of the soundtrack. Watch the trailer below.
Sicario Day Of The Soldado Trailer
While Denis Villeneuve's Sicario had action in it, I wouldn't necessarily call it an "action movie." This latest trailer for Sicario: Day of the Soldado, however, seems content to sell the Sicario sequel as a straight-up action flick. There's pounding music, tons of shots of people firing off weapons, and even a surprising amount of jokes – another thing the original Sicario didn't have much of.
I remain slightly indifferent to this film. Visually, it looks good, and Josh Brolin and Benicio Del Toro are both fine actors who will bring their distinct acting styles to the project. But Sicario didn't really need a sequel to begin with. And to go ahead and make one without original star Emily Blunt seems ill-advised. A big theme of the first film was Blunt's lone-female character navigating a hyper-masculine world. That's all been dropped in favor of a movie that looks like it's big on shootouts and little else.
But I'm still going to give Sicario: Day of the Soldado a chance. Perhaps this marketing is deceptive, and the film has more on its mind than action beats. In the film, Benicio Del Toro returns as Alejandro, an assassin who once again gets drawn into a scheme spearheaded by federal agent Matt Graver, played by Josh Brolin. Brolin's character wants to use Del Toro to start a war, and part of the plan involves kidnapping a drug kingpin's daughter.
Stefano Sollima helms the film, with a script by original Sicario writer Taylor Sheridan. In addition to Del Toro and Brolin, Sicario: Day of the Soldado stars Isabela Moner, Jeffrey Donovan, Manuel Garcia-Rulfo, Shea Whigham, and Catherine Keener.Sicario: Day of the Soldado opens on June 29, 2018.
In SICARIO, Day of the Soldado, the series begins a new chapter. In the drug war, there are no rules – and as the cartels have begun trafficking terrorists across the US border, federal agent Matt Graver (Josh Brolin) calls on the mysterious Alejandro (Benicio Del Toro), whose family was murdered by a cartel kingpin, to escalate the war in nefarious ways. Alejandro kidnaps the kingpin's daughter to inflame the conflict – but when the girl is seen as collateral damage, her fate will come between the two men as they question everything they are fighting for.