Trailer Round-Up: 'Down A Dark Hall', 'The King', 'Dallas And Robo', 'Damsel' And More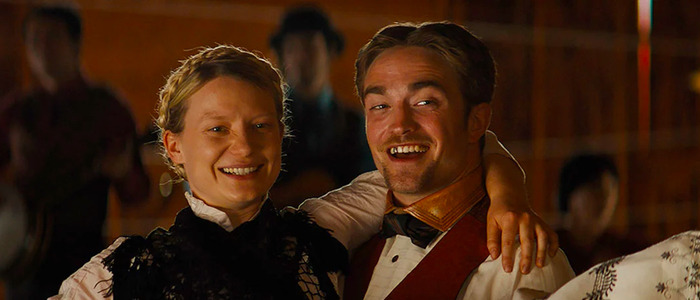 You wan't trailers? You've got trailers, baby. Here's a movie trailer round-up featuring the latest coming attractions you may have missed. And if you didn't miss them, just pretend you did and watch them anyway. Please, humor me. Below you'll see trailers for the Uma Thurman film Down A Dark Hall, the documentary The King, the YouTube original Dallas and Robo, the HBO doc John McCain: For Whom the Bell Tolls, the Robert Pattinson flick Damsel, the Imagine Dragons documentary Believer, the new series Strange Angel, and the animated film Fireworks.
Down A Dark Hall
Uma Thurman took some time off from acting, but now she's slowly making a comeback of sorts. Thurman appears in Down a Dark Hall, a new thriller adapted from a book by Lois Duncan, author of I Know What You Did Last Summer. The film focuses on "Kit (AnnaSophia Robb), a difficult young girl, is sent to the mysterious Blackwood Boarding School when her heated temper becomes too much for her mother to handle. Once she arrives at Blackwood, Kit encounters eccentric headmistress Madame Duret (Uma Thurman) and meets the school's only other students, four young women also headed down a troubled path. While exploring the labyrinthine corridors of the school, Kit and her classmates discover that Blackwood Manor hides an age-old secret rooted in the paranormal." Look for Down A Dark Hall on August 17, 2018.
The King
In the documentary The King, director Eugene Jarecki hops into Elvis' 1963 Rolls-Royce on "a musical road trip across America. From Memphis to New York, Las Vegas, and beyond, the journey traces the rise and fall of Elvis as a metaphor for the country he left behind. In this groundbreaking film, Jarecki paints a visionary portrait of the state of the American Dream and a penetrating look at how the hell we got here. A diverse cast of Americans, both famous and non, join the journey." Jarecki's film uses Elvis' rise and fall as a symbol of America's rise and fall, culminating with the election of a certain president who will go unnamed here. The doc features appearances from all sorts of celebrities and musicians. The King opens on June 22, 2018.
Dallas and Robo
Remember Futurama? That was a pretty great show! Anyway, here's a trailer for something called Dallas and Robo, an animated sci-fi series from both WWE and YouTube. The show focuses on "best friends and dysfunctional space truckers Dallas Moonshiner, a boozy ex-stock car racer (Kat Dennings) and Robo, a hulking A.I. with a sensitive side (John Cena). As they haul their cargo all over the galaxy, they also run out on bar tabs, bicker with rival truckers, and tussle with outlaw cannibal bikers who terrorize the space lanes." All episodes of the show will drop onto YouTube May 30, 2018.
John McCain: For Whom the Bell Tolls
John McCain: For Whom the Bel Tolls examines the life and political career of John McCain. McCain has cultivated a reputation as a "maverick", although some would argue that distinction isn't quite earned. No matter what, though, McCain is an American hero, and this doc takes an in-depth look at his life, "from his time as a POW in Vietnam to his three decades of service in the US Senate."  John McCain: For Whom the Bell Tolls premiers on Monday, May 28 at 8pm on HBO.
Damsel
Robert Pattinson and Mia Wasikowska star in Damsel, a film set in "the age of The Wild West, circa 1870." In the movie, "affluent pioneer Samuel Alabaster (Robert Pattinson) ventures deep into the American wilderness to reunite with and marry the love of his life, Penelope (Mia Wasikowska). For his journey he brings Butterscotch, a miniature horse intended as a wedding present for his bride, and enlists drunkard Parson Henry (David Zellner) to conduct the ceremony. As they traverse the lawless frontier their once simple journey grows treacherous, and the lines between hero, villain, and damsel are blurred." In his /Film review out of Sundance, Steven Prokopy said Damsel is "quite funny" and "mildly infectious and charming." Damsel opens June 22, 2018.
Believer
If you like the band Imagine Dragons, you might be interested in Believer, a new HBO doc about "Mormon Dan Reynolds, frontman for the Grammy Award-winning band Imagine Dragons, as he takes on a new mission to explore how the Mormon Church treats its LGBTQ members." This is a good cause, and I appreciate that rather than a hagiography about the band, this doc instead focuses on something good that Reynolds is trying to do. Look for Believer later this year.
Strange Angel
Strange Angel wasn't on my radar, but based on this trailer, I might have to give in and subscribe to CBS All Access to check it out. The drama series, created by Mark Heyman (Black Swan, The Skeleton Twins), is based on George Pendle's book of the same name, and "is inspired by the real life story of Jack Parsons and explores the dramatic intersection between genius and madness, science, and science fiction." The book's synopsis states:
"Fueled by childhood dreams of space flight, Parsons was a leader of the motley band of enthusiastic young men who founded the Jet Propulsion Laboratory, a cornerstone of the American space program. But Parsons's wild imagination also led him into a world of incantations and orgiastic rituals—if he could make rocketry a reality, why not black magic?"
That sounds neat! Strange Angel premiers on June 14, 2018.
Fireworks
Fireworks is a new animated film from Genki Kawamura, the producer of Your Name, and is "another tale of star-crossed teenage lovers with a sci-fi fantasy twist. Shy Norimichi and fast-talking Yusuke, are goo-goo-eyed over the same elusive classmate, Nazuna. But Nazuna, unhappy over her mother's decision to remarry and leave their countryside town, plans to run away and has secretly chosen Norimichi to accompany her. When things don't go as planned, Norimichi discovers that a glowing multi-color ball found in the sea has the power to reset the clock and give them a second chance to be together. But each reset adds new complications and takes them farther and farther away from the real world – until they risk losing sight of reality altogether. " Look for Fireworks on July 3, 2018.