'A Simple Favor' Trailer: Paul Feig Goes Dark In The Anna Kendrick, Blake Lively Suburban Thriller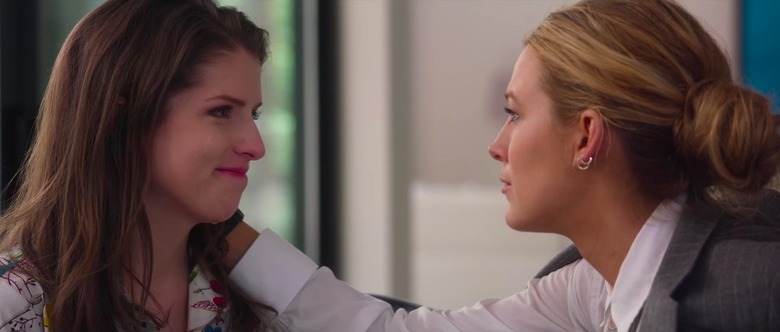 Paul Feig is making the pivot from broad comedies to steamy thrillers with A Simple Favor, the latest Gone Girl-lite mystery adaptation making its way from the bookshelf to the big screen. Anna Kendrick and Blake Lively star in the latest trailer, which teases us with the strange relationship between Kendrick's mommy blogger and Lively's mysterious glamazon.
A Simple Favor Trailer
The film follows Kendrick's mommy blogger Stephanie as she befriends and grows obsessed with the glamorous housewife Emily. But Emily's sudden disappearance kicks off a chain of events that Stephanie could never have foreseen.
"From the darker side of Paul Feig" is a tagline that exists within this trailer, which is...weird to say the least. While the stylish title cards and Saul Bass-inspired title sequence is a clear nod to Hitchcock, it doesn't totally fit with the teaser's moody tone and the haunting rendition of Coeur de Pirate's "Crier tout bas." In fact, it's straight up baffling.
Maybe it's Feig's association with lighter comedies, or maybe it's Kendrick's quirky persona that doesn't fit within the thriller genre (she stuck out like a sore thumb in The Accountant as well). Or maybe it's the fact that A Simple Favor is clearly made in the vein of David Fincher's tense and riveting suburban thriller Gone Girl. After all, Hollywood has been trying to replicate that film's success since 2014, with 2o16's disappointing The Girl on the Train, and now A Simple Favor.
The film also stars Henry Golding, Andrew Rannells, Linda Cardellini, Jean Smart, and Rupert Friend.
Here's the official synopsis for A Simple Favor:
A SIMPLE FAVOR, directed by Paul Feig, centers around Stephanie (Anna Kendrick), a mommy vlogger who seeks to uncover the truth behind her best friend Emily's (Blake Lively) sudden disappearance from their small town. Stephanie is joined by Emily's husband Sean (Henry Golding) in this stylish thriller filled with twists and betrayals, secrets and revelations, love and loyalty, murder and revenge.
A Simple Favor opens in theaters on September 14, 2018.