'Hotel Artemis' Red Band Trailer: This Hospital For Criminals Has Bullets, Blood & Bad Words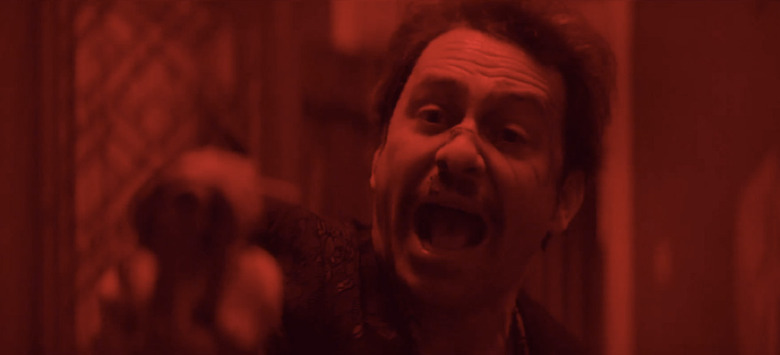 Hey, did you forget that there's a new action thriller coming out that takes place in a criminal for hospitals and stars Jodie Foster, Sterling K. Brown, Sofia Boutella, Jeff Goldblum, Brian Tyree Henry, Jenny Slate, Zachary Quinto, Charlie Day, and Dave Bautista? If you did, this is your official, bloody reminder.
Hotel Artemis has just debuted a new red band trailer to show off the violent shenanigans in store from this movie that feels like it should take place in the John Wick universe (even though, sadly, it doesn't). Jodie Foster leads the cast as the nurse of this hospital for criminals on the run, but there's a strict set of rules to follow if you want to be treated, and it looks like one of her latest customers is about to catch the attention of some dangerous people who are ready to break all the rules.
Watch the Hotel Artemis Red Band Trailer
This Hotel Artemis red band trailer isn't quite as lively as the first trailer, but it has considerably more blood and cursing being thrown around. Keeping things a little more tame but also darkly funny is the presence of a cover of "Eve of Destruction" by The Turtles playing throughout. It gives the proceedings a much more chill tone, and while there will clearly be action, this trailer also plays up the dry humor side of the film as well.
While the concept of this movie looks fun, I'm finding myself having trouble getting truly excited about it. Maybe it's because it feels a little too much like John Wick without being part of that franchise. Or maybe it feels like it's trying too hard to be one of those casually violent and cool movies with some laughs peppered in there. There's no doubt I'm hoping for the best, but I'm keeping my expectations firmly in check for the time being.
Set in riot-torn, near-future Los Angeles, Hotel Artemis  stars Jodie Foster as The Nurse, who runs a secret, members-only hospital for criminals. The rest of the all-star cast that includes Sterling K. Brown (This Is Us) as Waikiki, Sofia Boutella (The Mummy) as Nice, Jeff Goldblum (Thor: Ragnarok) as The Wolf King/Niagara, Brian Tyree Henry (Atlanta) as Honolulu, Jenny Slate (Zootopia) as Morgan, Zachary Quinto (Star Trek) as Ilya, Charlie Day (Pacific Rim) as Acapulco, and Dave Bautista (Guardians of the Galaxy) as Everest.
Hotel Artemis is open for business on June 8, 2018.