'Solo' Box Office Tracking Suggests A Record-Breaking Opening Weekend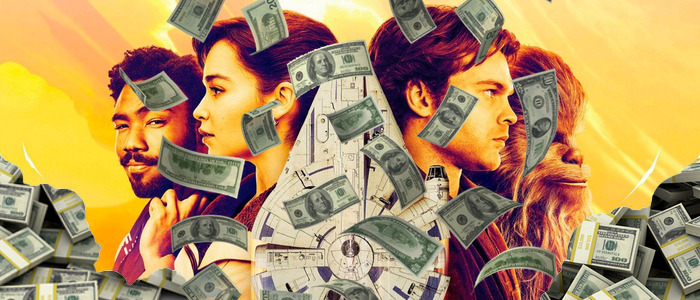 Solo Box Office Tracking 
Solo: A Star Wars Story blasts into theaters this weekend, and early reports indicate it's going to be big. Per Deadline, "domestic projections over the four-day Memorial Day holiday are ranging from $135 million-$170 million, with overseas projected at $150M-$170M." If this ends up being correct, it'll be the first $100 million-plus Memorial Day weekend opening since X-Men: Days of Future Past in 2014. The current Memorial Day weekend record holder is another Disney film – 2007's Pirates of the Caribbean: At World's End, which took in $139.8 million. There's every indication that Solo will end-up beating that. In other words, it's good to be Disney.
Advance ticket sales for Solo have already surpassed the record-breaking Black Panther (another Disney film!), and if Solo garners good word-of-mouth over its opening weekend, you can expect its box office intake to skyrocket. Disney and Lucasfilm have set things up so that we essentially get some sort of Star Wars film every single year, and while such an idea might inspire a sort-of Star Wars-fatigue, that hasn't happened yet. Next year will see the release date of Star Wars: Episode 9. You can expect yet another spin-off film (probably the long-rumored Obi-Wan Kenobi movie) in 2020. And then there's the new trilogy being developed by Rian Johnson, and additional Star Wars films being penned by Game of Thrones creators David Benioff and D. B. Weiss. I'm no psychic, but I'll go out on a limb and say all these movies will end up making a ton of money as well.
Solo Clip 
Solo: A Star Wars Story co-star Emilia Clarke recently appeared on The Tonight Show Starring Jimmy Fallon to promote the latest Star Wars film. Clarke brought a clip from the film with her, which you can watch above. In the clip, Clarke's character Qi'ra is reunited with her childhood friend Han (Alden Ehrenreich) after fate (and the Empire) separated them. Han's goal in Solo is to return home with his own ship and rescue Qi'ra, but midway through the movie he encounters Qi'ra in an unlikely place, and learns that she might not need rescuing.
This is a fairly low-key, l0w-action clip from the film, but it highlights the banter between the characters pretty well. There's also an appearance here from Woody Harrelson as Han's sort-of-mentor Tobias Beckett.
Solo: A Star Wars Story opens on May 25, 2018.