'Skyscraper' Trailer: The Rock Takes 'Die Hard' To New Heights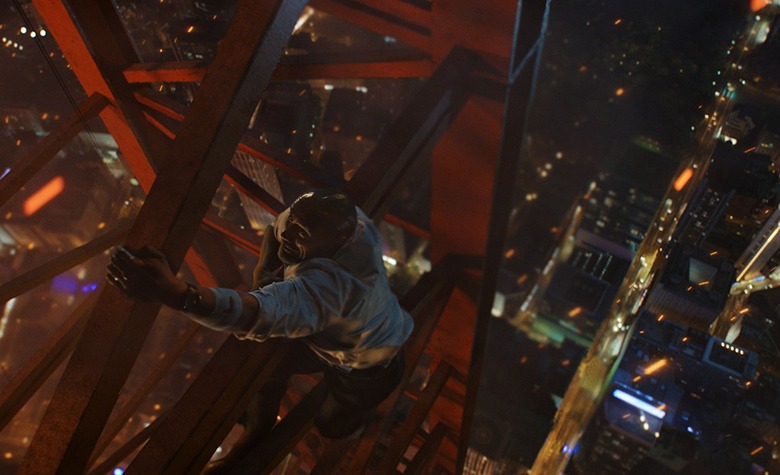 Not content with simply watching Dwayne "The Rock" Johnson fight giant flying wolves and genetically mutated gorillas? Can't wait for the more "grounded" Fast and Furious spin-off movies starring Johnson and Jason Statham? Well, Hollywood's hardest-working actor has got you covered. The new Skyscraper trailer promotes Johnson's latest film, whose premise boils down to "the Rock vs. giant thing." And in this case, that giant thing is a building.
Never one to slack off on his hectic filming schedule, Johnson is about to pump out another high-octane action film that will be sure to satiate all your summer blockbuster needs. And from the looks of the latest Skyscraper trailer, it does all that and more.
Skyscraper Trailer
Johnson takes on a literal towering inferno in the Skyscraper trailer, which doesn't hide its Die Hard influences. Johnson plays a former FBI agent and war vet who now works as a security guard for skyscrapers. While his family stays in the latest and most advanced skyscraper that he assesses in China, the building suddenly catches fire and a group of terrorists threaten the safety of his wife and kids. Worse yet, he becomes framed for the fire. Left with no options, Johnson must take on the terrorists solo.
Skyscraper was written and directed by he-of-the-great-name Rawson M. Thurber, who also helmed the comedies Central Intelligence and Dodgeball: A True Underdog Story. In addition to the Rock, the film also stars Neve Campbell, Chin Han, Roland Møller, Pablo Schreiber, Byron Mann, Hannah Quinlivan, and Noah Taylor.
Here is the official synopsis for Skyscraper:
Global icon Dwayne Johnson leads the cast of Legendary's Skyscraper as former FBI Hostage Rescue Team leader and U.S. war veteran Will Ford, who now assesses security for skyscrapers. On assignment in China he finds the tallest, safest building in the world suddenly ablaze, and he's been framed for it. A wanted man on the run, Will must find those responsible, clear his name and somehow rescue his family who is trapped inside the building...above the fire line.
 Skyscraper opens in theaters on July 13, 2018.