Star Wars: Galaxy's Edge Opening Date Announced, Watch A New Teaser Trailer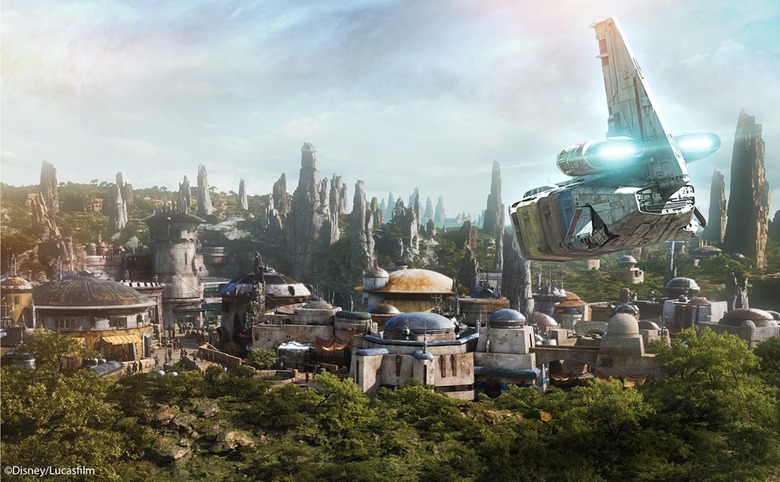 We knew that the upcoming Star Wars-themed lands coming to Walt Disney World's Hollywood Studios and Disneyland Resort's Disneyland would be opening in 2019, but now Disney Parks has revealed more information on when we can expect to visit a galaxy far far away. Hit the jump to learn new info on the Galaxy's Edge opening date.
Disney Parks released a new teaser trailer showcasing the new Star Wars planet of Battu from a distance as a way to officially announce that Galaxy's Edge would be opening in just one year from now. Disneyland's version of Galaxy's Edge will open in Summer of 2019, while Disney World's version in Hollywood Studios will open later in Fall 2019. While it's not stated, we believe the Disneyland version will open sometime in the last two weeks of May 2019, although wouldn't it be nice if they could hit the May the 4th for a fan celebration?
This makes sense as Disneyland's construction seems to be far ahead of the Disney World version and rumor has it Walt Disney Imagineering didn't want to open both lands at the same time as they are still not sure what problems may pop up from the new immersive storytelling technology contained in these lands. While this isn't confirmed officially, it's expected that Disney Parks will use their findings from the Disneyland opening to help further stabilize the Disney World opening.
It's surprising that they are making this announcement just five days before a big panel and presentation on the new land happening at Star Wars Galactic Nights at Hollywood Studios in Walt Disney World. You would think they would have held the big announcement for fans, although I'm not sure Florida would be a great place to announce that California is getting the land first.
JJ Abrams' Star Wars Episode 9 opens on December 20, 2019, and some wonder if they will hold the big premiere at the California version of Galaxy's Edge or maybe do a destination premiere in Florida, although both lands should be open before the Holidays hit at the end of next year.
The 14-acre lands will bring Batuu, a new never before seen Star Wars planet to life, a "gateway planet located on the outer rim, full of places and characters familiar and not so familiar." The world will be "occupied by many inhabitants; humanoids, aliens, and droids ... the attractions, the entertainment, everything we create will be part of our storytelling. Nothing will be out of character or stray from the mythology." Described as a "remote frontier outpost," the planet has existed within the canon "for thousands and thousands of years." It used to be a vibrant spaceport, but since the advent of hyperspace, commerce has kind of fallen a little bit.
The land will feature two signature attractions, a motion simulator ride that will put you and your small flight crew in control of the Millenium Falcon and the other attraction is a dark ride which puts you in the middle of a battle between the First Order and the Resistance.