Liam Neeson Joins Chris Hemsworth In Sony's 'Men In Black' Spin-Off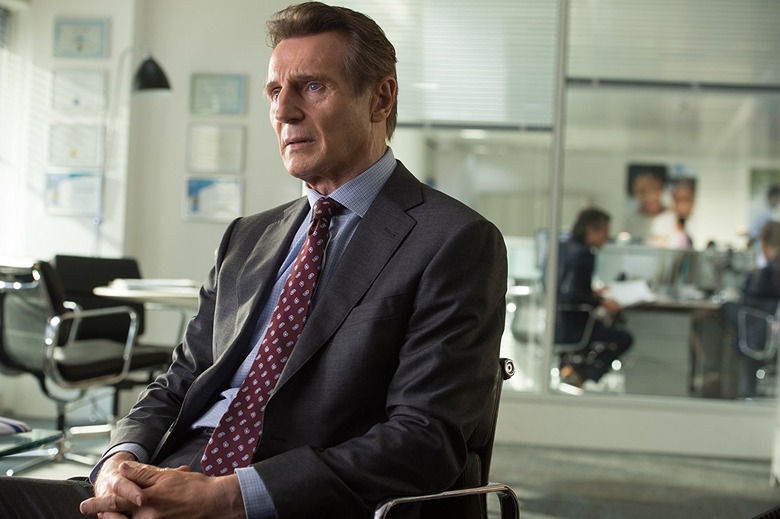 Liam Neeson is the latest recruit of the Men in Black spin-off. The Men in Black spin-off cast has added Neeson to an ensemble that already includes Chris Hemsworth and his Thor: Ragnarok co-star Tessa Thompson. Now Neeson will be the next prolific actor to don the iconic black suit and sunglasses.
Liam Neeson is currently in talks with Sony to join the Men in Black spin-off helmed by The Fate of the Furious director F. Gary Gray, The Wrap reports.
Neeson will reportedly play the head of the Men in Black organization in London, where the story is set to begin.
Details are scarce on the spin-off, which is being penned by Iron Man scribes Matt Holloway and Art Marcum. Steven Spielberg is also executive producing again, with Walter F. Parkes and Laurie MacDonald producing.
The spin-off will not feature the beloved Agents J and K played by Will Smith and Tommy Lee Jones in the original films, respectively, but will reportedly be an ensemble piece about the secretive government agency that defends Earth from hostile aliens and helps friendly aliens settle into human society. The Wrap reports that the spinoff is being compared to Jurassic World, with plans to take the franchise in a bigger, more expansive direction with a few nods to the originals. And with the London setting, it looks like Men in Black is going global.
But the spin-off could still center on the buddy-comedy dynamic that made the first Men in Black films so successful, with Hemsworth and Thompson at the forefront and Neeson as their cantankerous superior. Or perhaps Neeson's MIB chief will end up taking a larger part in the action than anticipated, considering the star's action pedigree.
Whatever the case, this still-untitled Men in Black spin-off is shaping up to have one of the most exciting blockbuster casts yet.
Sony has slated the Men in Black spin-off for a release date of June 14, 2019.