'Once Upon A Time' Showrunners Adam Horowitz And Edward Kitsis Tapped To Tell Apple's 'Amazing Stories'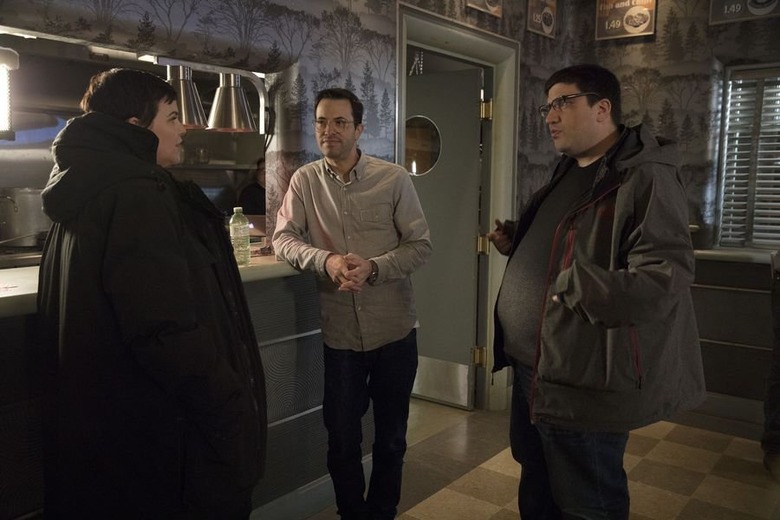 It looks like it will be a happy ending — or a happy beginning — for Adam Horowitz and Edward Kitsis. The duo behind ABC's uber-popular Once Upon a Time has been tapped by Apple to be the Amazing Stories showrunners, the reboot of Steven Spielberg's beloved sci-fi and fantasy anthology series from the late '80s.
Horowitz and Kitsis will be taking over as Amazing Stories showrunners from Bryan Fuller, who recently left the project after ushering it into existence back in 2015, according to Variety.
It's a happy ending for a story that first started in 2015, when Fuller first began talk about reviving Amazing Stories. The 1985 weekly anthology series was produced by Spielberg and ran for only two seasons on NBC, but left an indelible impact on young fantasy and sci-fi enthusiasts.
Apple would pick up Fuller's revival in 2017, but this is where the tale turns grim. Four months later, Fuller would leave the project entirely (adding that to his long list of shows that he departed early) and Amazing Stories was left without a storyteller. But now, with Once Upon a Time telling its final tale (wrapping its final season last week), Horowitz and Kitsis have signed on as the series showrunners. The duo will be busy, having recently signed a four-year extension of their current deal at ABC Studios, which will keep them at the studio through 2022.
It's unclear whether Horowitz and Kitsis will be overseeing the same well of talent that Fuller had attracted when he was developing the show — at one point, Patton Oswalt and Kumail Nanjiani were both set to be involved. But original series co-creator Spielberg still serves as executive producer on the Apple version via Amblin Television. Amblin's Justin Falvey and Darryl Frank will also be overseeing the show.
Horowitz and Kitsis may not have the same ardent following that Fuller has after his well-received cult favorites like Hannibal and Pushing Daisies, but they do have the strength of Once Upon a Time behind them. While the series had a sharp downturn in quality after the first season, it may have actually been the perfect playground for Horowitz and Kitsis to hone their skills as anthology series showrunners.
Once Upon a Time was at its best in the standalone episodes that provided a performance vehicle for the show's talented stars like Robert Carlyle and Lana Parilla. Horowitz and Kitsis clearly have a talent for bringing the best performances out of actors in ridiculous, far-flung situations, and were always game to tackle the strangest storylines in Once Upon a Time. Yes, the show often became convoluted, but it was often because it tried to stick by seasons-long arcs rather than short, contained stories. While I stuck by Once Upon a Time for way longer than I should have, I will never forget the pitch-perfect fantasy storytelling of season 1. It's a smartly crafted, self-contained season that made expert use of non-linear narratives (borrowed from the duo's time at Lost) to reinvent a fairy tale for the modern era.
Horowitz and Kitsis have an impressive sci-fi and fantasy pedigree, having worked on Once Upon a Time, Lost, and Tron: Legacy. They may in fact be the best showrunners to take over at this point.
Amazing Stories has a 10-episode order under a new content deal between Apple, Amblin, and Universal TV. It will be produced by Universal TV.