Michael Bay Is Making A Movie For Netflix, Ryan Reynolds To Star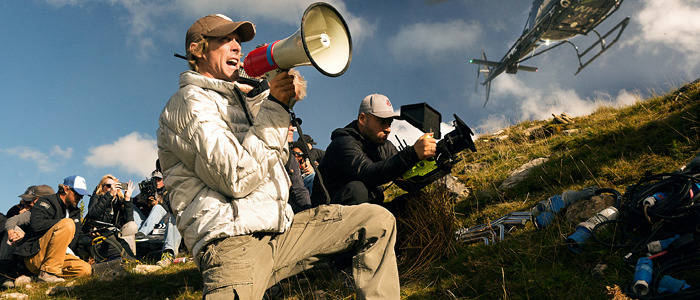 Michael Bay, the director of great trash (The Rock, Armageddon) and bad trash (most of the Transformers movies) alike, has always been the kind of filmmaker who shoots his films for the biggest, loudest screens possible. Good or bad or something in-between, his films have been blockbusters in the truest sense of the word – you want them to fill your vision and overwhelm your pitiful, human senses.
So here's some left-turn news for you: Michael Bay is making a movie for Netflix called Six Underground. And it's going to star the newly hot Ryan Reynolds, an actor with no shortage of choices after two Deadpool movies.
Yes, Netflix is all-powerful. Do not stand in their way.
Six Underground will be a co-production between Netflix and Skydance Media, who announced the project with a press release. This will not be the first Netflix original for Skydance (they also produce the series Grace and Frankie and Altered Carbon), but it's a first for Bay and Reynolds. And it fits in perfectly with Netflix's recent choices.
While Netflix is home to many original TV shows, documentaries, and indie movies, the streaming giant has not been shy about wanting to get into the blockbuster business. First, they signed Adam Sandler to a significant deal, reigniting the actor's falling star and reviving his career on a platform where box office numbers don't matter. Then they teamed up director David Ayer and superstar Will Smith for Bright, which looks like it's going to be the start of a new franchise (for better or worse).
Michael Bay and Ryan Reynolds feel like the next natural step. After all, Sandler and Smith needed Netflix to help them with a second wind – Bay and Reynolds do not. This pair going to Netflix feels like a statement for everyone involved. On one level, it's a testament to Netflix's power that they can land these two. On another, it's a testament to how Netflix is one of the few places in Hollywood still able and willing to take a risk on a non-franchise film, even if it has big-name talent attached.
Other than Six Underground being an original concept, we know nothing about the plot of the film. However, The Hollywood Reporter says that the film follows "six billionaires who fake their own deaths and form an elite team to take down bad guys."
We do know that it is an action film from Deadpool and Deadpool 2 writers Rhett Reese and Paul Wernick, another duo who are hot enough to essentially go anywhere at the moment (they are also executive producing this film). Reese and Wernick have proven in the past that they can deliver big action and crude comedy, which just so happen to be two of Bay's favorite things. This could be a match made in bloody, raunchy heaven.
We'll have to wait and see what comes with Six Underground, but it's certainly telling just how much things have changed in Hollywood. While Bay was able to make five Transformers movies, his non-franchise films like 13 Hours and Pain and Gain didn't match the box office of his giant toy commercials. I think this is the tip of the iceberg: expect to see far more filmmakers flock to Netflix to get their smaller projects made. If it's good enough for Martin Scorsese...
No release date has been set for Six Underground, but production will begin this summer for a 2019 release.