'Too Old To Die Young' Trailer: Nicolas Winding Refn Heads To Amazon With A Neon-Soaked Version Of 'True Detective'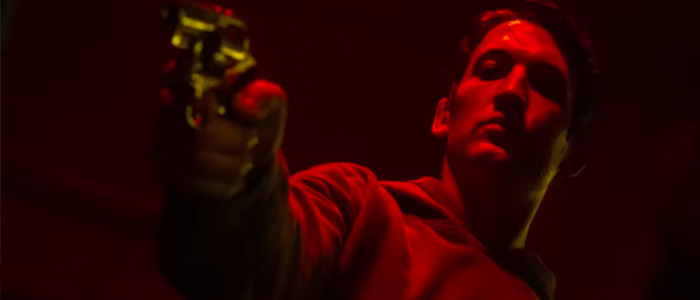 Danish filmmaker Nicolas Winding Refn is known for movies like Drive and Only God Forgives – hyper-stylized, often meditative films that are drenched in pulsing electronic scores, neon lights, and tons of blood. Now he's taken all of his predilections, tossed them in a blender, and poured out Too Old to Die Young, a new Amazon series that looks like the apotheosis of every idea he's ever explored as a director. It also looks like what Refn might do if he were handed the keys to HBO's True Detective.
Check out the first Too Old to Die Young trailer below.
Too Old to Die Young Trailer
Details are still relatively scarce, but we know Miles Teller plays Martin, a cop who is mourning the murder of his partner. Martin and his partner's killer quickly find themselves in a scenario involving Yakuza soldiers, cartel assassins, the Russian mob, and gangs of teenage murderers.
Watching this trailer (via The Playlist) is like sauntering up to an all-you-can-eat buffet of all things Nicolas Winding Refn, filling your plate, and then eagerly going back for more. It has the director's signature mixture of vivid violence and atmospheric style, and the flashes of the crime-ridden underworld recall the grim and gritty Pusher trilogy, a trio of some of Refn's earliest movies. It's all set to the propulsive synthesized beat of Refn's frequent collaborator Cliff Martinez, who worked with the filmmaker on Drive, Only God Forgives, and The Neon Demon. (For the music lovers among you, the song featured here is called "Each Drop is an Odyssey," and it's originally from a 2016 Hennessy XO commercial.)
The show will "explore various characters' existential journeys from being killers to becoming samurai in the city of angels." Refn produced and co-wrote this with famed comic writer Ed Brubaker, who has also written for Westworld. Refn directed all ten episodes, returning to the small screen for the first time since he directed a pair of Agatha Christie's Marple episodes for British television a decade ago.
Jena Malone (The Neon Demon), William "Billy" Baldwin (Backdraft), John Hawkes (Deadwood), Cristina Rodlo (The Condemned), Augusto Aguilera (Shane Black's upcoming movie The Predator), Nell Tiger Free (Game of Thrones), Babs Olusanmokun (The Defenders), and Callie Hernandez (Alien: Covenant) all co-star in the show.
There's no official release date yet, but Too Old to Die Young is expected to debut on Amazon (which was also the home for Refn's The Neon Demon) sometime in 2018.