'Jurassic World: Fallen Kingdom' Reactions From The Spanish Premiere: Here Is What People Are Saying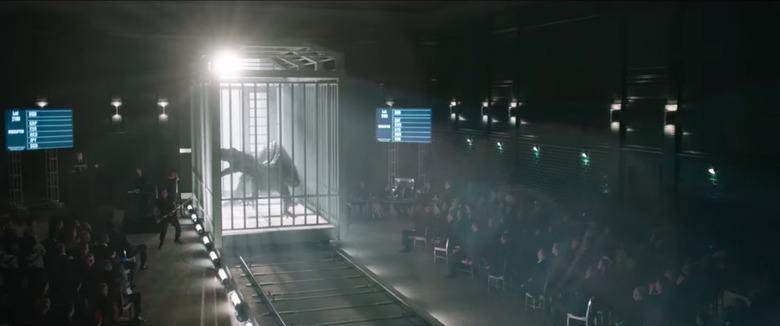 Jurassic World: Fallen Kingdom doesn't open in theaters for another month, but it has already screened for its first public audience. Director J.A. Bayona's entry in the Jurassic Park series was greeted with mostly warm responses from an audience in Madrid, Spain, many of whom seem very proud that Bayona has his name on one of Hollywood's biggest franchises.
There are two caveats to consider before we dive into these first reactions. First, these responses were translated via Google and my memories of high school Spanish classes. We did our best to clean them up present them as intended, but if you can supply a cleaner translation, reach out and we will update accordingly. Second, these are definitely the tweets of fans, not critics, so understand the next wave of reactions could look very different.
With that said, most of these early reactions lean toward warm and say that this is the Jurassic sequel we've been waiting for:
Jurassic World 2 is the continuation that the saga deserves. Not only is it interesting as it is proposed, but what is to come is going to be BRUTAL. J.A. Bayona [does] not disappoint.
Others are quick to lavish praise on Bayona, a technically accomplished filmmaker who has been wowing audiences with smaller films for years now:
He has done it! The best movie of a great saga!
Some reactions barely needed translating at all:
FUCKING INCREDIBLE! Thank you thank you very much J.A. Bayona for this wonderful [film]! AMAZING!
One of the more muted reactions felt that Jurassic World: Fallen Kingdom was interesting, but that it didn't feel like it fit in with Bayona's larger filmography:
It is a blockbuster, but disappoints me as a [Bayona] film. It is a very well put together film, but it offers few surprises. It's the first [Bayona] movie that does not excite me. It raises several very interesting moral/social debates.
But really, these reactions are mostly positive. Like this one:
I'm hallucinating. [Jurassic World 2] is a host of emotions and the beginning of a new era at the hands of [J.A. Bayona].
AWESOME. Very different from the first, an incredible [film], the music has left me blown away.
This reaction praises the opening scene of the movie, which our own Peter Sciretta loved when he saw it at CinemaCon:
[The film] managed to exceed my expectations... Also this has for me the best start sequence of the saga.
Still, we should prepare for this to not be a total home run for everyone. This ranking of J.A. Bayona films from one viewer needs no translation:
Filmografía de Juan antonio Bayona:

1. El orfanato
2. Un monstruo viene a verme
3. Lo imposible
4. Jurassic World 2

— Juanma Toribio (@Juanma_Toribio) May 21, 2018


Jurassic World: Fallen Kingdom opens on June 22, 2018. Here's the official synopsis:
When the island's dormant volcano begins roaring to life, Owen (Chris Pratt) and Claire (Bryce Dallas Howard) mount a campaign to rescue the remaining dinosaurs from this extinction-level event. Owen is driven to find Blue, his lead raptor who's still missing in the wild, and Claire has grown a respect for these creatures she now makes her mission. Arriving on the unstable island as lava begins raining down, their expedition uncovers a conspiracy that could return our entire planet to a perilous order not seen since prehistoric times.
Special thanks to /Film reader Felipe Dominguez for providing some additional translation help.