'Hobbs And Shaw' Will Be More Grounded, Because That's What People Want From A 'Fast And Furious' Movie?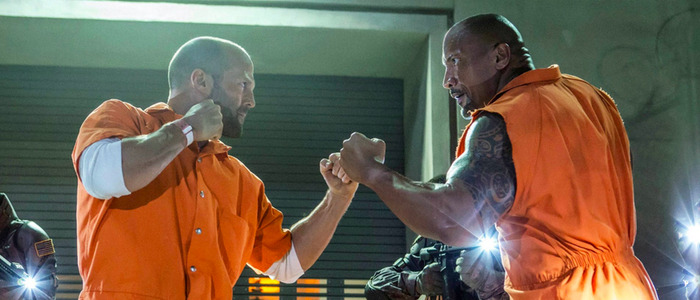 Are you ready for a more-grounded movie about cars defying the laws of physics? If so, get ready for Hobbs and Shaw, the Fast and Furious spin-off starring Dwayne Johnson and Jason Statham. When it comes to the film, director David Leitch says to expect something more "character-centric."
Hobbs and Shaw, the highly-anticipated Fast and Furious spin-off featuring Dwayne Johnson and Jason Statham, is gearing up to start production soon. While we know the film will feature Johnson and Statham's Furious characters, Luke Hobbs and Deckard Shaw, specific details are still under wraps. Will this be another car-chase/heist driven film like the Furious franchise, or is it going to be its own thing? Hobbs and Shaw director David Leitch spoke with Collider recently and offered some details on the film. To hear Leitch tell it, the Furious spin-off is going to be a bit more grounded than the increasingly outlandish Furious movies, and also be a bit more character-driven.
"I think it's going to be a little bit more grounded because it's the beginning. It's an origin story, in a sense," Leitch said, before immediately changing course and saying, "It's not an origin story, but we're starting a franchise. So we want it to be a little bit more grounded, a little bit more character-centric." Leitch then added:
"We're going to set up the stakes for these guys and their relationship, but we're also going to have some great set pieces and some action that you'd expect from that type of franchise."
Leitch went on to say that while there will be elements from the Fast and Furious franchise in the movie, Hobbs and Shaw will also stand on its own. As Leitch tells it, the film will have a bit more of a spy-movie feel:
"We're diving into their world. I think we want to have our own take on the Fast universe. It will definitely have elements of the original DNA, but it is more drifting into Shaw's spy word and Dwayne's agent world and, obviously, we want to build on their relationship, their conflict, their banter. That chemistry that they have between them, that's sort of what's driving the movie."
And will other Furious characters appear in the film alongside Hobbs and Shaw? Maybe. As Leitch says, "I think it would be a fun nod to have a couple of the characters come by and make their appearances. But I think we have a really strong point of view that we want to create our own characters for this world."
Since every big movie now has to launch a franchise of its own, Leitch also said that Hobbs and Shaw was being positioned to set up an entirely new world that could result in more Hobbs and Shaw sequels:
"We have to set up the world so it has the potential to grow. That's what I'm saying with, if we're digging into their respective worlds outside of Fast, they're going to have their own universe in a sense."
Hobbs and Shaw opens July 26, 2019.