The 'Star Wars' Prequels Almost Changed Han Solo's Origin In 'Solo'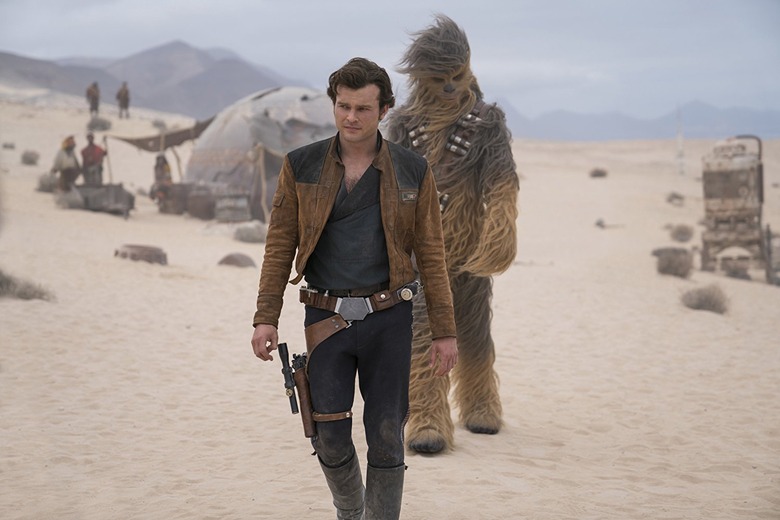 We may receive a commission on purchases made from links.
In Solo: A Star Wars Story, we'll get a Han Solo origin story that mirrors the one that was first told in the Star Wars Expanded Universe. But did you know that we almost had a Han Solo Star Wars prequels cameo that would have changed that?
In a cut subplot from 2005's Star Wars: Episode III — Revenge of the Sith, George Lucas had written a completely different backstory for Han Solo that would have nullified not only his EU origin, but the entire basis for Solo.
Alden Ehrenreich's Han Solo in the upcoming Solo: A Star Wars Story is the youngest we'll have seen the dashing smuggler on the big screen. But a long, long time ago (namely 13 years ago), we were almost introduced to an even younger Han in the Revenge of the Sith.
According to Inverse, George Lucas's original script for Star Wars: Episode III — Revenge of the Sith featured a cameo by young Han Solo, in a wildly different origin story than had already been established in A.C. Crispin's 1997 and 1998 trilogy of EU books.
In Lucas' version of Han's origin story, Han was an orphan raised by Wookies. Revenge of the Sith would have introduced a 10-year-old Han raised by Chewbacca on the planet Kashyyyk. The script depicts a young Han Solo finding a transmitter on a smashed droid during the Battle of Kashyyyk, later presenting it to Yoda. The Wookiees help trave it back to its source to find General Grievous, aiding Obi-Wan's victory over the droid general.
It sounds like a bit of fun fan service, but the short scene would have left more ripples throughout the Star Wars universe than Lucas probably could have anticipated. It would have changed Han and Chewie's dynamic dramatically — going from two grumpy buddies stumbling through the galaxy, to a hairy dad and son relationship.  While I'm sure Lucas could have made it work (maybe), it would have made the need for a Han Solo prequel film redundant. And again, it would have made Han and Chewie's relationship in later films kind of weird — who wants to travel the galaxy with a dad figure for 50 years?
But now in Solo, we will see a scrappy Han grow up on the streets of Correllia alongside Qi'ra (Emilia Clarke) before joining the Empire as a soldier with the hopes of becoming a dashing pilot. He ultimately jumps ship and joins in with Beckett's (Woody Harrelson) band of criminals for a life on the other side of the law. And he won't meet Chewbacca for the first time until he's well into adulthood.
Solo: A Star Wars Story, directed by Ron Howard, opens in theaters on May 25, 2018.
Board the Millennium Falcon and journey to a galaxy far, far away in Solo: A Star Wars Story, an all-new adventure with the most beloved scoundrel in the galaxy. Through a series of daring escapades deep within a dark and dangerous criminal underworld, Han Solo meets his mighty future copilot Chewbacca and encounters the notorious gambler Lando Calrissian, in a journey that will set the course of one of the Star Wars saga's most unlikely heroes.