'City Of Lies' Trailer: Johnny Depp Wants To Know Who Killed Biggie Smalls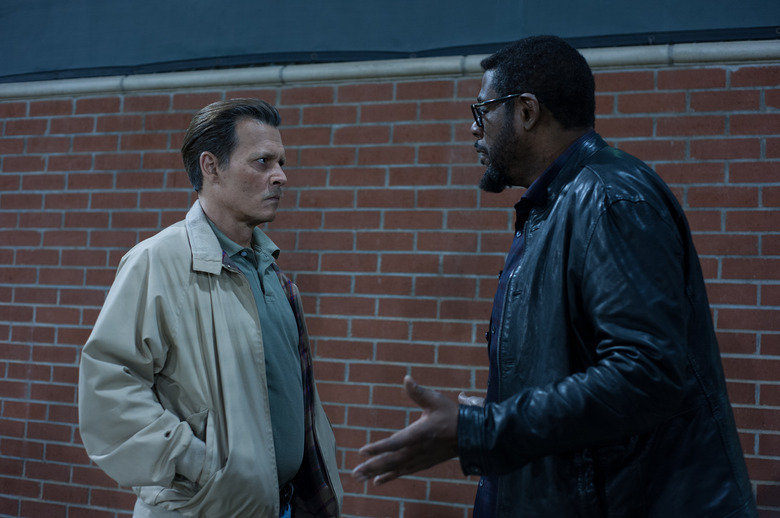 Johnny Depp and Forest Whitaker take on one of the most notorious unsolved cases in Los Angeles history: the murder of Biggie Smalls. The Brooklyn-born rapper was gunned down in a drive-by shooting in Los Angeles in 1997, and to this day, no one knows who did it — though plenty of people have a hunch.
One of those people with a hunch is Johnny Depp's L.A.P.D. detective Russell Poole, looking inexplicably like he suffered from the same botched dye job as Fantastic Beast's Grindelwald. But Depp doesn't have time to fix his eyebrow color! He has a 20-year old murder to solve.
City of Lies Trailer
Based on the nonfiction book "Labyrinth" by journalist Randall Sullivan, City of Lies delivers another telling of one of the most famous cold cases in American history. The murders of Biggie Smalls and Tupac Shakur re-captivated the nation merely three months ago when USA premiered its anthology TV series Unsolved, whose first season chronicled Detectives Greg Kading (Josh Duhamel) and Russell Poole's (Jimmi Simpson) investigations into the shootings of the iconic rappers in the late '90s.
Now in City of Lies, Depp takes on the role of Russell Poole, a real-life detective who spent years trying to crack the case. The film takes place two decades after the murder, as Poole teams up with a desperate reporter (Forest Whitaker) to solve the mystery of Biggie Smalls' death and the conspiracy to cover up the case.
City of Lies is directed by Brad Furman (Lincoln Lawyer) and written by Christian Contreras. It also stars Rockmond Dunbar, and Neil Brown Jr.
Here is the official synopsis for City of Lies:
Based on the true story of one of the most notorious and unsolved cases in recent time, CITY OF LIES is a provocative thriller revealing a never-before-seen look at the infamous murder of The Notorious B.I.G. shortly following the death of Tupac. L.A.P.D. detective Russell Poole (Johnny Depp) has spent years trying to solve his biggest case, but after two decades, the investigation remains open. "Jack" Jackson (Forest Whitaker), a reporter desperate to save his reputation and career, is determined to find out why. In search of the truth, the two team up and unravel a growing web of institutional corruption and lies. Relentless in their hunt, these two determined men threaten to uncover the conspiracy and crack the foundation of the L.A.P.D. and an entire city.
City of Lies hits theaters on September 7, 2018.