'Avengers: Infinity War' Blu-Ray And Digital Release Dates Have Been Revealed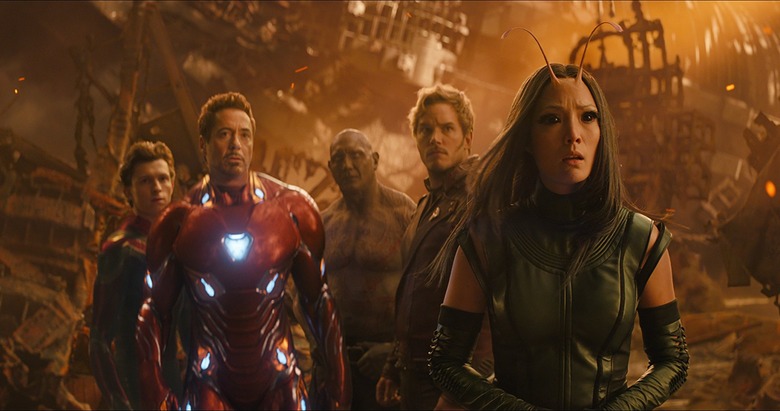 Avengers: Infinity War is still dominating the box office, but it will soon start dominating the home release sales. The massive Marvel Studios movie has already confirmed its Blu-ray and digital release dates. So you don't need to plan your fourth time seeing Avengers: Infinity War in theaters — before you know it, you can enjoy getting your heart shattered from the comfort of your own home.
Nearly a month after Avengers: Infinity War stormed into theaters, Marvel Studios has announced the release dates for the comic book movie's Blu-ray and digital releases.
Avengers: Infinity War will be available on digital platforms on July 31, and on Blu-ray, DVD, and 4K on August 14. For its home media release, Target has a special 4K UHD Blu-ray edition and Best Buy will offer a collectible 4K UHD Blu-Ray steelbook (via ComingSoon.Net).
There are no details yet on what special features will be available on the Infinity War home releases, but you can check out the cover art below.
— Carousel Service (@PtwTeam) May 19, 2018
— Carousel Service (@PtwTeam) May 19, 2018
It's a little surprising that Marvel would announce the home video release dates of Infinity War so soon after it opened in theaters, especially when the superhero movie is in the midst of a record-breaking run that doesn't show any signs of slowing down. After just four weeks in theaters, Infinity War has raked in $595 million domestically and topped $1.8 billion worldwide. Worldwide, is already the fourth-biggest movie of all time.
Directed by Joe and Anthony Russo and written by Christopher Markus & Stephen McFeely, Avengers: Infinity War features an all-star cast including Robert Downey Jr., Chris Evans, Mark Ruffalo, Scarlett Johansson, Chris Hemsworth, Tom Hiddleston, Anthony Mackie, Paul Bettany, Elizabeth Olson, Chadwick Boseman, Sebastian Stan, Don Cheadle, Chris Pratt, Dave Bautista, Zoe Saldana, Pom Klementieff, Benedict Cumberbatch, Benedict Wong, Sean Gunn, Tom Holland, and Josh Brolin.
Avengers: Infinity War is currently playing in theaters. It will will hit digital platforms on July 31, 2018, and be released on Blu-ray, DVD, and 4K on August 14, 2018.
Iron Man, Thor, the Hulk and the rest of the Avengers unite to battle their most powerful enemy yet — the evil Thanos. On a mission to collect all six Infinity Stones, Thanos plans to use the artifacts to inflict his twisted will on reality. The fate of the planet and existence itself has never bee

n more uncertain as everything the Avengers have fought for has led up to this moment.