The Morning Watch: 'Deadpool 2' Edition - Anatomy Of A Scene, Easter Eggs, Playground Insults & More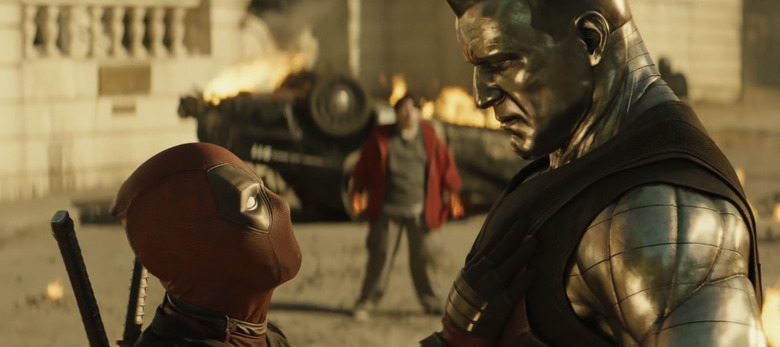 The Morning Watch is a recurring feature that highlights a handful of noteworthy videos from around the web. They could be video essays, fanmade productions, featurettes, short films, hilarious sketches, or just anything that has to do with our favorite movies and TV shows.
In this edition, Deadpool 2 director David Leitch breaks down a scene from the comedic comic book sequel. Plus, get a load of hundreds of Easter eggs and comic references you might have missed in the movie. And don't miss stars Ryan Reynolds and Josh Brolin recreating The Good, the Bad and the Ugly with James Corden and hurling playground insults at each other across the pond.
First up, director David Letich talks us through this scene from Deadpool 2 where the Merc with a Mouth and the X-Men known as Colossus and Negasonic Teenage Warhead show up to help contain a situation involving a mutant named Russell, trying to call himself Firefist. He provides some insight into the scene in question including some details from behind the scenes.
Next up, Mr. Sunday Movies takes on the herculean task of trying to lock down hundreds of Easter eggs, comic references and cameos from this fourth wall-breaking movie. This includes connections to other X-Men movies, comic book clues and hints, possible links to the Marvel Cinematic Universe and more.
While on the publicity tour for Deadpool 2, the film's co-star Ryan Reynolds and Josh Brolin stopped by The Late Late Show with James Corden to have some fun with a a parody of the classic western The Good, the Bad and the Ugly. However, Corden wasn't too happy about being labeled as "the ugly" one of the group, no matter how accurate it might be in this specific case.
Finally, over at BBC Radio, Ryan Reynolds and Josh Brolin took turns throwing out playground insults at each other. Reynold takes digs at Brolin's age while Brolin tries to knock down how funny Reynolds thinks he is. It's quite the amusing sparring match, but nothing they say really tops their adversarial relationship in Deadpool 2.