'The Happytime Murders' Trailer: Please Do Not Take Your Kids To See This Puppet Crime Comedy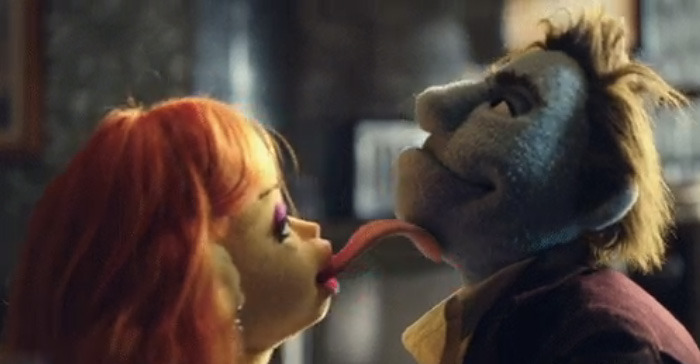 If you were among the audiences who caught the early screenings of Deadpool 2 last night, then you may have been treated to the debut of the first trailer for what looks like the worst part of town on Sesame Street.
Happytime Murders hails from Brian Henson, the son of the legendary Muppet creator Jim Henson. While the younger Henson has been behind beloved Muppet movies like A Muppet Christmas Carol and Muppet Treasure Island, his latest endeavor is certainly isn't family friendly. Watch the totally NSFW red band Happytime Murders trailer below and you'll see what we're talking about.
Watch The Happytime Murders Trailer
As you can see, these puppets aren't for kids. They're trying to suck dicks, forcing humans to do drugs, and jizzing all over the place. That's honestly not something I'd ever thought that I'd write about a movie, but here we are.
This movie has been in the works for awhile, and while the concept sounded perfect, I was always worried that the execution wouldn't live up to the potential of the premise. But this looks like Who Framed Roger Rabbit with puppets instead of cartoon characters and some truly dirty, and vulgar comedy. And I love it. Though it's not the first time puppets like this have been raunchy, thanks to Peter Jackson's Meet the Feebles (go find it now).
If the reaction from the crowd at my Deadpool 2 screening last night is any indicator, especially that gag at the end, then I think this movie is going to be a huge hit. The audience was rolling with laughter, wiping tears from their eyes just before the movie began. STX Entertainment was smart to attach this to Deadpool 2 this weekend because it has the same kind of irreverent comedy and genre-spoofing cleverness that made the first Deadpool such a success.
While the nasty puppets are clearly stealing the show, the human cast features Melissa McCarthy, Maya Rudolph, Joel McHale, and Elizabeth Banks (blink and you'll miss her as a stripper). Plus, I'm hoping that the movie takes a cue from real Muppet movies and has some cameos throughout the film as well.
No Sesame. All Street. The Happytime Murders  is a filthy comedy set in the underbelly of Los Angeles where puppets and humans coexist. Two clashing detectives with a shared secret, one human (Melissa McCarthy) and one puppet, are forced to work together again to solve the brutal murders of the former cast of a beloved classic puppet television show.
The Happytime Murders arrives late this summer on August 17, 2018.