'Jurassic World: Fallen Kingdom' TV Spot: I Don't Think We're In Isla Nublar Anymore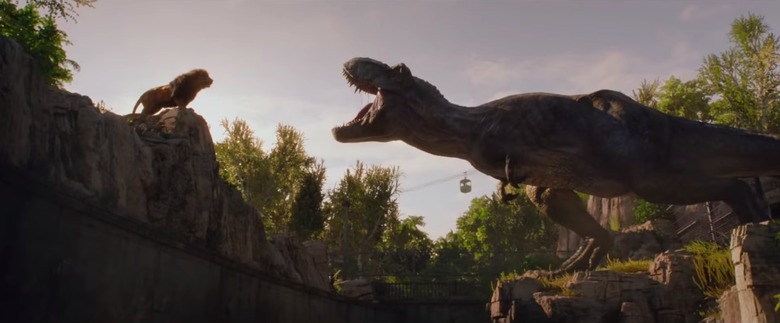 Universal is kicking its marketing for Jurassic World: Fallen Kingdom into high gear, releasing a brand new TV spot that highlights the dangerous and sometimes lovable dinosaurs at the heart of the Jurassic Park sequel.
Jurassic World Fallen Kingdom TV Spot
You can take the dinosaurs off the island, but you can't take the island's reputation for mass-murdering humans out of the dinosaurs.
It turns out death by dinosaur will no longer be limited to Isla Nublar in Jurassic World, as more trailers and TV spots have revealed that the majority of the film will take place off of the infamous island. Instead, many of the dinosaurs will escape certain extinction, only to terrorize a coastal town nearby instead. So be prepared for some imagery recalling producer Steven Spielberg's classic shark attack film, Jaws. Except, you know, dinosaur-sized.
Though
for Jurassic World: Fallen Kingdom centered around Owen (Pratt) and Claire's (Howard) attempts to save the dinosaurs from Isla Nublar's erupting volcano, the more recent TV spots haven't been secretive about the actual plot of the film: a conspiracy to create the most dangerous dinosaur yet for mass production. Naturally, things go horribly wrong and we're left with a film that's alternately a Gothic nightmare, a tropical survival film, and I think...a dinosaur heist? Though the plot and its many twists already sound confusing, there's no question that the film looks utterly gorgeous, with each TV spot filled with striking shots and scenes.
Here is the synopsis for Jurassic World: Fallen Kingdom:
When the island's dormant volcano begins roaring to life, Owen (Chris Pratt) and Claire (Bryce Dallas Howard) mount a campaign to rescue the remaining dinosaurs from this extinction-level event. Owen is driven to find Blue, his lead raptor who's still missing in the wild, and Claire has grown a respect for these creatures she now makes her mission. Arriving on the unstable island as lava begins raining down, their expedition uncovers a conspiracy that could return our entire planet to a perilous order not seen since prehistoric times.
Pratt and Howard are joined by co-stars James Cromwell, Ted Levine, Justice Smith, Geraldine Chaplin, Daniella Pineda, Toby Jones, Rafe Spall and Isabella Sermon, while B.D. Wong and Jeff Goldblum reprise their roles.
A new "Jurassic Journals #4" has also been released, showing star Chris Pratt interviewing Assistant Script Supervisor, Kelly Krieg. Check it out below.
Jurassic World: Fallen Kingdom opens in theaters on June 22, 2018.