Steven Spielberg Wants To Direct Leonardo DiCaprio In A Ulysses S. Grant Biopic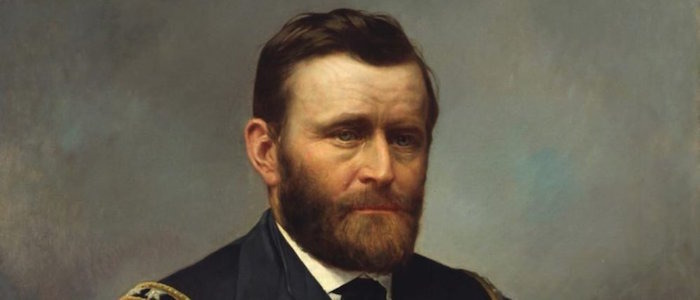 Steven Spielberg and Leonardo DiCaprio, two of the most talented folks in the entertainment industry, are looking to team up for the first time since 2002's Catch Me If You Can.
The project: an adaptation of Ron Chernow's Grant, a massive biography of the American Civil War general and the 18th president of the United States. Your excitement level: hopefully through the roof, since this is a combination of subject matter and talent that is so perfect that I can feel my bones shaking.
Deadline reports that Spielberg and DiCaprio are in discussions to take on the project, which is set up at Lionsgate. The epic historical film will draw from Chernow's 2017 book, which is one of the best pieces of non-fiction I've ever read. Chernow is a Pulitzer Prize winner and his stellar Alexander Hamilton biography inspired the Broadway smash hit Hamilton. So yeah, this is very much a case of striking while the iron is hot.
A lot has changed for DiCaprio and Spielberg since they last worked together 16 years ago. The former has grown from a fresh young movie star to one of the most versatile actors of his generation. The latter has doubled down on making fascinating movies that explore a wide variety of his interests. Simply put, modern Spielberg and modern DiCaprio are a more fascinating and exciting pairing than they were were back in 2002.
And DiCaprio has finally aged into being the right actor to play grizzled 19th century men. More importantly, he's aged into being the right actor play Ulysses S. Grant, one of the most fascinating and misrepresented men in American history. Decried by his critics as a lazy drunk, Grant suffered from mental illness before it was clearly defined and battled alcoholism before addicts understood their disease and how to treat it. He was also tragically unlucky – despite being a gifted tactician and fearless soldier who understood the battlefield like a sixth sense, he was too shy, too trusting, and all too willing to make bad investments based on the words of others. And yet, he powered through tragedy and hardship and forced his way into the history books.
Grant stands in sharp contrast to other "great men" of American history. Reading Chernow's Alexander Hamilton is a thrilling exercise in understanding a prodigy, a brilliant man with an endless well of talent. Reading Chernow's Grant is a sobering exercise in understanding that the people who supply the building blocks of history are painfully human and flawed. And yet, Grant pulled himself up by his bootstraps time and time again, overcoming adversity and navigating bloody wars and political labyrinths by sticking to his guns and doing the right thing, even when it made him look foolish to his allies and enemies.
Badly dressed. Morally courageous. Shockingly humble. Prone to self destruction. Ulysses S. Grant is the role of a lifetime, and Spielberg and DiCaprio can't make this happen soon enough.
There is no release window for this film yet, but Deadline notes that it is a priority for the studio – David James Kelly has been hired to write the script. The only obstacle is the increasingly busy schedules of the two key figures here. Spielberg is gearing up to shoot Indiana Jones 5 and a remake of West Side Story. DiCaprio is about to shoot Quentin Tarantino's Once Upon a Time in Hollywood and is eyeing a few other major biopics, including films based on Leonardo Da Vinci and Theodore Roosevelt.
Let's close this out with a reminder that this isn't the first time Ulysses S. Grant has appeared in a Steven Spielberg movie. He had a small role to play in (the still astonishingly good) Lincoln, where he was portrayed wonderfully by Jared Harris.