Universal's Dark Universe May Still Be Alive, Aliiiiiiiiive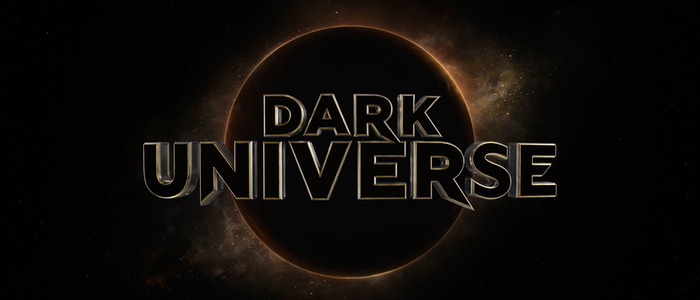 Rejoice, fans of ill-conceived ideas! Universal's Dark Universe might still be alive! We all thought the Dark Universe would crawl back into the grave after the disaster that was The Mummy, but it looks like Universal's monster franchise might still have some life left in it.
Don't close the coffin lid on the Dark Universe yet, boils and ghouls. Artist Robert Vargas recently took to his Instagram account (h/t Bloody Disgusting) to reveal that maybe, just maybe, the Universal's monster movie cinematic universe might still be alive.
Vargas said he had a great meeting with the "Dark Universe team", and that he's "looking forward to contributing to the Universal Pictures legacy." That's all we have to go on at the moment. As mentioned above, Vargas is an artist, so maybe Universal has brought him on board to help with some concept art? If so, that really does mean they're hoping to crank out some more Dark Universe movies in the future.
Then again, Vargas also includes the hashtag "#LAmurals" at the end. Which might mean Universal just hired him to paint some sort of huge monster-themed mural. This would be slightly disappointing, and I have my doubts about that theory. Because Vargas specifically mentions the "Dark Universe", rather than saying something more common like "Universal Monsters".
The only question now is: if the Dark Universe is still alive, what will Universal do with it? Are they going to continue down the original path and make big, lame, blockbuster action movies, or will they decide to do what they should've done from the beginning – make smaller, spookier horror flicks? Time will tell.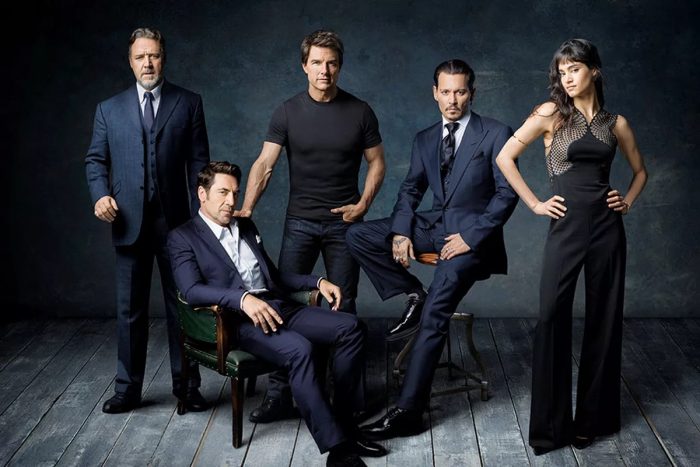 Dark Universe
In case you've already forgotten, Universal wanted the Dark Universe to be their answer to the Marvel Cinematic Universe. Almost one year ago (May 22, 2017), they made the official announcement, sending out a goofy photo above – a photo that was later revealed to be a composite, since Universal couldn't get all the actors together in the same room. Here was the official breakdown for what Universal hoped the Dark Universe would be:
Dark Universe films will be distinguished by performances from some of the most talented and popular global superstars stepping into iconic roles, as well as electric new talents whose careers are starting to break through.  While previously announced, the stars of both imminent and future Dark Universe projects are gathered for the first time in the attached photo: The Invisible Man and Frankenstein's Monster will be played by, respectively, blockbuster icon Johnny Depp and Academy Award® winner Javier Bardem, who appear together later this summer in Pirates of the Caribbean: Dead Men Tell No Tales.  Those actors join superstar Tom Cruise as soldier of fortune Nick Morton and Oscar® winner Russell Crowe as Dr. Henry Jekyll, who lead the all-star cast of The Mummy, along with Sofia Boutella, the actress who embodies the title role in that film.
At its organizing principle, Dark Universe films are connected by a mysterious multi-national organization known as Prodigium.  Led by the enigmatic and brilliant Dr. Henry Jekyll, Prodigium's mission is to track, study and—when necessary—destroy evil embodied in the form of monsters in our world.  Working outside the aegis of any government, and with practices concealed by millennia of secrecy, Prodigium protects the public from knowledge of the evil that exists just beyond the thin membrane of civilized society...and will go to any length to contain it.
The Dark Universe kicked-off with 2017's The Mummy, a truly terrible movie that not even the usually dependable Tom Cruise could save. The movie underperformed at the box office and was torn to shreds by critics. It looked like the Dark Universe was dead on arrival. Still, Universal kept up the pretense that the concept would lurch onward. Plans began for a new take on Bride of Frankenstein, with Bill Condon directing. Pre-production had already begun when Universal pulled the plug, and released the following statement:
"After thoughtful consideration, Universal Pictures and director Bill Condon have decided to postpone Bride of Frankenstein. None of us want to move too quickly to meet a release date when we know this special movie needs more time to come together. Bill is a director whose enormous talent has been proven time and again, and we all look forward to continuing to work on this film together."
Not long after that, word broke that Alex Kurtzman and Chris Morgan, the architects of the Dark Universe, left the franchise behind. At the time, it was reported that Universal was exploring other options, including offering the potential franchise to "high-profile filmmakers or producers," including Blumhouse's Jason Blum, with a plan to forego the shared universe idea and instead focus on individual films. But we haven't heard anything since then.
Until now.
I thought The Mummy was terrible, but I'm a huge fan of the classic Universal Monsters. I think a Universal Monsters cinematic universe that focuses on horror, rather than action, could be great. If Universal really is about to sent a jolt of electricity into the cold corpse of the Dark Universe, I sincerely hope they consider a more horror-based approach and leave the mistakes of the past behind.