'Burning' Trailer: Steven Yeun Gives A Chilling Performance In Lee Chang-Dong's Cannes Favorite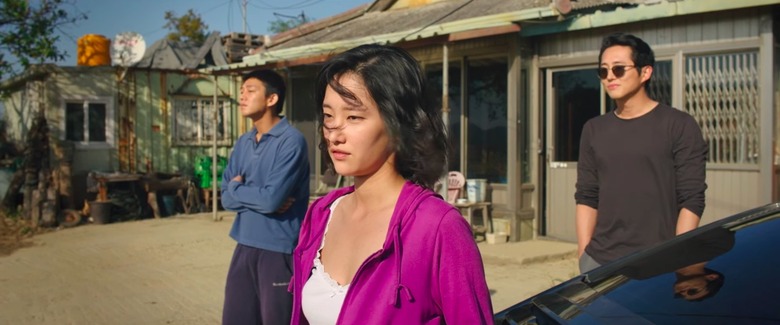 The hottest movie at Cannes has a very appropriate title: Burning.
South Korean auteur Lee Chang-dong made a huge splash at the French film festival this week with what critics are hailing as the best film to screen at Cannes. Burning stars Korean star Yoo Ah In as well as The Walking Dead's Steven Yeun in a eerily sinister performance that is sure to earn him awards buzz once the movie hits Stateside. But while we wait for the acclaimed thriller to finish making the festival rounds, check out the Burning trailer below.
Burning Trailer
Loosely based off of Haruki Murakami's (1Q84, Norwegian Wood) 1992 New Yorker short story Barn Burning, Burning follows a working class delivery boy named Jongsu who falls for a mysterious young woman who claims to have grown up with him. When she returns from a trip from Africa on the arm of a mysterious, rich playboy, Jongsu is hurt but steadily grows more obsessed with the pair of them.
The moody, chilling trailer barely gives away any of the plot — which is always tertiary in a Murakami story anyway — but handily builds the mysticism, until you're genuinely unnerved by the end. Best of all here is Yeun, who is still mostly known by his lovable character in The Walking Dead, playing against type as the sinister stranger.
After it premiered at Cannes this week, Burning has become the hottest title that screened in competition. Indiewire calls the film a "beguiling drama with dialogue that hovers on the edge of lyricism," resulting in a "haunting, beautiful tone poem." The Guardian praises "Lee Chang-dong's masterfully crafted Murakami adaptation" about "sex, envy and pyromania." The Hollywood Reporter calls Burning "a beautifully crafted film loaded with glancing insights and observations into an understated triangular relationship, one rife with subtle perceptions about class privilege, reverberating family legacies, creative confidence, self-invention, sexual jealousy, justice and revenge." And so on.
If Yeun — whose post-Walking Dead career has become incredibly exciting to watch — wasn't enough of a draw, the rave reviews cement it. I can't wait to burn this in my brain.
Here is the synopsis to Burning:
Jongsu, a part-time worker, bumps into Haemi while delivering, who used to live in the same neighborhood. Haemi asks him to look after her cat while she's on a trip to Africa. When Haemi comes back, she introduces Ben, a mysterious guy she met in Africa, to Jongsu. One day, Ben visits Jongsu's with Haemi and confesses his own secret hobby.