'Bleeding Steel' Trailer: Jackie Chan Stars In A Totally Bonkers Techno Action Thriller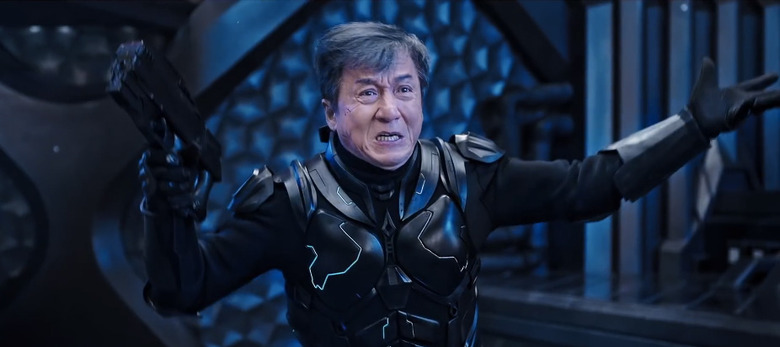 While Jackie Chan may not be as popular in the United States these days as he was during the late 1990s and early 2000s, he's still churning out plenty of action movies over in his native Hong Kong. Chan may not be a box office draw here in the US, but every now and then one of his movies ends up getting a domestic release, and his latest looks completely bonkers.
Bleeding Steel stars Jackie Chan as a Hong Kong police inspector named Lin, but what's crazy is that the enemy he's facing is some kind of technologically enhanced man who looks like one of the Borg crossed with Batman & Robin's Mr. Freeze and employs an army that looks like they're from the grid in TRON Legacy. Apparently, what he needs to survive is some kind of bio-chemical, artificial heart that just so happens to have been implanted in Lin's missing daughter.
Yeah, we're totally on board for this nonsense.
Watch the Bleeding Steel Trailer
This is certainly a Hong Kong action movie. And while we hear English in this trailer, it's very likely that the film's release in the United States features dubbed English rather than characters who are actually speaking English. That's what happened with a decent chunk of the abysmal Skiptrace starring Jackie Chan and Johnny Knoxville.
Hong Kong action movies have always been a little more strange and otherworldly than American action movies. They get a little more fantastical and wacky, both in action and comedy. There's a fight scene that takes place on the roof of the Sydney Opera House, and there's apparently some kind of big ship that the villain cruises around in even though the rest of the world doesn't seem to quite be as technologically advanced.
The movie is directed by Leo Zhang, his sophomore effort after the criminal gang thriller Chrysanthemum to the Beast. Maybe this will hold Jackie Chan fans over until Rush Hour 4 (possibly) comes together.
In an action-packed drama reminiscent of '80s techno-sci-fi thrillers, Jackie Chan stars as Lin, a police inspector in modern Hong Kong. While tracking down a deranged, mecha-enhanced villain, Lin discovers that a geneticist's lost bio-chemical invention has been surgically implanted into his missing daughter. With the help of a young hacker, Lin connects the dots between the device that haunts his daughter, his enemy's sinister army, and a strange cultural phenomenon called Bleeding Steel.
Bleeding Steel hits select theaters and released in theaters and VOD on July 6, 2018.