Possible Obi-Wan Kenobi Spin-Off Movie Details Arrive And There's Something Odd About Them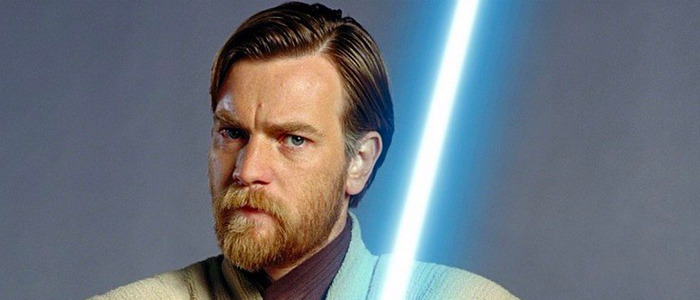 We all know it's coming. The fans demand it. It's only a matter of time before Lucasfilm and Disney officially announce the Obi-Wan spin-off. As we wait for the inevitable official announcement, possible new Obi-Wan spin-off movie details have seemingly surfaced. But there's something fishy about them, even as they reflect what could be the truth.
For years, Star Wars fans have been hoping for an Obi-Wan spin-off starring Ewan McGregor. With Solo: A Star Wars Story about to burn up the box office, it seems like it's only a matter of time before Lucasfilm officially announces that Obi-Wan spin-off. In the meantime, there have already been rumors of behind-the-scenes plans for the film, and now TMZ has (potential) details about the movie.
It's worth noting that this is all rumor – nothing is official yet. But per TMZ, The Hours director Stephen Daldry is definitely directing the film, as previously reported. Also, the film will apparently be set right before the events of A New Hope. Here's the synopsis, according to TMZ:
Obi-Wan is on Tatooine being an elusive hermit and stuff, but secretly watches over an infant Luke Skywalker, whom he delivered to his uncle, Owen. Tensions between the local farmers and a tribe of Sand People – headed by a ruthless war chief – eventually brings Obi outta hiding ... and into Jedi kickass mode.
However, it's worth noting that this sounds identical (down to the wording) to the description of the 2013 John Jackson Miller novel Kenobi, which features the following plot:
Known to locals only as "Ben," the bearded and robed offworlder is an enigmatic stranger who keeps to himself, shares nothing of his past, and goes to great pains to remain an outsider. But as tensions escalate between the farmers and a tribe of Sand People led by a ruthless war chief, Ben finds himself drawn into the fight, endangering the very mission that brought him to Tatooine.
Ben—Jedi Master Obi-Wan Kenobi, hero of the Clone Wars, traitor to the Empire, and protector of the galaxy's last hope—can no more turn his back on evil than he can reject his Jedi training. And when blood is unjustly spilled, innocent lives threatened, and a ruthless opponent unmasked, Ben has no choice but to call on the wisdom of the Jedi—and the formidable power of the Force—in his never-ending fight for justice.
The similarity between this potential movie plot and the Kenobi novel might mean one of two things. One – that this movie plot is fake; something someone made up by drawing on the novel. Two – that this really is the plot, and it's drawing inspiration from the novel. Solo: A Star Wars Story draws some inspiration from a few Expanded Universe novels, so it's certainly not out of the question for Lucasfilm and Disney to turn to past material to form parts of their story.
Still, it is undeniably sketchy that TMZ's report hews so closely to this book description. So let's not jump to conclusions about anything just yet. Still, TMZ has landed accurate Star Wars scoops in the past, so we feel like it would be foolish to ignore this entirely. Those muckrakers know what they're doing, for better or worse.
It's also possible that this description is being used internally at Lucasfilm as a placeholder for the real thing. Remember, crew members working on these movies aren't even privy to key plot points – it's possible that TMZ has landed something that was concocted internally to mask the real story.
Here's the part of the story where I tell you I really wish the Star Wars spin-off films will start focusing on new stories and new characters we haven't met yet. But I guess everyone is content to keep having these films serve as prequels. If it's new stories and new characters you're looking for, you'll have to wait for Rian Johnson's new Star Wars trilogy.