Employee Picks: Movie Recommendations From A Movie Rental Store Manager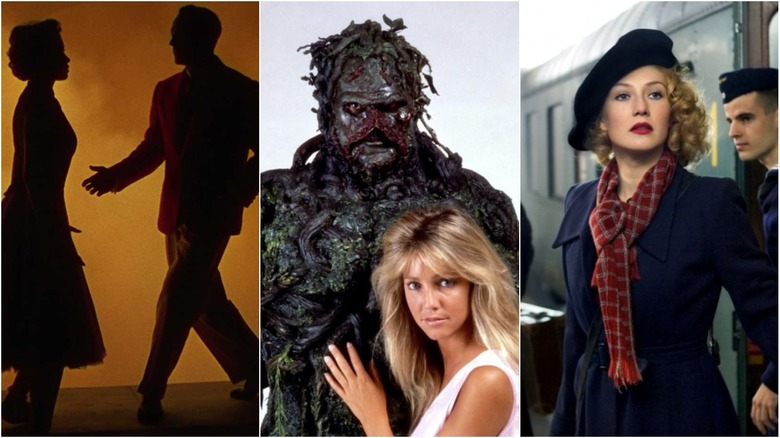 We may receive a commission on purchases made from links.
When I'm not writing, I run a video store.That's a weird sentence to write in 2018. However, this profession permits me the distinct pleasure of making film recommendations all day, every day. That's how this new column came into being: why not apply that skill to the Internet? If you're on this site, chances are you love movies. And if you love movies, you've probably seen all the New Releases already. So, what should you watch tonight instead of just throwing on Thor: Ragnarok again?Employee Picks is going to act as a monthly guide of sorts. We're going to go through each weekend in the month, and pick alternatives for the movies currently playing. Normally, we'd be picking theatrical releases, but since I just wrote you a handy Alternative Summer Movie Guide that literally gives you substitutes for every major title playing this summer, we're going to focus on home video until August comes to a close.The rules are simple: for every big-name motion picture, I suggest something from the archives to watch in its place that's either thematically, spiritually, or tangentially related. Easy peasy. With those general parameters in mind, here are my picks for every big movie dropping on Blu-Ray, DVD or VOD this May.
May 1
The Major Release:  12 Strong
Your Alternative: Hamburger Hill (1987, d. John Irvin)
This year's 12 Strong feels like it came out 15 years too late: a jingoistic piece of propaganda practically calling individuals in the audience to action. It's essentially a recruitment video for America's post-9/11 invasion of the Middle East, yet that doesn't invalidate its celebration of the brave men who rode first into battle against their perceived desert enemies. Like that movie, Hamburger Hill sports an incredible cast of actors – Dylan McDermott, Don Cheadle, Courtney B. Vance, Steven Weber – bringing the boys of B Company, 3rd Battalion, 187th Infantry Regiment alive and paying tribute to their bloody losses trying to defend Hill 937 in the A Shau Valley of Vietnam. Scored with an ear for heartbreak by Philip Glass, this is a Grade-A glorification of soldiers fighting in a war we all knew, in the end, was total bullshit.Hamburger Hill is available on Blu-ray, courtesy of Lionsgate.
The Major Release: Winchester: The House That Ghosts Built
Your Alternative: The Legend of Hell House (1973, d. John Hough)
Though Gremlins ('84) or Die Hard ('88) have become the cliched hipster Christmas movie recommendations du jour, this year try The Legend of Hell House instead. Beyond providing a bevy of old school haunted house thrills, few films have been able to capture the stillness of the week leading up to St. Nick's arrival (during which the events of the movie take place). You can feel the chilliness of the air and almost hear the creaks the cold causes the house to emit. There may be no trees or lights present, but Hell House carries that heavy air of December frigidity like few films can. Maybe that's the movie's ultimate achievement. It captures a place and time better than any modern spook show could ever hope. Director John Hough and writer Rochard Matheson combine for frightful authenticity that can only belong to old film prints gathering dust in studio vaults. Modern directors and digital cameras will continue to attempt to recreate the majesty of genuine '70s horror, but revisiting these grainy classics reveals that mere mimicry can never match the real deal.The Legend of Hell House is available on Blu-ray, courtesy of Scream Factory.
The Major Release: Peter Rabbit
Your Alternative: Night of the Lepus (1972, d. William F. Claxton)
During the '50s and '60s, atomic panic bred poppy movies about giant, radioactive creatures that terrorized cities. Ants took down Los Angeles in Them! ('54), It Came From Beneath the Sea ('55) saw an octopus terrorize the Pacific Coast, and grasshoppers reigned supreme in The Beginning of the End ('57). Night of the Lepus is a '70s riff on this formula that sought to terrify everyone with its depiction of behemoth, bloodthirsty bunnies. The result really isn't that scary at all, as these oversized fuzz balls run rampant on miniature cityscape sets. The visual gag of having real live rabbits playing the titular beasties rarely gets old, especially when their destruction is captured in hyper-slow motion. Is Night of the Lepus any good? Absolutely not. But that never stopped any motion picture from being a complete hoot when watched with the right group of inebriated pals.Night of the Lepus is available on Blu-ray this June, courtesy of Scream Factory.
May 8
The Major Release: Fifty Shades Freed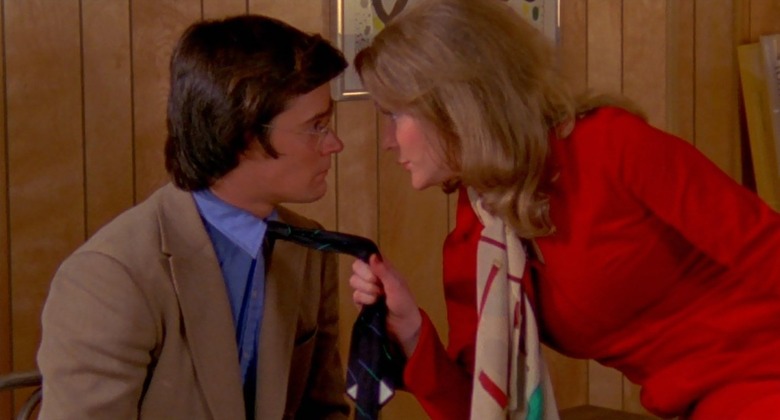 Your Alternative: The Opening of Misty Beethoven (1976, d. Radley Metzger [AKA "Henry Paris"])
Radley Metzger's X-rated, globe-hopping take on Pygmalion packs more humor and sex into 86 minutes than the Fifty Shades trilogy could cram into three movies (and this is coming from someone who enjoys those pictures). Shot in Rome, Paris and New York City, Metzger reminds us that, during the '70s, porn was an actual arena for artistic expression, and budgets were granted to these disreputable fuck films. Megastar Jamie Gillis (Dracula Sucks ['78]) is our Henry Higgins (as sexologist Dr. Seymour Love), and Eliza Doolittle is transmuted into Dolores "Misty" Beethoven, who achieves a level of carnal transcendence that elevates her above the man trying to train this nymph for the sheets. As oddly empowering as it is erotic, Misty Beethoven is just one of many masterworks Metzger minted, becoming the king of art porn, before giving way to more avant-garde ejaculation maestros such as FX Pope and Stephen Sayadian during the early '80s (whose Nightdreams ['81] and Café Flesh ['82] will certainly be included on these recommendation lists one day).The Opening of Misty Beethoven is available on Blu-ray, courtesy of DistribPix.
May 15
The Major Release: Black Panther
Your Alternative: The Return of Swamp Thing (1989, d. Jim Wynorski)
While I'm in no way implying that "Black Panther is the MCU's Return of Swamp Thing" (BP wishes it were that good), Jim Wynorski's big, dumb, corny creature feature is a delight, and will probably transport many '90s kids back to experiencing the prosthetics-laden cheap thrill for the first time on Joe Bob Briggs' MonsterVision. Much like T'Challa, Swamp Thing is protecting a realm being invaded by outsiders, wanting to defend his personal Bayou of Eden and all its slimy inhabitants. Lensed like a soft-focus porno, Dick Durock – who also played the Thang in Craven's first movie, plus the 72 Episode TV Series – goes Full Rock Hudson under all that green make up, sweeping the plant-obsessed daughter of Dr. Arcane (former Bond villain Louis Jourdan) into his big, strapping arms (with Heather Locklear becoming quite the centerfold damsel in distress). In terms of the best comic book sequels of all time, it goes: Spider-Man 2 ('04), Blade II ('02), and then The Return of Swamp Thing.The Return of Swamp Thing is available on Blu-ray, courtesy of the MVD Rewind Collection.
The Major Release: Samson
Your Alternative: The Agony and the Ecstasy (1965, d. Carol Reed)
The Agony and the Ecstasy comes at the tail end of Charlton Heston's iconic run of Cecille B. DeMille style Old Hollywood epics; movies like The Ten Commandments ('56), Ben-Hur ('59) and El Cid ('61). They were grandiose recreations of Biblical and historical tales, all featuring Technicolor flair and some of the flashiest movie stars of their age (unlike Samson's garish digital photography and Billy Zane). The Agony and the Ecstasy is no different, pitting Heston's restless Michelangelo against Rex Harrison's stingy Pope Julius II, the religious leader who commissions the artist to paint the Sistine Chapel. It's a bold, audacious American movie, casting one of the blondest stars of his time as the olive skinned, Italian artist. But where historical accuracy falls short, Heston more than makes up for it in chemistry with Harrison. The two are just a joy to watch, bouncing off one another as the Pope struggles to come to terms with the painter's vision. Michelangelo is equally challenged to find the heart of a good man inside of what appears to be an egomaniacal, economically ignorant tyrant. The themes of struggling with creation – both tangible and spiritual – are still as poignant as they were 53 years ago.The Agony and the Ecstasy is available to stream on Amazon.  
May 22
The Major Release: 15:17 To Paris
Your Alternative: An American In Paris (1951, d. Vincente Minnelli)
15:17 To Paris was a rough sit even for the staunchest Clint Eastwood defenders (a group this writer is a card-carrying member of). Essentially coming off as a nationalistic travelogue, the experimental aspects of Eastwood's latest were admirable (especially for a filmmaker his age), and you could feel the good intentions behind his profiling of these "American heroes", but the non-actor performances are stilted and some of the dialogue is utterly atrocious, telegraphing its right-wing agenda. So, instead you should take some time out to celebrate an ex-GI who puts down his gun and stays in Paris to become a painter. When the GI in question is Gene Kelly (who falls for Leslie Caron), you know there's going to be much more dancing than there is suppression of terrorists. As lush and rich as classic Hollywood musicals come, fans of La La Land ('16) will catch quite a few inspirations Damien Chazelle swiped for his own modern tale of lovelorn artists.An American In Paris is available on Blu-ray, courtesy of Warner Bros.
The Major Release: Game Night
Your Alternative: The Last Supper (1995, d. Stacy Title)
With The Last Supper, director Stacy Title said she intended to make "Arsenic and Old Lace for the '90s". There are certainly strands of a particular insanity contained in this dark satire about a group of liberal roommates who invite racists and Republicans (which become interchangeable as the movie goes on) to dinner, only to judge and murder them for their backward views. More a skewering of Blue State elitism than it is a Regan-voting conservative's worst nightmare, there's a ton of laughs contained in this acidic portrait of bougie political battle lines. The Last Supper is available to stream on Amazon.
The Major Release: Red Sparrow
Your Alternative: Black Book (2006, d. Paul Verhoeven)
Considered by many to be his defining late period masterpiece – though this writer would probably choose Elle ('16) as the director's crowning twilight achievement – Paul Verhoeven's Black Book combines his trademark perversity with a truly stunning piece of pulp fiction, chronicling a Dutch resistance spy (Clarice von Houten) and her attempts to infiltrate the Third Reich, using her most potent weapon: her sexuality. Von Houten is one of Verhoeven's ultimate powerful temptresses (a character archetype he practically perfected), and the auteur both punishes and rewards her efforts with both gallons of literal shit, and a triumph over her enemy. Only, the victory may come at the expense of sacrificing a fascist whose humanity she discovered in the process. Though Red Sparrow (which is still totally worth your time, mind you) is Diet Verhoeven, Black Book is aged proof that there ain't nothing like the original formula, baby.Black Book is available to stream on Amazon.
May 29
The Major Release: Annihilation
Your Alternative: The Relic (1997, d. Peter Hyams)
Peter Hyams is one of the more unsung heroes of '70s and '80s genre cinema, having both directed and photographed his own big budget ventures into sturdy pieces of pulp craft, via the space Western Outland ('81), and his Billy Crystal/Gregory Hines-fronted buddy cop movie, Running Scared ('86). The Relic is Hyams' '90s action/horror hybrid, as Tom Sizemore and Penelope Ann Miller take on an evolving, carnivorous lizard God eating the shit out of folks at a Chicago museum. Gory, relentless, and filled with rather tense set pieces, The Relic was never destined to become a classic, yet that's what makes it a quintessential piece of Hyams' filmography. All his movies are constructed with a "functionality first" mindset, and there's something admirable about his steadfast commitment to delivering cutthroat storytelling you'd be gladly pay to see at a matinee.The Relic is available to stream on Amazon.