Pop Culture Imports: Hayao Miyazaki's First Feature Film, A Harrowing Diane Kruger Crime Drama, And John Woo's Netflix Team-Up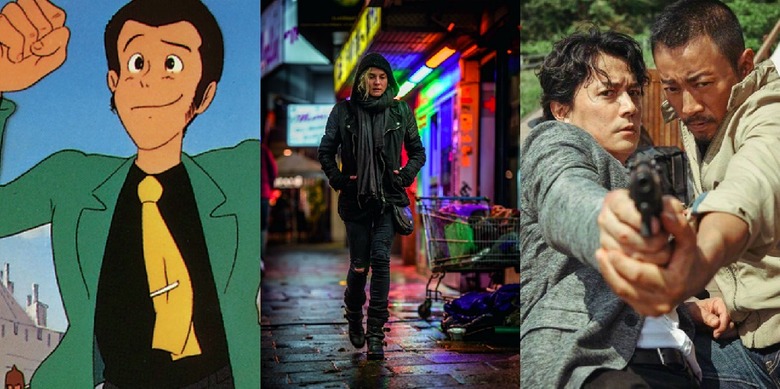 (Welcome to Pop Culture Imports, a column that compiles the best, wackiest, and weirdest foreign-language movies and TV shows streaming right now.)
We may be drowning in the hundreds of original streaming titles that are released each month, but there are so many foreign-language movies and shows that are just begging for you to stream them. This week we have the directorial debut of world-renowned animation giant Hayao Miyazaki, a tour-de-force performance from Diane Kruger, a heartwarming documentary from French New Wave pioneer Agnes Varda, John Woo's high-octane Netflix action movie packed to the brim with doves, and an intriguing Danish semi-zombie series.
Let's fire up those subtitles and dive into the best foreign-language titles of the week.
1. Lupin III: The Castle of Cagliostro – Netflix
Country: JapanGenre: AnimeDirector: Hayao MiyazakiCast: Yasuo Yamada, Eiko Masuyama, Kiyoshi Kobayashi, Makio Inoue, Goro Naya, Sumi Shimamoto, Taro Ishida.Hayao Miyazaki is an animation titan whose works are beloved all over the world, and whose films under Studio Ghibli helped establish anime's footing in international pop culture. So it's weird that his first feature film was hard to track down — until now.
You wouldn't be blamed for never seeing, or even hearing of Miyazaki's directorial debut, which was released six years before Miyazaki co-founded Studio Ghibli in 1985. Lupin III: The Castle of Cagliostro is an adaptation of a Japanese manga mainstay Lupin III, and a sequel at that. But directed by Miyazaki as the animator was taking his first, timid steps out of the television world and into filmmaking, The Castle of Cagliostro is a stunning introduction of a bold new director with the stirrings of Miyazaki's trademark whimsy and opulent visual style. Lupin III is a long-running manga franchise whose titular hero comes off like the Japanese equivalent of a pulp hero — the snide master thief named Arsène Lupin III has shades of James Bond and Zorro crossed with the slapstick of Scooby Doo. The Castle of Cagliostro follows the gentleman thief Arsène Lupin III as he discovers a great conspiracy at the heart of a tiny country called Cagliostro, whose evil regent, the Count, is set to marry the country's princess against her will. Recognizing the Princess Clarisse from his past, Lupin decides to save her from her forced marriage and stop the Count from his nefarious plans to unearth the royal family's hidden treasure.
The Castle of Cagliostro is chock full of vibrant characters and heart-pounding action, set against a dreamy fantastical backdrop that expertly blends European architecture with Japanese culture. There's actually a term for it that was coined after Miyazaki created the richly realized world within The Castle of Cagliostro: "akogare no Paris," literally "The Paris of our dreams" in Japanese, which describes a fantastical view of Europe "through Eastern eyes." It's a visual style that Miyazaki would constantly return to throughout his films, and just one of his trademark flairs that you can see him experimenting with in his very first film.
Having never seen this film before despite being a Miyazaki uber-fan (trust me, I searched for the DVD for years and was only alerted to it on streaming by the Netflix Anime U.S. Twitter), I was ecstatic to see so many familiar elements in The Castle of Cagliostro. Shades of Clarisse's character design and gestures would be seen in Nausicaa of the Valley of the Wind and Kiki's Delivery Service, and there, that shoot-out would be recycled for Castle in the Sky. It's astonishing how fully formed of a filmmaker Miyazaki was in his 1979 directorial debut. If you're at all a Miyazaki or Ghibli fan, or just like good old animation, The Castle of Cagliostro is an expertly crafted must-see.
Watch This If You Like: Porco Rosso, Castle in the Sky, The Man from U.N.C.L.E., obnoxiously pointing out Miyazaki's visual trademarks to your friends while rattling off Castle in the Sky trivia.
2. In the Fade – Hulu
Country: GermanyGenre: Crime dramaDirector: Fatih AkinCast: Diane Kruger, Denis Moschitto, Johannes Krisch, Ulrich Tukur, Samia Chancrin, Numan Acar, Rafael Santana.Diane Kruger gives a withering, raw performance in this moving drama directed by Fatih Akin, a filmmaker known for pushing the boundaries with his edgy socio-political films. While In the Fade has all the grit and social relevance of a film centered around a neo-Nazi attack, it is first and foremost a portrait of grief.
Kruger stars as Katja, a German housewife who arrives at her husband Nuri's office one evening to find it bombed, and he and their son killed in the explosion. At first the police pin it on a drug turf war due to her husband's ex-con past, but Katja's witness testimony soon brings in a neo-Nazi couple who are brought to trial for the terrorist attack. The movie settles into legal drama mode, but In the Fade is ostensibly three films: an unnerving crime drama, an infuriating legal thriller, and finally, a story about a grief-stricken mother finding violent catharsis. The film's political themes become a little muddled, but Kruger's devastating turn as the haunted and furious Katja will leave a lasting impression on you.
Watch This If You Like: The Brave One, Wind River, Three Billboards Outside Ebbing, Missouri, the sad episodes of Law and Order: SVU.
3. Faces Places - Netflix
Country: FranceGenre: DocumentaryDirector: Agnes Varda, JRCast: Agnes Varda, JR.
At 89 years old, Agnes Varda has had a rich and varied movie career in front of and behind the camera. But her best works were always ones that harness her own whimsical persona to tell delightful stories about life and all its miracles. As her final film ever, Faces Places is all that, and more.
Co-directed and co-starring the semi-anonymous street photographer named JR, Faces Places is a fitting swan song for one of the pioneers of the French New Wave movement, as she embarks on a journey through France to document the lives of the ordinary people. JR approaches Varda with the idea to create collages of the colorful characters they meet via a traveling photo booth that blows up the pictures to a monumental size, plastering their images on walls across the country. Varda is immediately taken with the idea, saying that she is compelled to "photograph faces so they don't fall into the hole of memory."
But the film is as much an exploration of the ephemeral nature of life as it is an ode to Varda and JR's unlikely friendship. Despite seeming polar opposites — she the elfin icon, he the arrogant ingenue — the two of them immediately click, and there's a sense of regret that Varda couldn't have met JR earlier in her life. "Every new person I meet feels like my last one," Varda says wistfully at one point, and it feels as much a commentary on her newfound friendship with JR as it does an encapsulation of the documentary's theme: the fleeting nature of the faces and places that we pass by every day.
Watch This If You Like: The Gleaners and I, Exit Through the Gift Shop, accepting Agnes Varda as queen.
4. Manhunt – Netflix
Country: China, JapanGenre: ActionDirector: John WooCast: Zhang Hanyu, Masaharu Fukuyama, Qi Wei, Ha Jiwon, Jun Kunimura.
No one has ever accused John Woo of being boring, and 40 years into his career, the iconic Hong Kong action director isn't about to start. Manhunt, Woo's first modern-day crime thriller in 15 years, boasts all the trademarks of a John Woo action film: a hard-boiled detective, thrilling gunfights, an inordinate amount of doves. It's so on-the-nose that Manhunt ends up feeling like Woo going through the motions of making a John Woo movie. But that doesn't mean it isn't entertaining as hell.
The plot, which fillows a Chinese lawyer who becomes a fugitive after he is framed for a horrific murder, is virtually nonsensical, skating by on Woo's bombastic style and the chemistry of Zhang Hanyu's surprisingly limber lawyer and Masaharu Fukuyama's brilliant Japanese detective. It's in their buddy-comedy moments where Manhunt shines the most, with Woo smartly chaining them together by the wrists for a good third of the movie to capitalize on the two stars' dazzling chemistry. The rest of the film is super hammy and a little bit confusing, but as long as you don't try to follow the logic of a story about an evil pharmaceutical company conducting experiments on superhuman assassins (there is no logic), you will get swept along for the ride.
Watch This If You Like: Hard Boiled, Sherlock Holmes, CGI doves.
5. The Rain (Season 1) – Netflix
Country: DenmarkGenre: Sci-fiCreator: Jenny Ann Balverde, Esben Toft Jacobsen, Christian PotalivoCast: Alba August, Lucas Lynggaard Tønnesen, Mikkel Følsgaard, Lukas Løkken, Jessica Dinnage, Sonny Lindberg, Angela Bundalovic.
Netflix rolls out yet another post-apocalyptic foreign-language title, but Rain, the streaming service's first Danish series, may be its most promising yet. A taut, tense sci-fi show, Rain is a climate thriller masquerading as a zombie movie. It borrows heavily from the post-apocalyptic tropes we know and love, yet it feels strangely fresh. That may be because it's anchored by an emotive female lead played by Alba August, whose Simone goes into hiding with her younger brother Rasmus (Lucas Lynggaard Tonneson) in an underground bunker that shields them from a killer virus carried in the rain. Six years later they emerge, only to find half of humanity wiped out, and the survivors congregating in hordes to protect themselves in a dog-eat-dog world. Desperate to find their scientist father who left them in the bunker six years ago, Simone and Rasmus join a young and beautiful group of survivors who are on a quest to find signs of life throughout disease-wracked Scandinavia. The conspiracies are deep and the characters compelling enough to keep your attention for the entire eight-episode run.
Watch This If You Like: The 100, Fear the Walking Dead, Dark, bad English dubs of a Danish series when you forget to switch the audio language.