'Deadpool 2' Post Credits Scenes Nearly Included Baby Hitler And Chris Evans' Human Torch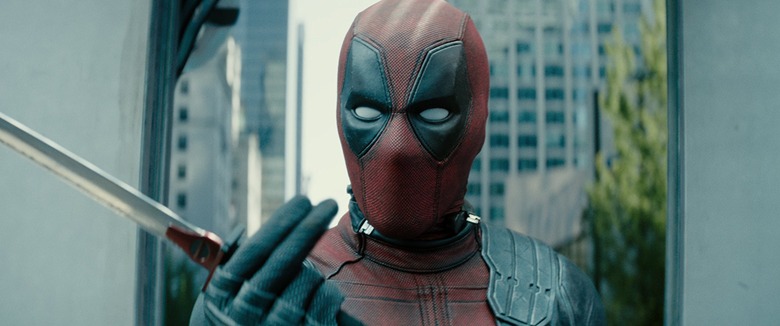 Deadpool 2 is hitting theaters this week, and as writers Paul Wernick and Rhett Reese make the press rounds, they've revealed some alternate options for the movie's post-credits scenes. I won't spoil the moments that made it into the actual final cut, but if you're interested in knowing a bit of "what if" trivia to impress your friends, keep reading to learn about a couple of Deadpool 2 post credits scenes that almost came to pass.
Deadpool Meets Baby Hitler
You already know that Josh Brolin appears in this movie as Cable, a time-traveling mutant. And as you might have guessed, at one point in the sequel, Deadpool quips about how Cable should use his time-traveling abilities to go back in time to kill a baby version of Adolf Hitler. (That Deadpool...what an edgy guy!)
It turns out that an alternate post credits scene nearly depicted Deadpool himself going back in time to smother baby Hitler. But Wernick and Reese (who co-wrote the script with star Ryan Reynolds this time around) told ComicBook.com that killing babies was a line that even they weren't willing to cross:
"It's true," Wernick confirmed when asked about the potential post-credits scene. "I think it was cut just because, it was at the very, very end, and it left the audience with this, 'Oh?' It's like, 'Sure, it's baby Hitler, but it is a baby. It's kind of weird to watch that!' We are Deadpool but there is a line we can't cross."
"Baby killing might be that line," Reese said.
In an interview with
Uproxx
, the pair went into even more detail:
Reese: Deadpool goes back and kills baby Hitler at the very end. That's what was supposed to happen.
Wernick: And not just supposed to happen, we shot it.
Reese: We shot it and we put it in front of an audience. He's got the crib and he's standing in the German nursery and he's leaning over the crib to do it and there was kind of this, "ohhhhh." And we thought we don't want to leave the crowd on an "ohhhhh." So it ended up coming out...Our last moment was Deadpool saying "Maximum effort!" as he goes in to throttle the baby. It does make you squeamish.
Wernick: There's even a draft of that scene where we back it up even more where he's standing over baby Hitler and says, "God, that is a toughie." He finds a Sharpie and draws a mustache on the baby – a little baby mustache – and says "Maximum effort!"
Reese: Now he looks just enough like him that he can get up the courage to do it.
Deadpool Meets Chris Evans' Human Torch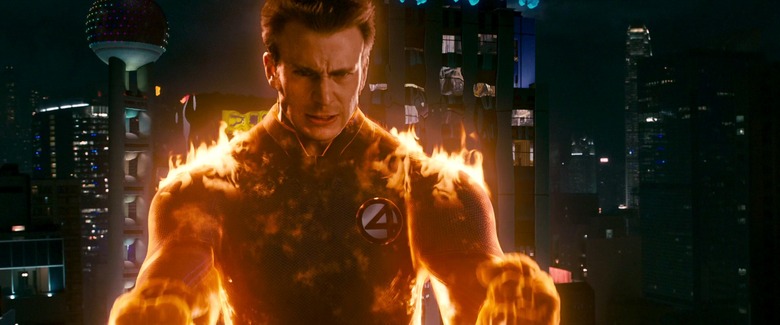 Another idea that didn't get quite as far along in the development process involved Deadpool meeting Chris Evans' version of the Human Torch from the two Fantastic Four films of the mid-2000s. In that same Uproxx interview, the writers explained how that could have happened:
Wernick: There were different codas kicked around. There were more X-Force interviews that were talked about. One was Chris Evans as Human Torch.
Oh, why didn't that happen? That would have been great.
Wernick: I know...
Did Chris Evans say no?
Reese: No, no, we never got that far. Someone had the idea we actually did and we thought that was better. But we definitely had a lot more X-Force interviews with bizarre, random people coming in to interview.
The baby Hitler scene sounds like it wouldn't have been a joke, but more of a "shock for shock's sake" kind of scene. This Chris Evans Human Torch bit, on the other hand, actually could have been hilarious, and mixing him in with a bunch of other rejected X-Force applicants would have been a great way to cap off the film. Evans seems like the type who'd be game for something like this, since he had memorable comedic cameos in MCU movies like Spider-Man: Homecoming and Thor: The Dark World. But without giving anything away Deadpool 2's actual credits scenes will probably leave fans with a smile on their faces anyway.
Deadpool 2 arrives in theaters on May 18, 2018. You can read our review right here.