'Avengers: Infinity War' Beats Out 'Jurassic World' As The Biggest Summer Movie Ever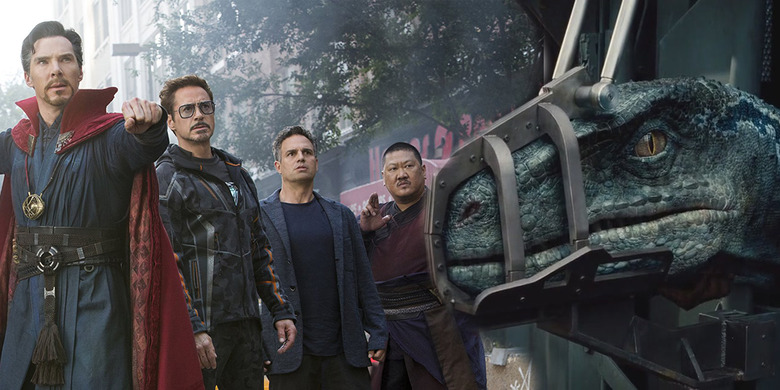 Avengers: Infinity War has added another record to its world-dominating box office run. After opening in China this weeekend, the Infinity War box office haul has officially reached historic heights — or should I say prehistoric? (No I shouldn't, that makes no sense.)Avengers: Infinity War has officially taken Jurassic World's crown for the highest-grossing summer movie ever. Now that's pretty indomitable.
According to Forbes, Avengers: Infinity War has now topped Jurassic World as the highest-grossing summer movie of all time. Infinity War now holds a $1.675 billion worldwide gross after this weekend, which just edges out Jurassic World's $1.672 billion haul.
That makes Joe and Anthony Russo's Avengers sequel the fourth-biggest global grosser of all time, and the biggest summer movie ever in unadjusted global grosses. Infinity War is also the biggest movie ever not to open during the Christmas season, where films like The Force Awakens ($2.068 billion) and Avatar ($2.788 billion) opened on December 18 and Titanic ($2.188 billion) opened on December 19 in previous years.
Infinity War currently holds the No. 4 spot in all-time global grosses, behind behind Avatar, Titanic, and The Force Awakens, respectively. But still, it's been only three weeks since the Marvel movie's release, so there's a chance Infinity War could overtake The Force Awakens' $2.068 billion.
A large part of Infinity War's global box office success can be credited to China, where the Marvel Studios film opened this weekend. The premiere of Infinity War took in an estimated $200 million in the world's second-largest box-office market, according to the Wall Street Journal.
Domestically, Infinity War still trails behind Star Wars: The Last Jedi, resting at the No. 8 spot with a $558.7 million Stateside box office haul. It's yet to be seen whether Infinity War can match the pure cultural phenomenon that was Black Panther's own record-breaking run, which holds the No. 3 domestic spot, but globally, it looks like other movies this summer will be no match for it. Better start tallying up your summer movie wagers.