POTD: Deadpool Has Taken Over Bargain Blu-Ray And DVD Covers (Seriously)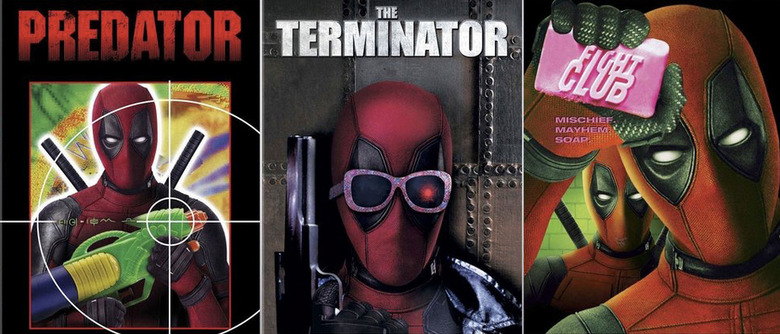 The marketing for the entire Deadpool franchise has been positively brilliant. In fact, the promotion for the first movie was so good that Deadpool ended up winning an award at the 45th Annual Clio Key Art Awards, honoring the best in marketing every year. And the latest stunt to promote Deadpool 2 just might end up solidifying another win this year.
While we've seen countless trailers, TV spots, posters, cross-promotions and television stunts, a new Deadpool 2 promotion on the shelves selling movies on Blu-ray and DVD takes the cake. 20th Century Fox has given the slip covers for a 16 of their library titles a Deadpool 2 makeover. It's just the kind of obnoxious thing that Deadpool would be responsible for.
Fox's Deadpool DVD Covers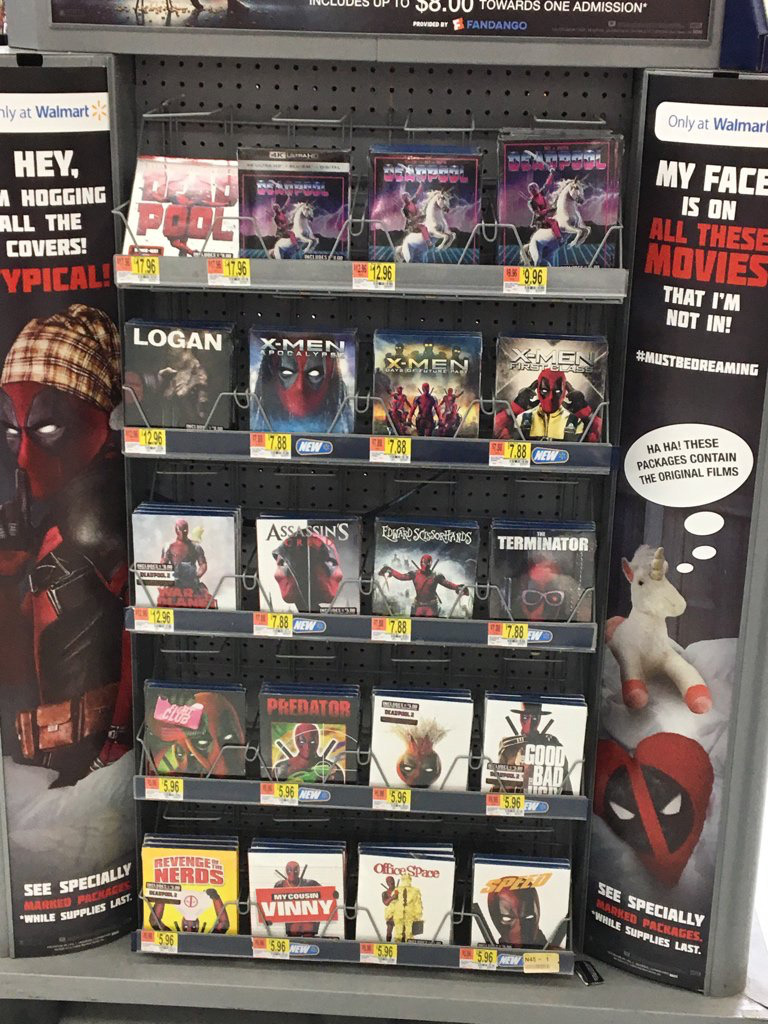 The above image comes from Twitter user @rainbowslinky, who snapped a shot of not only all 16 of the Blu-ray and DVD covers featuring Deadpool, but also the display surrounding it at Walmart. After all, if someone saw this shelf, they might be worried (or excited) to see these movies with Deadpool in them. But the stuffed unicorn on the right makes sure to let everyone know that the original movies are in these cases. Only the slip cover has Deadpool on it, while the actually case insert has the real movie on display.
If you'd like a closer look at some of the art, head over to IGN. Otherwise, here are all the movies featuring Deadpool cover makeovers that you can find exclusively at Walmart:
The Good, the Bad and the Ugly 
War for the Planet of the Apes 
X-Men Days of Future Past 
While this might seem like a crummy thing to do for people who just want to buy one of these library titles that have been sitting on shelves in their normal state for years, it also has the potential to sell even more copies of these movies to Deadpool fans. After all, there are probably some collectors out there who will want to buy every single one of these movies just to have each of the slip covers. Or maybe someone out there will buy it simply because it's a riff on their favorite movie.
It looks like most of the movies are moderately priced, ranging from Logan and War for the Planet of the Apes for $12.96 down to Speed and Office Space for $5.96. That's not bad, especially since it looks like some of these movies come with a $5 discount towards a Deadpool 2 ticket. So if you're a Deadpool fan, and you must have these for your shelf, you better get out to Walmart and snag them while you can.